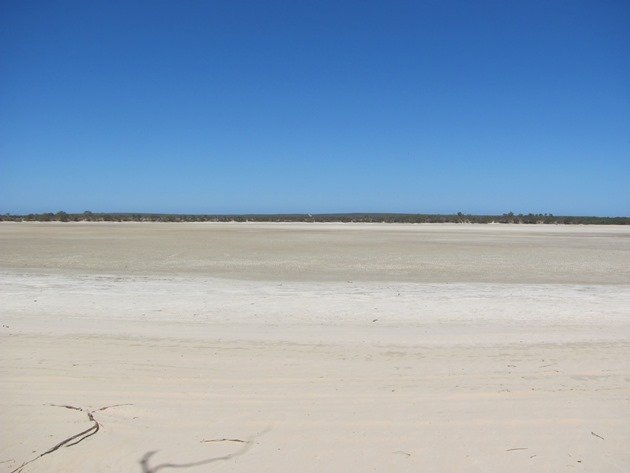 After arranging to meet up with my sister and her family in Kalbarri earlier this year we had looked for a suitable camping area in between Geraldton and Perth and came across the Shire of Carnamah's website that had information on Lake Indoon. At the time it was not clear if the lake would contain any water at all, but its location was appealing anyway and the fact that not only could you camp there free of charge, but there was also a drinking water tank, toilets and showers. Although the showers were listed as being cold that was not a problem at the end of January. Lake Indoon is easily reached either from Eneabba off the Brand Highway by travelling approximately 13kms west or from Indian Ocean Drive. There were only a handful of people camping at Lake Indoon on January 25th despite it being a long weekend for Australia Day. There was ample space for everybody and plenty of privacy and we soon had our tent set up under a very large old tree. It appeared that there was no water whatsoever at the lake and that it had been dry for a very long time. Some of the trees were flowering and offered Spiny-cheeked Honeyeaters, Singing Honeyeaters, White-cheeked Honeyeaters and Yellow-throated Miners. There were Willie Wagtails, Magpie-larks, Australian Ravens, Western Magpies and both Pied Butcherbirds and Grey Butcherbirds. Galahs came by the camp in the evening and joined us for the night and also Australian Ringnecks. Most of the birds in the area were well above ground level! A Laughing Kookaburra visited to make sure we were awake first thing and was soon added to the 2018 Year List.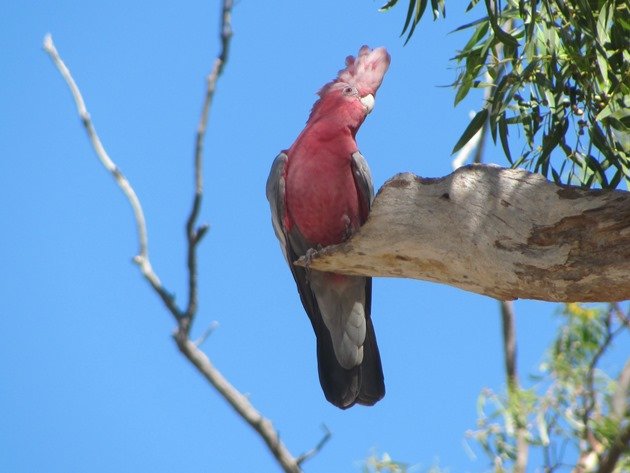 Galah above our camp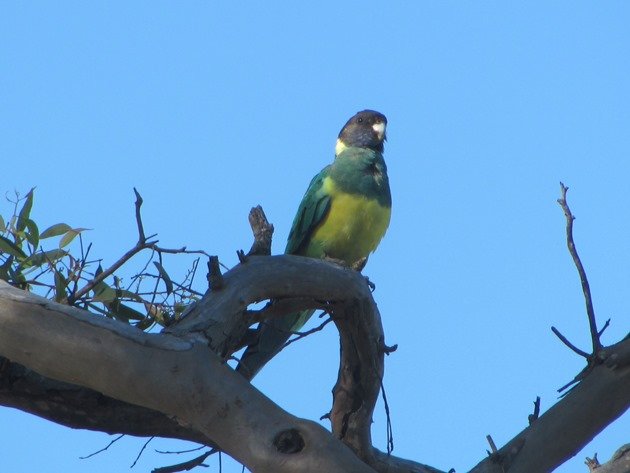 Australian Ringneck above our camp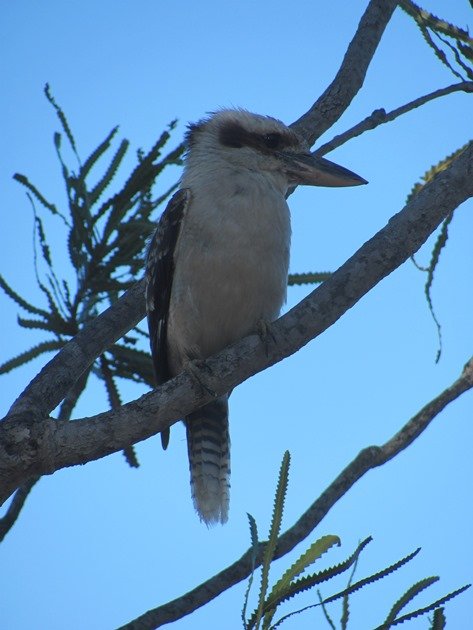 Laughing Kookaburra
In the morning we decided to circumnavigate the dry lake and see what else was in the area and we were able to walk easily on the "beach" all the way around. The distance was approximately 4 kilometres/ 2 1/2 miles. Welcome Swallows, Tree Martins and a Wedge-tailed Eagle soared above and we also had Crested Pigeons, which indicated there must be some water present somewhere nearby. On the far side of the lake we did discover a small amount of water remaining where the creeks would flow in during rain events. There were some reeds remaining as well and enough water to sustain a substantial amount of bird life and wildlife.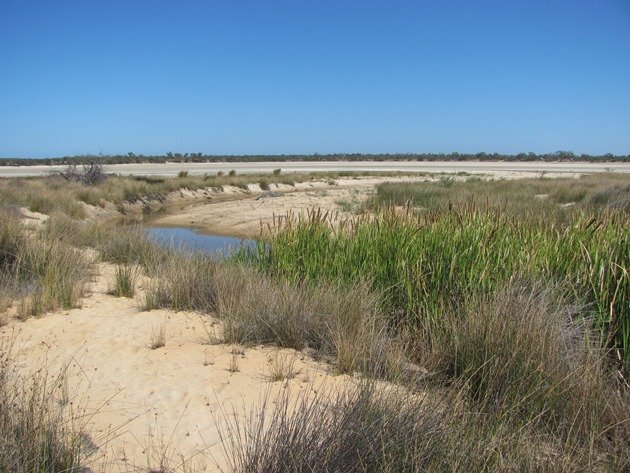 Water on the far side of Lake Indoon
In the shade there were several Western Grey Kangaroos that reluctantly moved to another shady spot as we approached and there were Yellow-rumped Thornbills and Splendid Fairywrens.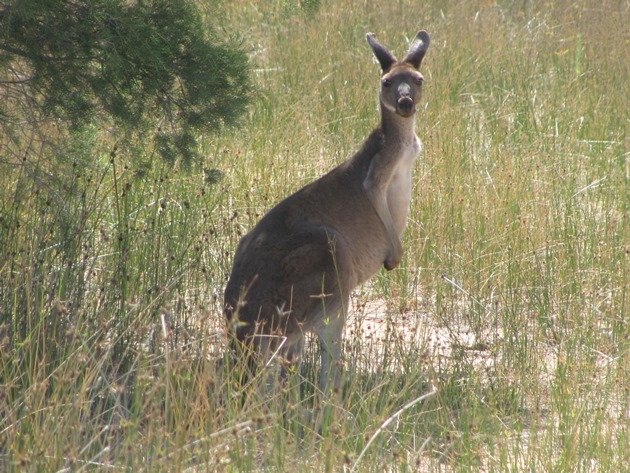 Western Grey Kangaroo
Black-faced Cuckoo-shrikes, a Rufous Whistler, Mistletoebird and Brown Falcon were soon added to the list and we had soon returned to camp to venture off for the day. We spent the day travelling firstly to the coast and then south and east again to go to Stockyard Gully Caves National Park. There was a notice in the camping area to say you could access it from the far end of the lake, but it was a treacherous four-wheel drive track and so we elected to take the four-wheel drive track route advised on this website. The track was narrow and through coastal heath with some very sandy patches, but we were soon there and explored the area. The trail is short, but through fascinating limestone caves and you do need to carry a torch with you to be able to do the complete trail. You also need to be aware of feral bees that may harm you, but of course there are ample warnings about all of the dangers in the area! The bird-life was quite sparse, but we did add Grey Fantail to the year list.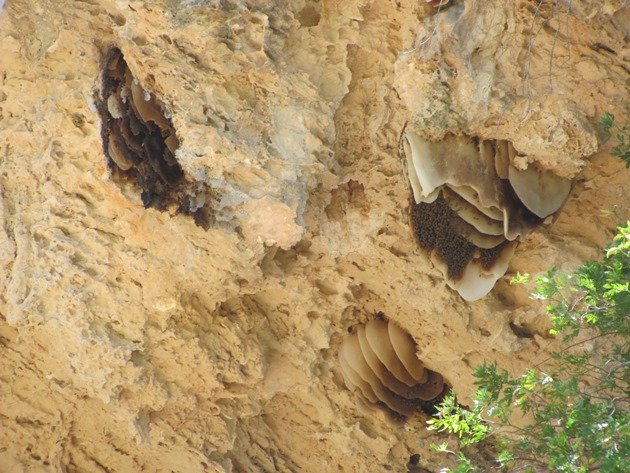 Feral bees
We returned to Lake Indoon for a second night camping and had the late afternoon and evening to enjoy the birds once again. Our first surprise was a pair of Carnaby's Black Cockatoos that landed directly above our camp despite choosing the same area for the second night as the first. It was quite challenging attempting to photograph birds directly overhead! You can often see where Cockatoos have been by the tree debris below due to the fact they snap all the nice young shoots off and also crack into nuts.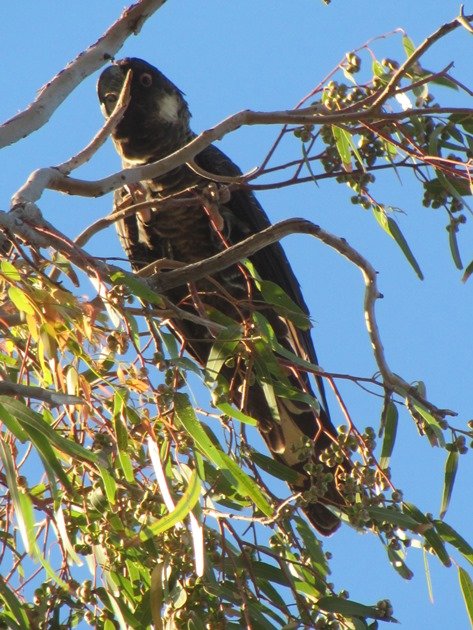 Carnaby's Black Cockatoo
Our second surprise was a juvenile Pied Butcherbird that noticed that we had some water in a bucket! We always carry an old solid bucket that would hopefully survive being snapped at by a crocodile when we hurl it off a riverbank in the north of Australia and as such it is not aesthetically pleasing, but very practical. The Pied Butcherbird was rather upset that the water level was not higher, but amused us for some time anyway!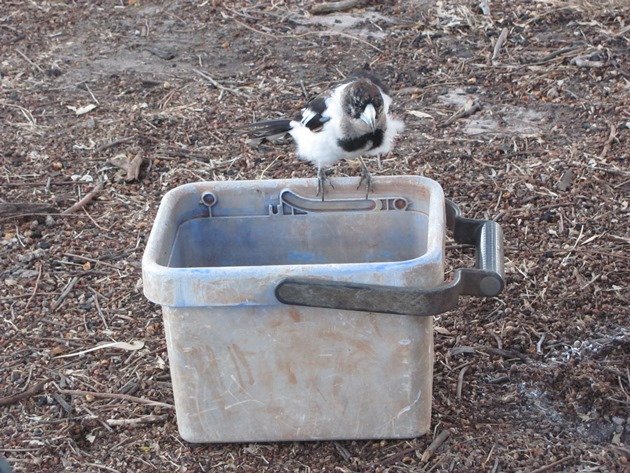 Pied Butcherbird
If you are travelling between Geraldton and Perth and looking for somewhere to camp we would recommend an overnight at Lake Indoon and you never know if there will be water in it or not! At least there should be some birds to amuse you and great facilities for a free overnight.