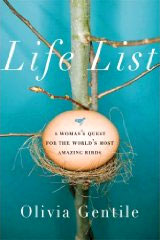 Summer really is quiet. I loved Life List: A Woman's Quest for the World's Most Amazing Birds, the biography of Phoebe Snetsinger written by Olivia Gentile and thought you would too. After giving Life List a glowing review, I announced a giveaway that straddled both 10,000 Birds and the Nature Blog Network. So we had a fun and easy set of tasks fully in the spirit of Phoebe Snetsinger targeted to a broad, fun-loving audience of nature watchers and bloggers.
So where were all the entries?
Oh well, you've got to be in it to win it. Those of you who took the time to participate in and promote the giveaways did a splendid job. Here are the three Tweet-style statements about people's most-wanted birds:
The bird I most want to see in the world is a Cuban Tody. They are tiny & delicate with pale and delicate pink feathers. http://bit.ly/VoRH5
Liza Lee Miller

What I'd give to see a Spoonbill Sandpiper eventually… if nothing is done they'll soon just be a distant memory.
Christopher Taylor

My most wanted bird: a bird that plucks monkeys out of trees with toes as thick as a man's fingers – Harpy Eagle.
John Baur
Aren't they cool, like haikus for the 21st century? Don't you wish you had tweeted one too? We (meaning Charlie, Corey, myself, and the talented author Olivia) loved all of them but selected Christopher and John to receive free copies of Life List. Also receiving a copy for his exceptional outreach efforts is Chip Clouse. That accounts for three of four copies. To learn where the fourth went, visit the Nature Blog Network!
Many thanks to all our participants and thanks as well to Olivia Gentile and the good folks at Bloomsbury USA. If you still don't have a copy of Life List, pick one up. I recommend it highly.