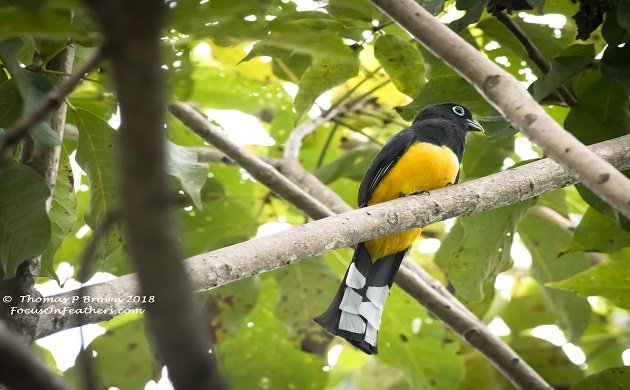 Our second week here in Costa Rica has certainly seen a great increase in the amount of rain. After leaving the Cano Negro area, we arrive at our next stop, Bijagua. We have a room in a great location, very near to the Helconia Rainforest Sky-bridges. We have got one full day here,  much like most of our trip has been planned. We will be here for two nights, with the day of our first night being mostly used up with travel from our last location. Then we have the next full day. After the second night we have a short following morning before getting on the road again to the next location. When we do this again, we will make sure to have three nights that way there is two full days to explore. On the first day, we can get an area figured out, or spend it with a guide. The second day can be spent following up on what was missed the previous day. Then we will still have that short morning before traveling. It's a "hind sight being 20-20" sort of thing.
Anyway, it is what it is and we are determined to make the best of it. After checking in to our Air BnB, we drive up to the sky-bridges to get a feel for the place, and find out what time we can get in the next morning. We visit with the friendly lady behind the desk, get the prices, and times, (8:00 – 4:00, and $12.00 per person) and head back outside to look around the area. We are looking up in the sky, trying to identify the small group of swifts that are circling over head, when we are joined by a young man with his camera and tripod. We strike up a conversation, and find out that his name is Abner, and he just so happens to be the son of the owner, and is very interested in birds. He quickly starts pointing our different species that are all around us, with exceptional and obvious knowledge. With no school the next day, we inquire as to his interest in showing us around the following morning. He was more than happy to do so, and will meet us there before 8:00 the next morning. The house we were staying in was surrounded by Howler Monkeys all night, who really work as a great 5:30 alarm, if that happens to be the time you want to get up! So, it was quite easy to have a nice breakfast, provided by our host, and still make the 15 minute drive to the lodge by 7:30. As we started the climb up the hill, it began to rain, and not just your misty, drizzly sort of precipitation. No, this was pounding, how fast can your windshield wipers go, clean out the storm drains sort of rain. We quickly ran into the lodge, and began our wait to see if it would let up. 4 hours later, we took it as a really bad sign when the locals are outside taking pictures of the rain, and commenting that they had never seen it rain like that before. On my Face Book page, I made the comment that we might be waiting for Noah to come by, rather than getting to see some birds. Finally at about 2:30 we packed it in, and headed back down the mountain.
We were able to get in about 2 hours with Abner the next day, before heading off to the southern end of Costa Rica. It was a great, bird packed two hours, which really made me long for that extra "make up" day. Some of the highlights of that morning include the Red-billed Pigeon, Brown Jays, White-throated Magpie-jay, Long-tailed Manakin, Black-throated Trogon, Gartered Trogon, Masked Tityra, Spotted Woodcreeper, White-breasted Wood-wren, Wedge-billed Woodcreeper, Yellowish Flycatcher, Purple-backed Quail-dove, Bronze-tailed Plumeleteer, Coppery-headed Emerald, Tody Motmot, Spotted Antbird, Stripe-throated Hermit, and Nightingale Wren.
Those swifts we were trying to identify turned out to be White-collared Swifts.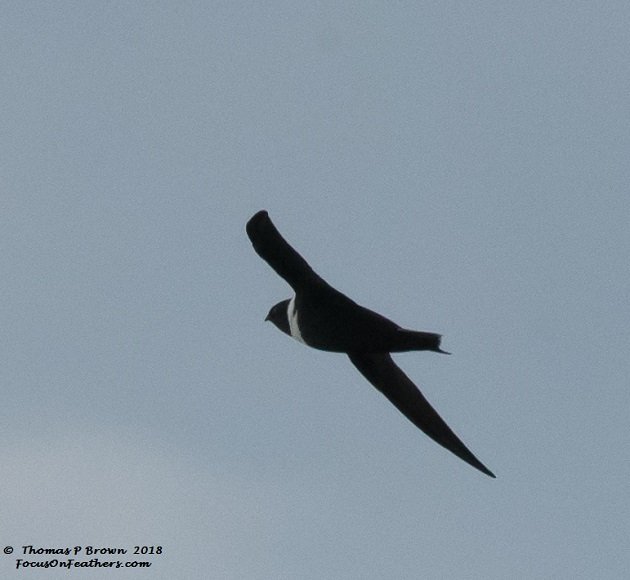 Here is one of those Coppery-headed Emeralds.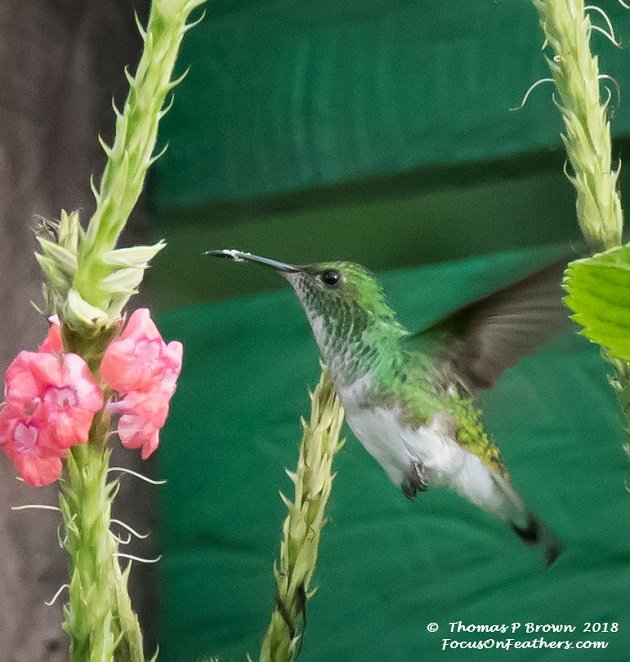 Some of you might remember back just before we had left Mexico, we had a visit from a Black-throated Magpie-Jay. That story is here. On our last day in Bijagua, we got to see a small group of White-throated Magpie-jays.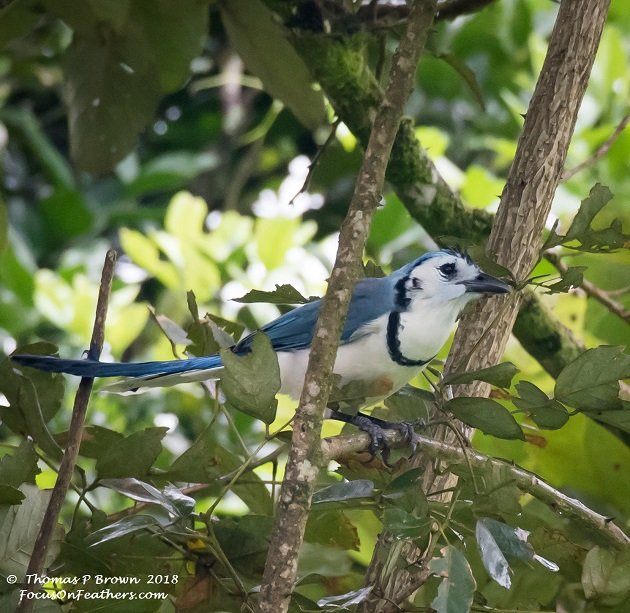 Our next stop this week was in the Tarcoles area, down along the Pacific Coastline. This area very much, reminds me of my old Mexico stomping grounds with its tidal flats, and mangroves. Getting to see Brown Pelican and Magnificent Frigates circling over head was a very familiar sight back on the Baja. A quick reminder that this was Costa Rica came when we got to our lodge, and found it was very much buried deep in a coastal form of jungle. This area is known to birders for the Carara National Park, so it was our first stop after checking in. here again, we wanted the pertinent information. We had not pre-arranged any form of guiding in this area, and found out that there were several available that all show up at the entrance. We showed up early and visited with one of the first guys there, who turned out to be excellent for what we needed. Franklin Javier Sanchez Reyes convinced us that while that park is very good, that it was also limited to a certain group of birds, many of which I already had located. After comparing notes, and bird wish lists, we decided to go outside that park and track down several birds that I needed. That is exactly what we did, despite some pretty rough terrain. We first made a stop by his house to get some rubber boots, as we were headed for the mangrove swamps while the tide was out. In the 75-80 degrees F and what seemed like 95% humidity. Walking thru those swamps is just incredibly hard work, but we got some nice birds for our effort. We found Ochraceous Pewees, Barred Antshrikes, Prothonotary Warblers, Tennessee Warblers, the diminutive Olivaceous Piculet, Rufous and White Wren, Black-headed Trogon, Gartered Trogon, Scarlet Macaws, Mangrove Vireos, Northern Water-thrush, and a roosting Lesser Nighthawk just to name a few.
Here is a shot of one of the Barred Ant-shrikes.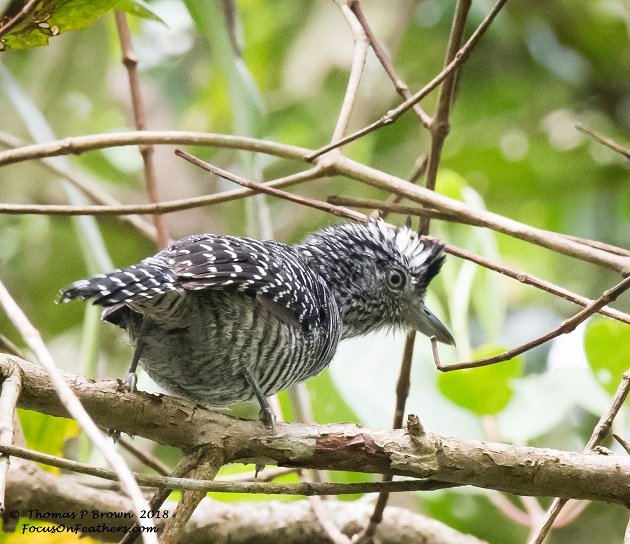 We ran across this Common Back Hawk right alongside the mangrove swamp.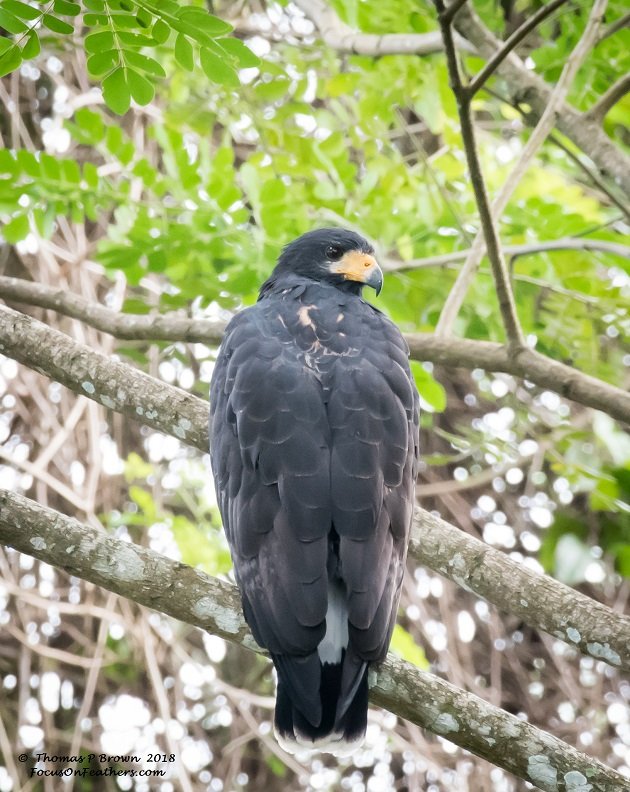 This beautiful Black-headed Trogon was quite happy to sit and be photographed.
After hours of tromping thru the muck of a mangrove swamp, we found this Gartered Trogon on the wire right above the car.
While this is a not a great photo, this Olivaceous Piculet is only about 10 CM. It is not the smallest woodpecker in the world, that honor goes to the Barred Piculet, at 8CM, but this one is pretty darn close.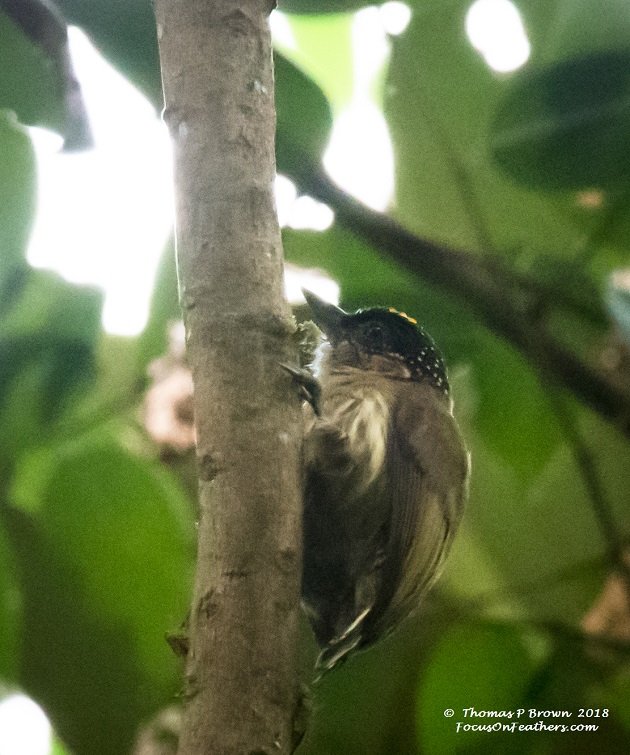 The next morning was our travel day, but we spent a couple of hours with Franklin again, tracking down a Ferruginous Pygmy-owl, Striped-headed Sparrows, a pair of Bat Falcons, Laughing falcons, Dusky-caped Flycatchers, Panama Flycatcher, Striped Cuckoo, Rufous-napped Wrens, and a bird that was high on my target list, the Double-striped Thick-knee.
This Ferruginous Pygmy-owl image was taken at 5:30 AM, and with no flash!! For those of you that wonder about these things, the EXIF data on this shot is as follows: F14, 1/8th of a second, ISO 12,800, at 500MM, on a Manfrotto 055 carbon fiber tripod, and a Wimberley Gimbal.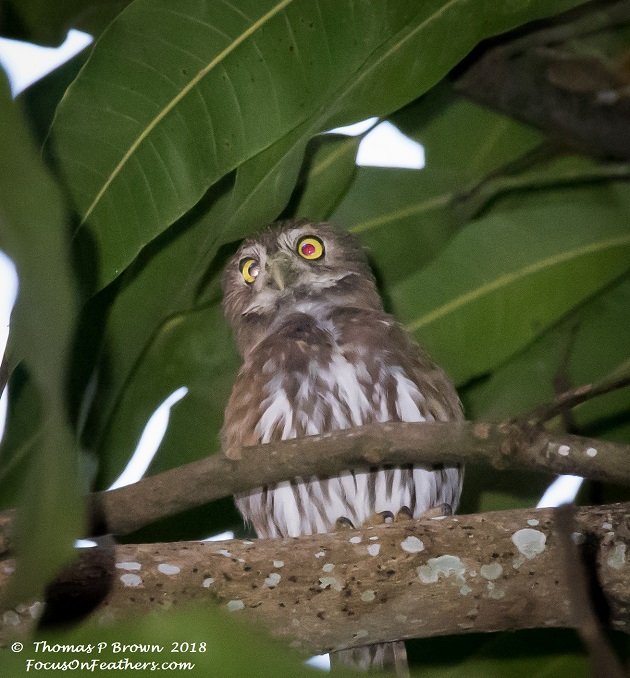 Here is one of the Laughing Falcons.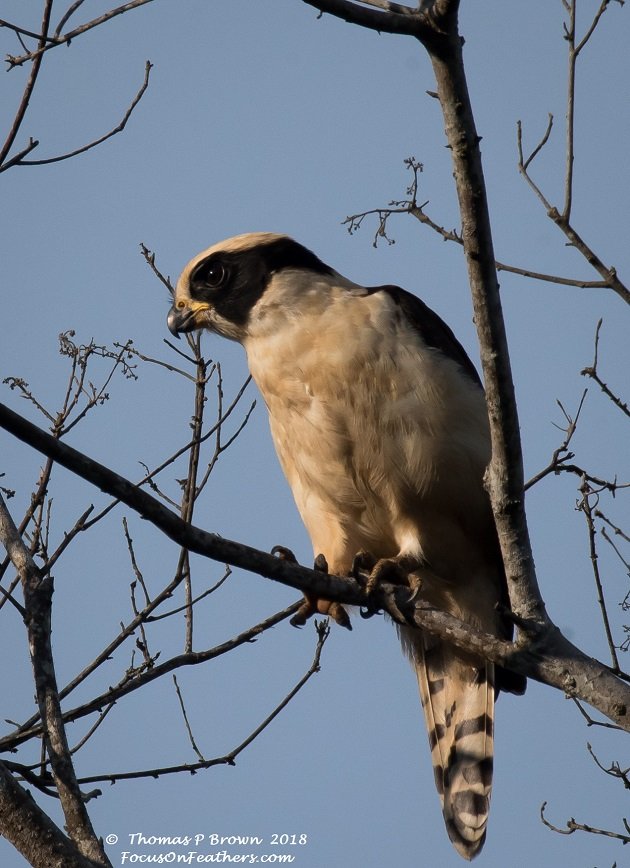 This Roseate Spoonbill was really giving the female what for, but it makes for a fun image.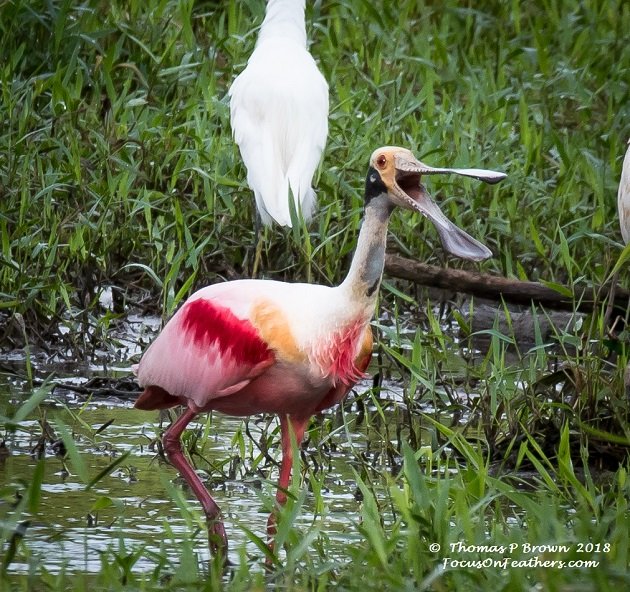 Here is one of a pair of Striped Cuckoos that we found.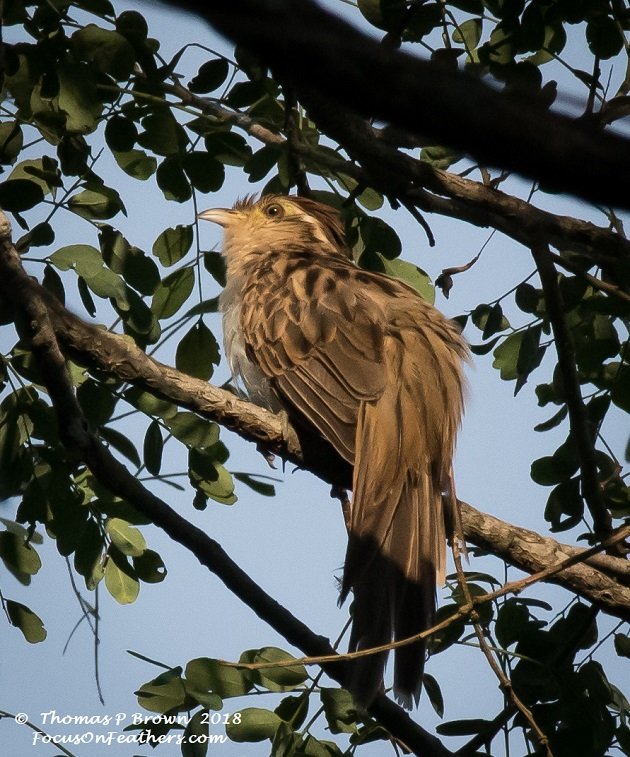 We actually found quite a few of the Stripe-headed Sparrows, but mostly they were very early, when there was not much light.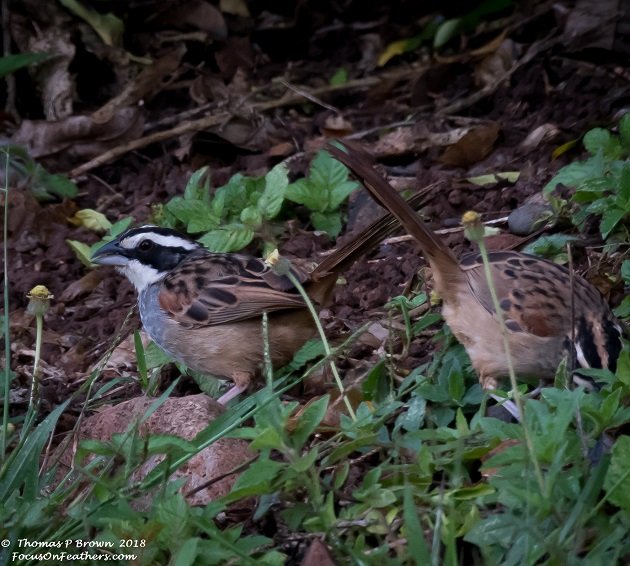 We worked very hard to find this Double-striped Thick-knee, but when we did find nit, there were 5 all together.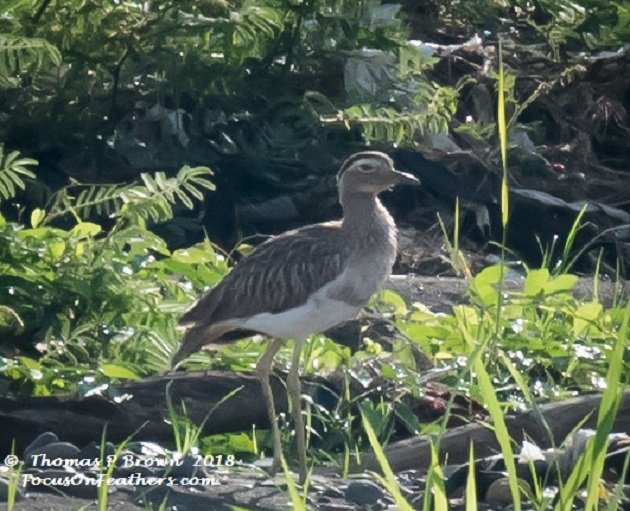 Our last stop for this week would be our farthest south, in Rio Claro, and the Golfito area. While we were in a beautiful Air BnB, which was owned by some awesome bird lovers, I personally had not done enough research on the area. Once we arrived, we were able to track down a guide who was to take us to the Golfito area the next morning. To be completely fair, this was a last minute arrangement, from a "friend of a friend" but the day was almost a total loss. He turned out to be a cruise ship guide, not a true bird guide, so our requirements of him dramatically outweighed his abilities. We did manage to find a few birds, but never got to see the Golfito area as I cut him loose at lunch time. On our morning hike, I did find a White-necked Puffbird, Bi-colored Antbird, Riverside Wrens, White Hawk, Black-hooded Ant-shrike, a pair of Bananaquits nesting, Gray-capped Flycatcher, and a White-shouldered Tanager.
I had been told several times, no matter what, don't touch any of the caterpillars, and the more colorful they are the more poisonous they are. I guess this White-necked Puffbird didn't get the memo.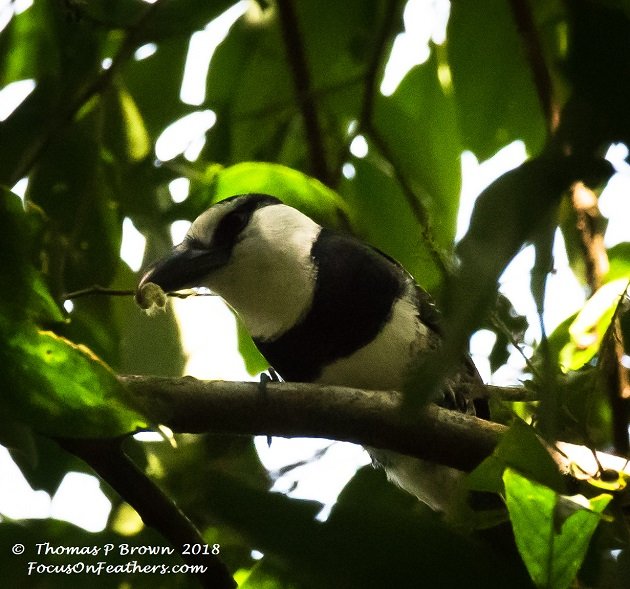 Jeanne and I made a stop for lunch at a roadside restaurant that was supposed to have a nice water area in the back with some birds. It turned out to be one of the highlights of our day. We had a nice lunch, and explored the area behind the facility. We came up with a nice list of birds, amd here are a few of the highlights. Eastern Meadowlark, Ring Kingfisher, Bare-throated Tiger-heron, Green Heron, Tropical Mockingbird, Northern Jacana, Black-bellied Whistling Ducks, Yellow-green Vireo, Thick-billed Euphonia, Roadside Hawk, Yellow-headed Caracara, Purple Gallinule, Tropical Kingbird, Gray-cowled Wood-rail, and Pale-vented Pigeons.
This Purple Gallinule was really showing off that long set of legs, resting on the banana leaf.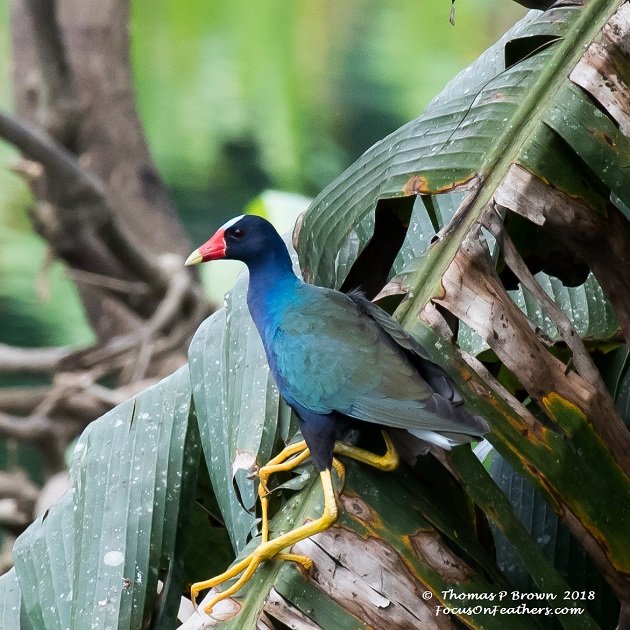 My first ever Tropical Mockingbird proved a bit shy, but I managed to get this shot just before we left.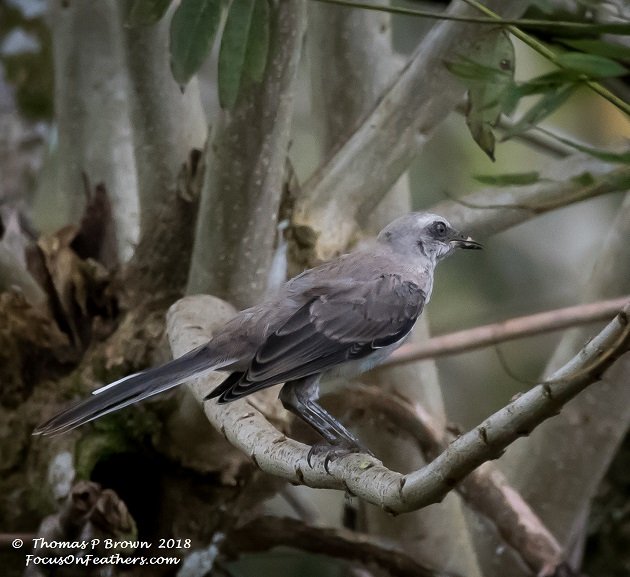 There was a pretty good population of Yellow-headed Caracara's in this area.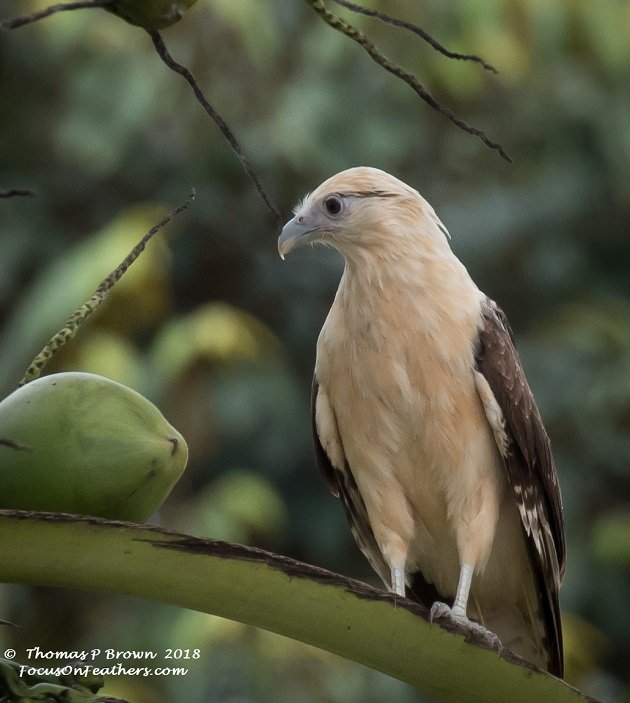 This pair of Black-bellied Whistling Ducks hung around just long enough for a quick photo before heading out quickly.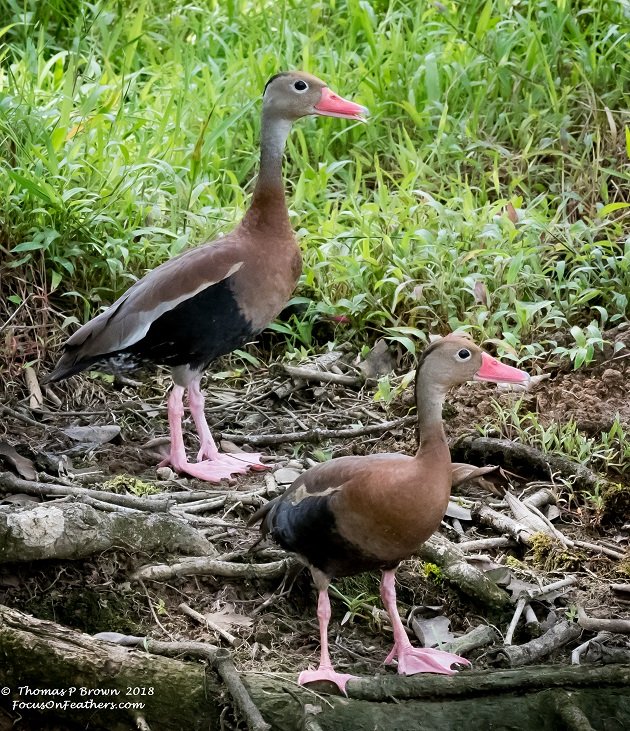 In addition to this area, our hosts had put together quite a feast for the bird's right outside out casita door. Palm Tanagers, Scarlet-rumped Tanagers, Summer Tanagers, Gold-hooded Tanagers, Blue-gray Tanagers, Charming Hummingbirds, Green Honeycreepers, Fiery-billed Aracari, Spot-crowned Euphonia, Lessons Motmot, Streaked Saltator, Buff-throated Saltator, Baltimore Oriole, and another visit from the Olivaceous Piculet.
In another of my favorite shots of the trip, this Lesson's Motmot was hanging around the yard looking for some papaya.
These Gold-hooded Tanagers are just lovely.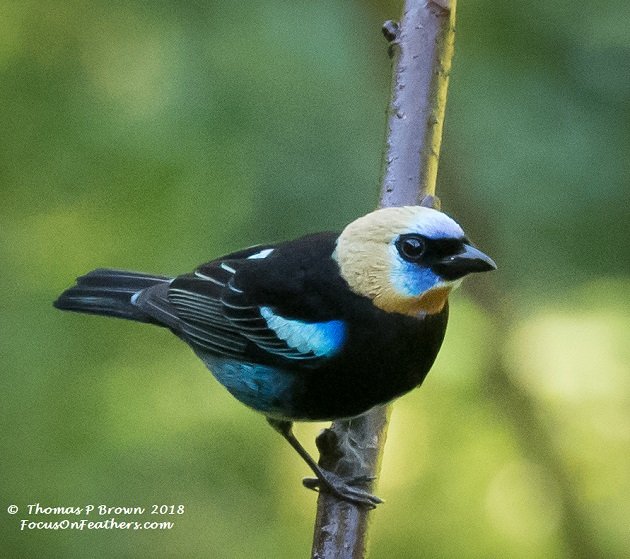 I had seen several female Green Honeycreepers, but there was a bunch of the males hanging around the feeders in the back yard.
We got several visits from the Fiery-billed Aracari's while we were there.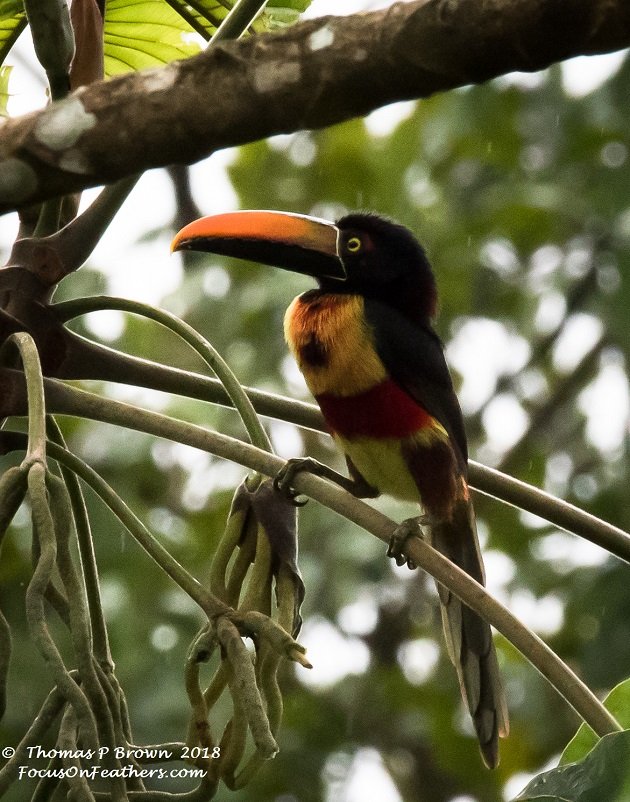 Another regular visitor to the feeders was this Yellow-crowned Euphonia.

Now that we have wrapped up week two, our numbers have done some pretty good climbing. Even with what I consider to be two completely lost days, the numbers are as follows:
Little Big Year species – 1141
eBird submissions – 347
Costa Rica species – 273