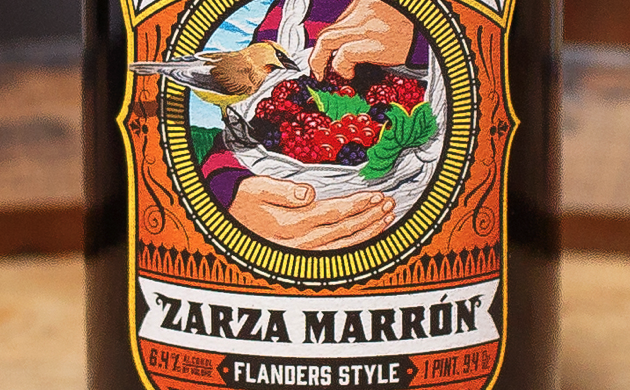 I find the American celebration of Thanksgiving an awkward holiday for birders. There's no other day on the calendar more associated with birds, but the Wild Turkey – the undisputed star of the day – owes this dubious honor to being slaughtered, cooked, and served as the culinary centerpiece for this annual holiday feast. As birders, our entire pastime is about the enjoyment in seeing and hearing as many living birds as we can, while Thanksgiving – well, to be perfectly blunt – is for many a holiday centered around eating a single big dead bird.
Of course, we featured the Wild Turkey for last year's inaugural Thanksgiving edition of Booze and Birds, but assuming the presence of the turkey at this year's feast as a given, let's leave aside the unhappy fate of the poor old tom for now and find room for some other birds at the holiday table this year.
If you were going to pick another bird to represent the Thanksgiving holiday in spirit, you might choose the Cedar Waxwing: a true American bird like the turkey – and like many of us around the holidays, a garrulous, gluttonous, and occasionally drunken creature at that. Fittingly, a Cedar Waxwing graces the label of this year's Thanksgiving selection, a sour brown ale in the Flemish Oud Bruin style from Casa Agria Specialty Ales of Oxnard, California called Zarza Marrón.
Zarza marrón means "brown bramble" in Spanish and the name denotes the inclusion of raspberries, blackberries, and cranberries in this sour brown ale. Brambles are also a favorite feeding ground for waxwings and other birds that gorge themselves on plump, overripe, and sometimes fermented berries, and the label of Zarza Marrón features a hopeful Cedar Waxwing perched on the rim of a basket full of delicious berries. Luckily, Casa Agria was able to save enough of this fruit from the ravenous waxwing hordes to add to Zarza Marrón.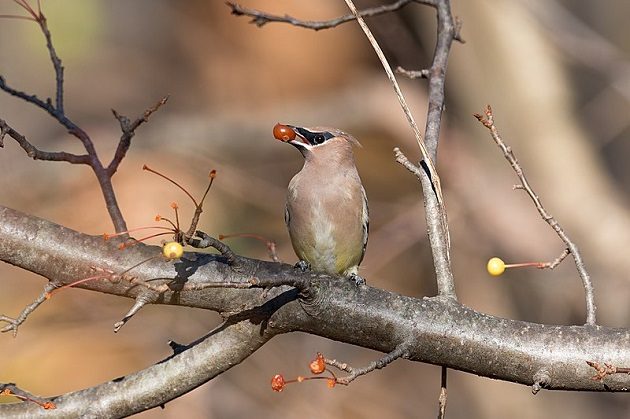 This Cedar Waxwing is only doing what many of us in the United States will be doing next Thursday – except for the whole napping on the sofa bit afterwards. 
In Belgium, sour ales in both the brown style of East Flanders and the red style from West Flanders are often blended with fruit during their long aging period, traditionally using cherries or raspberries. The addition of these fruits, along with their distinctive sweet-and-sour character, and their origin in a country that lies between the beer-drinking north of Holland and Germany and the famed grape-growing fields of Champagne, allows these sour Belgian ales to occupy a singular position at the dining table in the no-man's-land between beer and wine. With Thanksgiving being such a notoriously tricky meal for which to accommodate all tastes, the vinous Zarza Marrón might represent an excellent compromise in a single bottle – or two.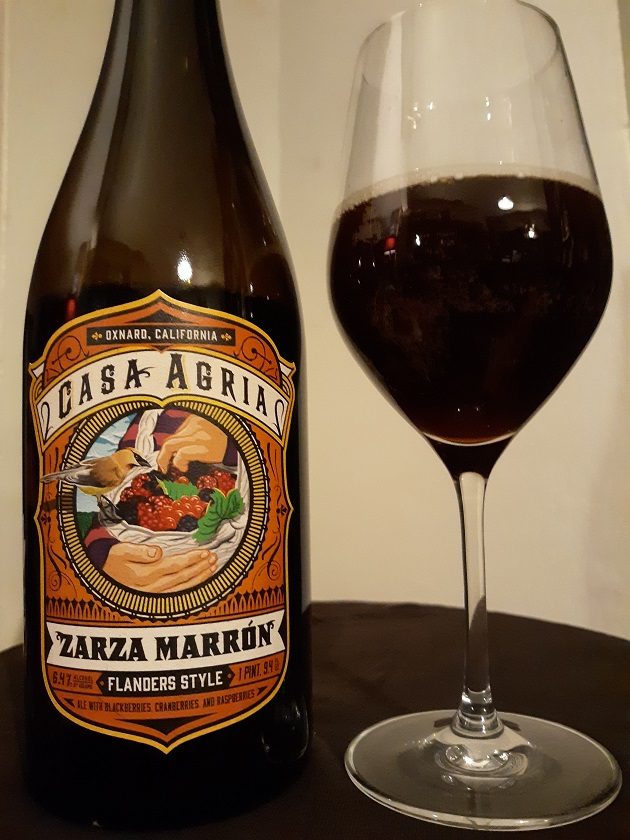 Pinot noir is an evergreen favorite among wine drinkers at Thanksgiving. You might consider changing things up this year with a bottle of Zarza Marrón (or better yet, serve both). Like a Pinot noir, this beautifully brunette ale is refined but approachable, offering a soft bitterness with ample tartness that sits well with a big meal. For a beer, Zarza Marrón boast a rare sweet-and-sour complexity that complements a good portion of the wide-ranging Thanksgiving table, from cutting through the fatty turkey and gravy with its gentle acidity, standing up to the most pungent vegetables with its own herbal earthiness, or accenting the deeply-roasted fall flavors with its own sour fruitiness. Zarza Marrón should be a highlight of the table in its own right as well, with its subtle raisin, molasses, and malt sweetness set off by an almost briny and rusty complexity with a touch of oak, with the bright, jammy pop of all those ripe berries. Zarza Marrón also comes packaged in a lovely three-quarter liter "large format" bottle, making it an attractive and welcome offering for any special occasion this holiday season.
Good birding and happy drinking!
---
Casa Agria Specialty Ales: Zarza Marrón





Four out of five feathers (Excellent)