What better way to spend Christmas Eve than driving so far north in New York State that you are actually north of the Adirondacks (to look for birds, of course)? Nothing! So when Daisy dragged me out of my warm bed before sunrise this morning, insisting we head way up to the town of Malone to look for what is likely the last remnant population of Grey Partridge in New York State, I acquiesced, but only after she sweetened the pot by offering to also stop and look for my nemesis bird of my big year, the Black-backed Woodpecker. Anyway, that's my story and I'm sticking to it.
Wait a second though, Grey Partridge are a Eurasian species, what are they doing in New York? I was wondering the same thing and found this out:
Though Gray Partridge numbers are small and its geographic distribution limited largely to parts of the upper St. Lawrence River Valley, some 28,000 were introduced into the state, mostly from Czechoslovakia, from 1927 to 1932. (source)
I realized the possibility of finding Grey Partridge when, a couple of weeks ago while I was gulling Niagara Falls, Jory and a couple other Albany-area birders headed up to Malone and found a covey of the rare-for-New York quail in a farm field after getting location information from a local birder. I guess Daisy must have heard me talking about them and decided I had to go see them too.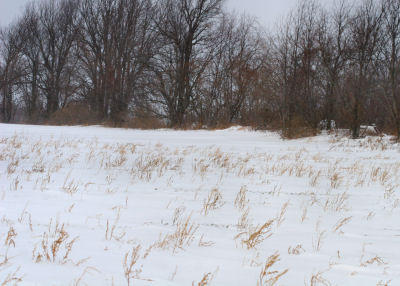 partridge-less field south of Malone, NY
So we arrived at the field Jory and company had seen the partridge in, just south of Malone proper, and realized a serious flaw in the Grey Partridge finding scheme: the wind, as predicted, was blowing very hard, which, considering it was snowing off and on and the fields we were looking in were covered in snow, made it very difficult to be outside, much less see anything. A single step off of the road led to my sinking up to my thigh and the realization we were not going to find any partridge, not in a pear tree, not at all (especially taking into account that the birds would not be leaving cover in such wind). Sure, we looked for awhile but we knew it was a futile effort so we figured we would head south into the Adirondacks where the trees would hopefully shelter us from the wind a bit and allow us to find a Black-backed Woodpecker.
First we tried to drive down a couple of back roads that hadn't been plowed very well and nearly got stuck. Don't try Duane Rd. in winter without four-wheel drive! When we returned to State Route 30 we were rewarded with a flock of Pine Grosbeaks lined up on a power line in front of a house that had active feeders. The weather and the busy road conspired to prevent my taking pictures but if you really want to see them you can go to one of my recent posts.
Continuing south through the snow, amused by the antics of Common Ravens cavorting in the high winds, we arrived at Paul Smiths Visitor Interpretive Center, where recent reports had placed Gray Jays and a female Pine Grosbeak. We saw neither but were excited to see a flock of nine Evening Grosbeaks fly in to scarf down sunflower seeds!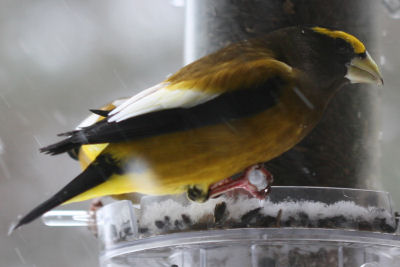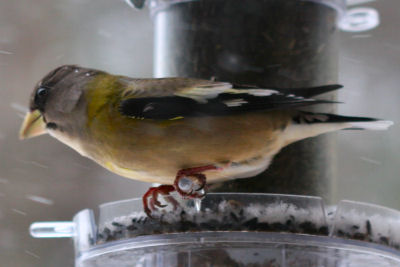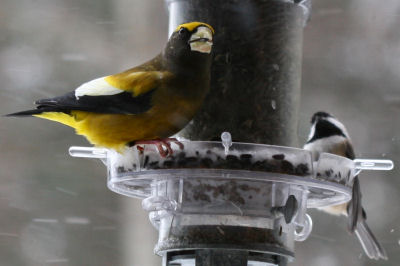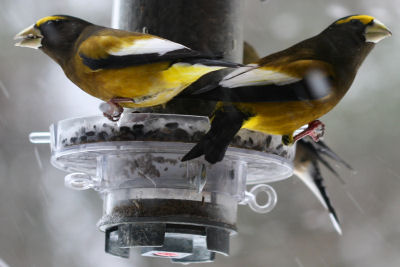 The Red Squirrels tunneling through the snow for spilled seeds were fun to watch too.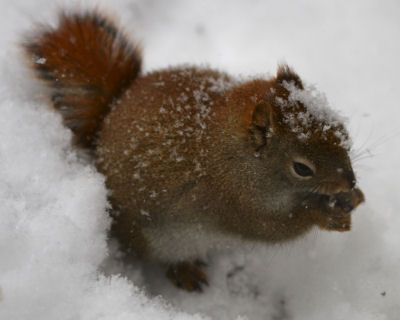 Driving the back roads south of Paul Smiths we didn't find much besides snow, even on our occasional forays on foot down trails and unplowed roads.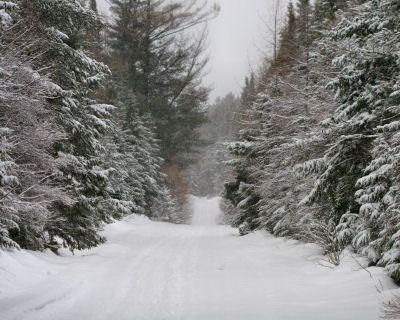 snow-covered Bigelow Road
It was a wonderful day in lousy weather. And having a whole day birding in and around the Adirondacks with Daisy was a pretty good trade-off for not seeing any new year birds.
Oh, and a note on the use of "grey" and "gray." I figured that for the Eurasian species I would use the English spelling and for the North American species I would use the American, that is, until the American Ornithologists Union gets around to renaming our "gray" birds…