When one thinks of great birding locations one typically doesn't think of a zoo. Sure, one can see cool birds at a zoo but they're in cages and birders can't count caged birds. Southern California, however, has a gem of a zoo you might have heard of: the San Diego Zoo. And further north, just east of the city of Escondido, is the Wild Animal Park, previously the breeding facility for the zoo and now a destination in its own right. The Wild Animal Park has attractions that draw wild birds as much as the caged animals attract visitors: water and food.
Two species of bird in particular drew me: Wood Stork and Zone-tailed Hawk. Seems that a single Wood Stork has made a home for itself at the Wild Animal Park and has been seen there for years. And Zone-tailed Hawks, which camouflage themselves amid Turkey Vultures, are occasionally seen flying over the zoo, the only clues to their identity being their striped tails and non-bald heads. Of course, going to the zoo on New Year's Day wasn't a solo excursion: Daisy, her sister, brother-in-law, niece and mother all went as well, the second year in a row we all spent New Year's Day on a visit to the park.
But I'm getting ahead of myself here. Before I tell the tale of our visit to the Wild Animal Park I need to fill you marvelous readers in on my first bird of the year, spotted as it flew over the backyard in Temecula where I was enjoying my morning coffee: a Common Raven.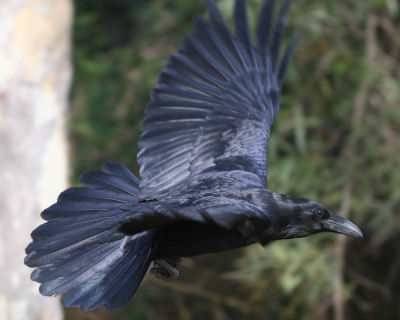 Of course, the picture above is not actually the bird I saw first thing in the morning. No, the bird above was spotted at the Wild Animal Park freeloading from the food supply for Western Rueppell's Vultures. After seeing the raven I added a couple of other birds in the backyard to get my start on my Anti-Global Warming Big Year: Yellow-rumped "Audubon's" Warbler, Northern Mockingbird, Anna's Hummingbird, American Crow and House Finch. Not a terribly impressive list I must admit but not bad for fifteen minutes in a suburban backyard with no feeders either!
Anyway, we took the half-hour drive to the Wild Animal Park and were the birds ever great! The waterfowl ponds, meant to show off rare and exotic ducks and geese, attracted a wide variety of native waterfowl too. Cinnamon Teal, Ring-necked Ducks, Northern Pintails, Mallards, Ruddy Ducks, Pied-billed Grebes, American Wigeons, Northern Shovelers, and American Coots competed with exotics like Mandarin Ducks for our attention.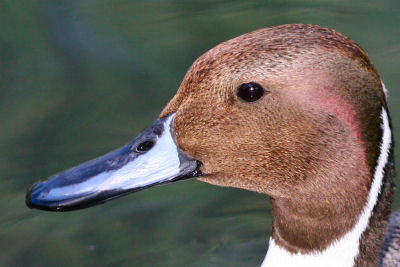 drake Northern Pintail
Amid all of the waterfowl were a couple of Eurasian Wigeons, at least one of which was a hybrid, but I'll save those pictures for another post. Also freeloading at the ponds were a variety of herons. Black-crowned Night-Herons, Great Egrets, and Snowy Egrets in particular were everywhere and the occasional Great Blue Heron or Cattle Egret made appearances as well.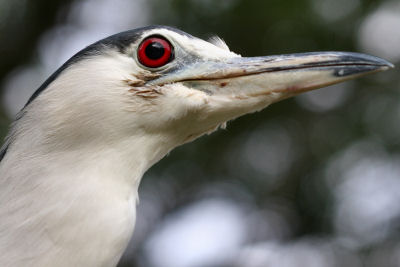 Black-crowned Night-Heron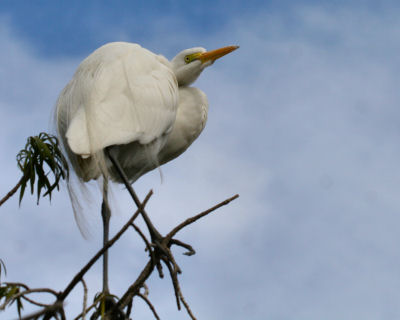 Great Egret
As you can tell by the above photos one of the best parts about the park is that the birds, because of the sheer number of people that pass through without doing any harm, are rather easily approached. The Black-crowned Night-Heron pictured was especially tame: I think I could have touched it without causing it to flush!
Of course because of my interest in seeing a Zone-tailed Hawk I spent an awful lot of time staring through my binoculars at the ubiquitous Turkey Vultures which was pretty funny as whenever I put my bins down I would see other zoo patrons staring off into the sky, trying to figure out what it was I was so interested in seeing. I never did find a Zone-tailed Hawk but I did get some good shots of Turkey Vultures, especially this one: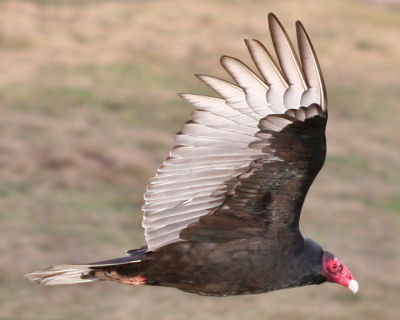 Turkey Vulture
Unlike the darned zone-tails I did manage to find the Wood Stork, feeding in the same enclosure as the raven I photographed, surrounded by egrets and herons. For a wild bird it was also pretty easy to get pictures of: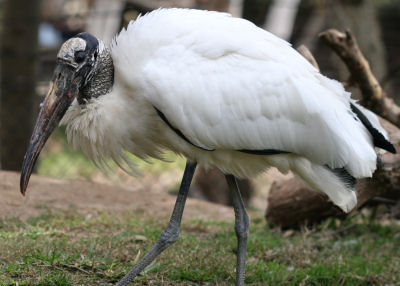 my first-ever Wood Stork
All in all it was a pretty cool day's birding and I highly recommend a visit. Even if you have non-birders with you they will have a great time viewing the animals and birds, wild and not, and you can sneak off for some serious birding and photography!