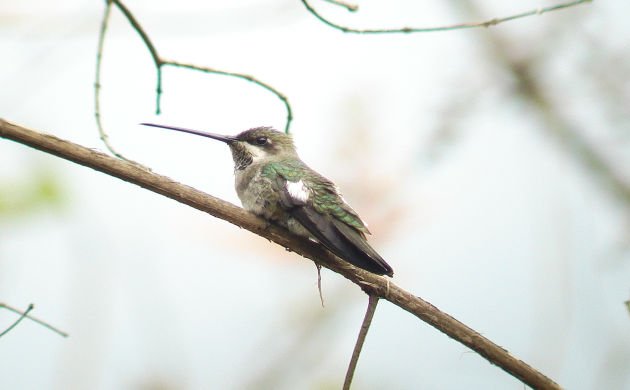 It's good to have birding goals. Challenges like a Big Year, county lists, or a Big Sit can push a birder to learn more, to improve the birding focus, and become more aware of what's happening in the avian neighborhood. This year, my main challenge is identifying 700 species within the borders of Costa Rica by December 31st. It's a fine goal to aim for because although it is possible, the goal won't be reached unless you spend the right time looking for certain birds in the right places. Although guiding brings me to some of those important spots, additional birding must be carefully planned and executed because these birds aren't just for my list. Those 700 species also need to be identified by my partner Mary (the other half of Team Tyto) because the road to 700 species is one that we are walking together.
This means that when we drive across a bridge in the Caribbean foothills, we need to stop and check for key river specialist year birds like the Sunbittern, Fasciated Tiger-Heron, or American Dipper. Such stops have already yield the tiger-heron and dipper. It also means that we need to take advantage of every birding morning we get, even if it's just looking for species near home in the Central Valley. Not that the birding around here is bad, it's just that there are fewer things to find than other parts of the country. However, that doesn't mean that we don't have some special birds best found in the remnant riparian zones, blue skies, and other habitats of this intermontane valley.
If we head to slightly higher elevations, we can target Buffy-crowned Wood-Partridge, Scintillant Hummingbird, Lesser Elaenia, and wintering MacGillivray's Warbler. If we go birding much closer to home, dry forest species are in order and no matter where we bring the binos, there's always that chance of finding some rare wintering warbler or vireo.
This morning, we opted for a bit of birding near home after dropping our respective daughters off at their schools. Thanks to a nearby road that accesses a blend of brushy fields, shade coffee, and other green space, we picked up three year birds while enjoying more than 40 other species. Although Spot-bellied Bobwhite failed to announce its presence, these are the three species that made it onto our year list:
Chestnut-collared Swift– An expected bird often seen foraging over green space in the Central Valley but you have to get out early to see them. Once that tropical sun cooks the ground, thermals carry them and other aerialists way up into the blue. We may have also seen a rare Spot-fronted Swift but since it never called nor showed the side of its face necessary for identification, it never went beyond that synonym for frustration, "swift sp."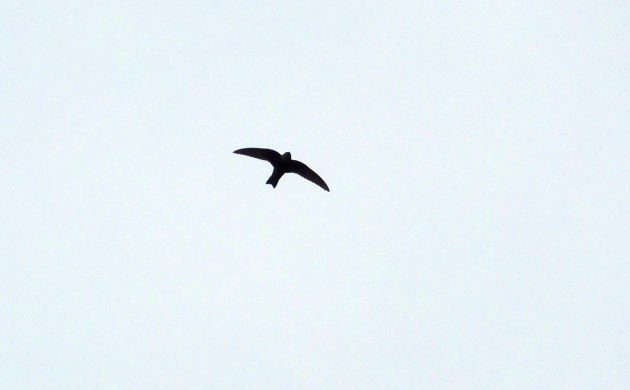 Plain-capped Starthroat– I was very pleased to have seen this cool hummingbird because I had seen it in the area on previous occasions. Although not all that rare, it can still be more challenging to find than other hummingbird species. Great looks at four individuals with a backdrop of calling saltators and other tropical birds was a treat.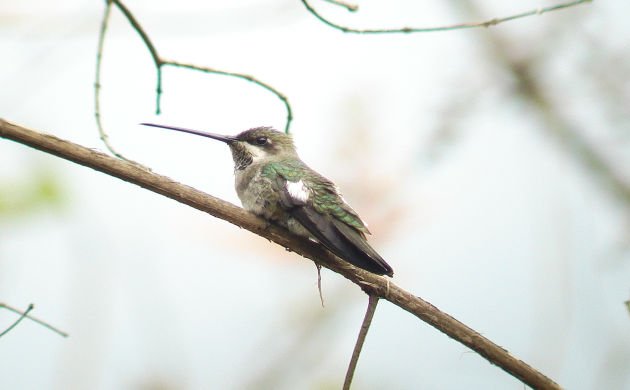 Canivet's Emerald–  A bonus! Like the starthroat, not rare but it's rather uncommon in the Central Valley. Just after seeing the starthroat, I had mentioned that we could still get lucky with this small hummingbird species. Shortly thereafter, soft call notes that reminded me of ones made by the Cabanis's Wren got my attention and there she was, a female Canivet's Emerald feeding at close range!
A male emerald from another day of birding in Costa Rica.
The year birds were very welcome and appreciated but the overall birding was also beautiful. I can still picture the wintering Rose-breasted Grosbeaks and Tennessee Warblers as they foraged in a flowering tree along with resident Blue-gray Tanagers, saltators, and chattering Hoffmann's Woodpeckers. Mary espied a perched dark morph Short-tailed Hawk (which of course happened when we lacked a camera), and fancy White-eared Ground-Sparrows called from the undergrowth. Maybe that bobwhite will show on Team Tyto's next little birding escape. Further afield, we will surely add a bunch more species on the way to 700.