Each week as I schedule my post it brings my attention to the huge time difference between Broome and New York. For those of you even further west you are even further behind us! Throw in the completely different climate we are experiencing in northern Australia and we seem to be absolutely worlds apart….but are we?! It's not snowing-it's not even raining yet and it's the Wet Season, but we do have mistletoe for the Christmas season!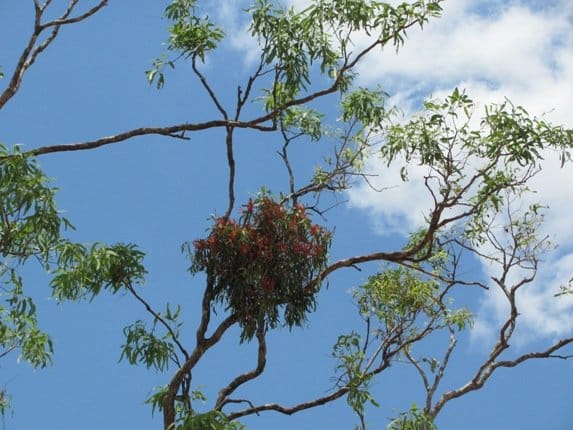 Weeping Mistletoe Amyema pendula in a Eucalypt tree
We even have a Mistletoebird, which is present all over Australia and has a red breast, but I have been unable to get a photograph for this post myself. The flight of these birds is rapid and erratic and they are often heard as they fly over.
We don't have deer to look at over the Christmas season, but we do have some rather deer-like Brahman calves at this time if year. A little bit of imagination required……..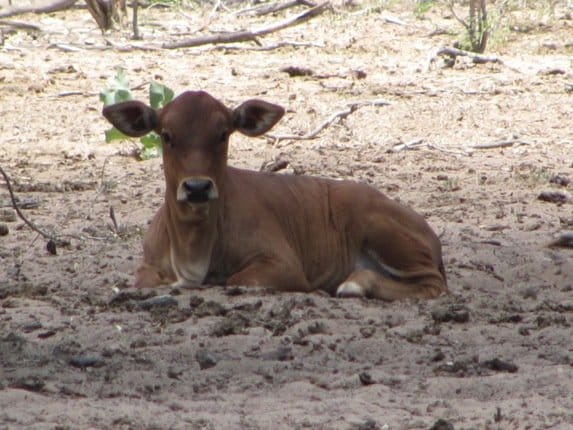 Brahman calf
We have once again this week seen rain in the distance, but once again we have not had it reach us. There is currently a Tropical low in the north and this may well form into Tropical Cyclone Grant over the coming few days. I had Tropical Cyclone Clare in January 2006 and due to it's intensity my name has been removed from the list. My husband, Grant, hopes the Tropical Cyclone using his name brings much needed rain to the north and no destructive winds. The following cyclone will be named Heidi, followed by Iggy as the Bureau of Meteorology alternates between girl and boy names.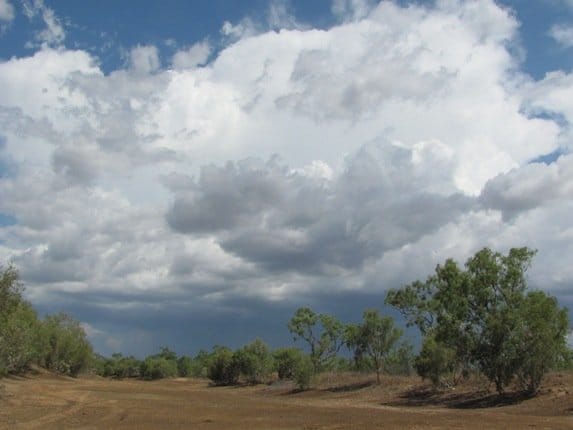 More of the rain we didn't get!
I have a rather precious ornament here in Broome, which I have had for many years. My Father's Mother had a pen-pal in the 1930's in Vienna, Austria. They corresponded throughout their whole lives. My Father actually went to Vienna to meet his Mother's pen-pal in the early 1960's and his Mother had never actually met her in person! As young children we travelled to visit "Tante Christl and Onkle Franz" in Austria and treasure these holidays. They had this lovely little ornament that is a fir tree with a bird on top. It now has a home in the tropics! It is similar to the Audubon callers, as you rotate the base and the bird calls and is a little bit of Christmas here in Broome. The paint is failing, but the bird sings on…….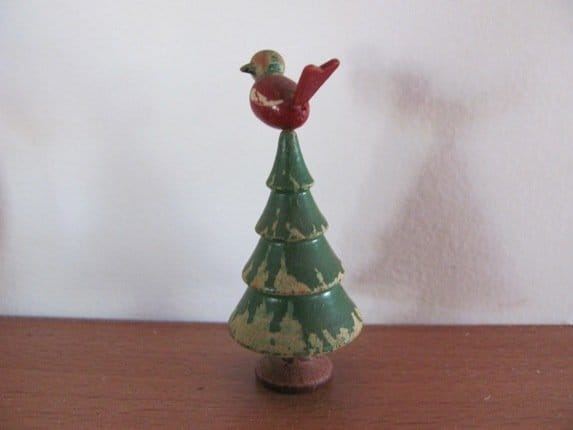 Bird call Fir Tree
For those of you celebrating Christmas we hope you receive a precious gift. We hope you all have good health for the year ahead and enjoy the birdlife around you where ever you are.