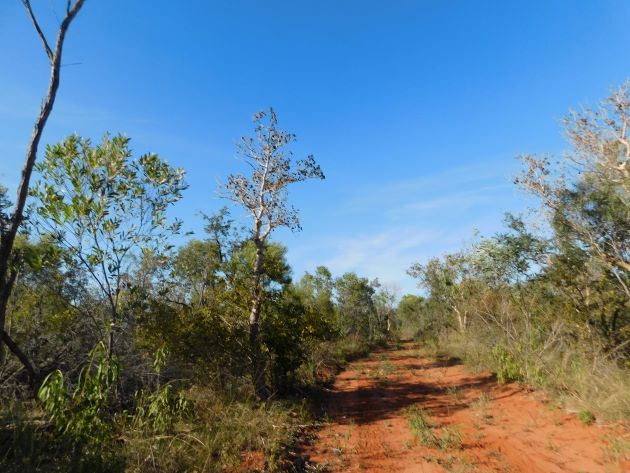 It really is starting to feel like Broome is going to break a few winter low temperature records this year. Since we moved here in 1999 we have never needed to wear socks for so many days in a row in the early hours. We have had to drag out the winter clothes we normally reserve for trips interstate, inland in winter or overseas! We are not letting the cold weather deter us from going on an early morning walk, but not too early-the sun needs to be up and providing some warmth! Even going on the same route twice a day we have noticed different bird species at different times and every walk is a time to enjoy time together in nature very close to home. We are actually looking in towards our garden from the bush on a good section of our route, so we are out looking in, which I suppose is a birds' eye view of our garden!
We have been observing Mistletoebirds every day for weeks now and there have been at least three pairs close to home. We have seen male Mistletoebirds high up on twigs with a blue sky and surrounded with dew on the edge of the firebreak. However, this week we noticed a female Mistletoebird heading to a tall native tree with very few leaves on it. We realised she was carrying a cobweb and then we realised she was making a nest! Now the tall tree in the header photo looks quite unspectacular, but that is where the nest is on the left hand side.
Over several days we have watched the female Mistletoebird build the nest and there is a hole on the upper left that will be the entrance. It is a shame we had not noticed what was going on earlier, so we could have documented it from an earlier stage of development. I have taken these photographs of the nest, which I believe may be complete now or close to completion.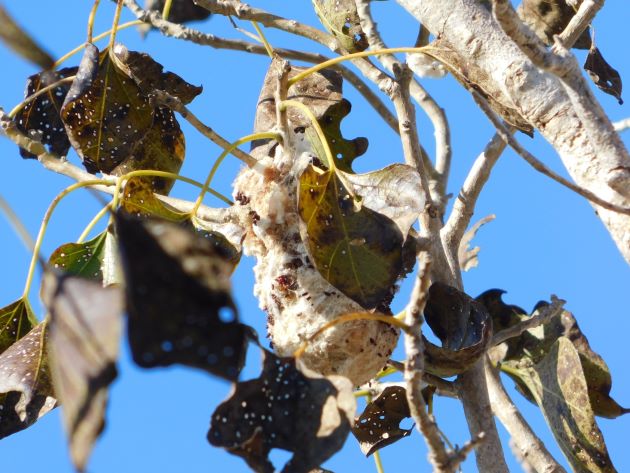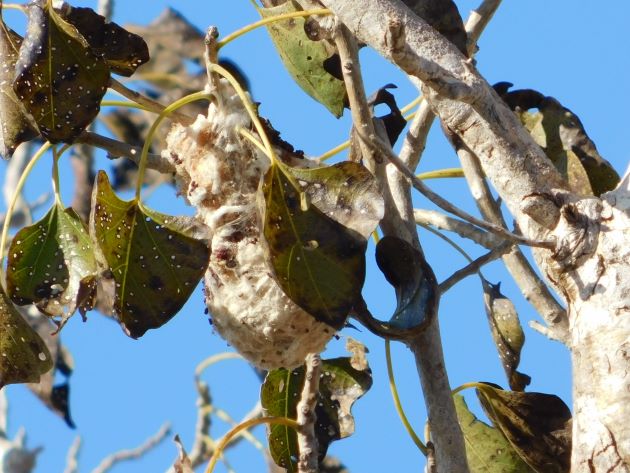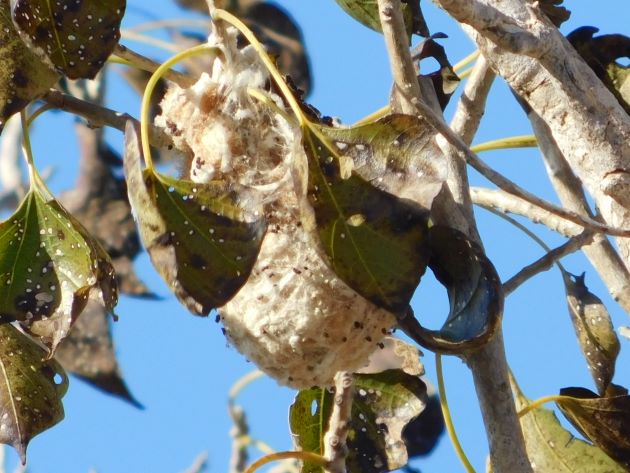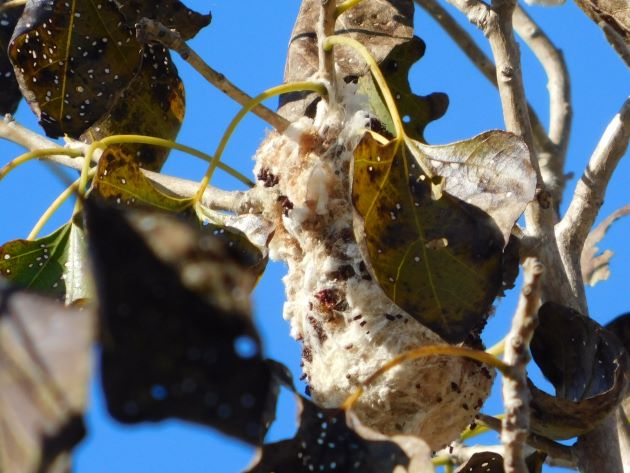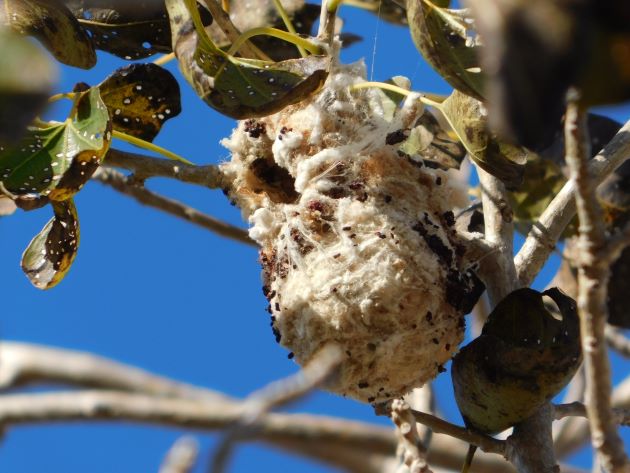 Mistletoebird nest
I was able to photograph the female Mistletoebird at the nest with her body partly in the nest hole and just outside of the nest as well. She is actually quite well camouflaged beside the nest.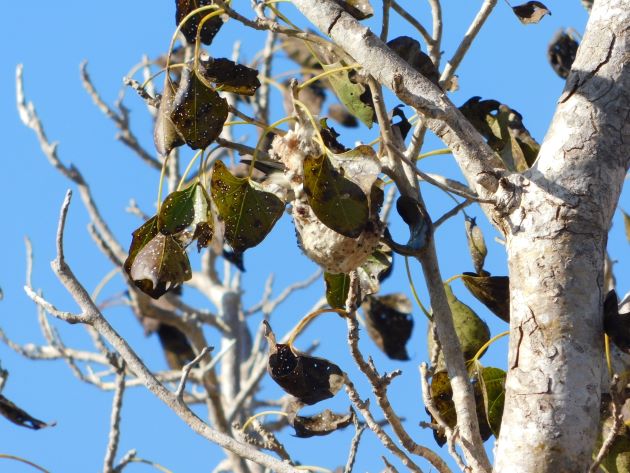 Mistletoebird female with her body mostly in the hole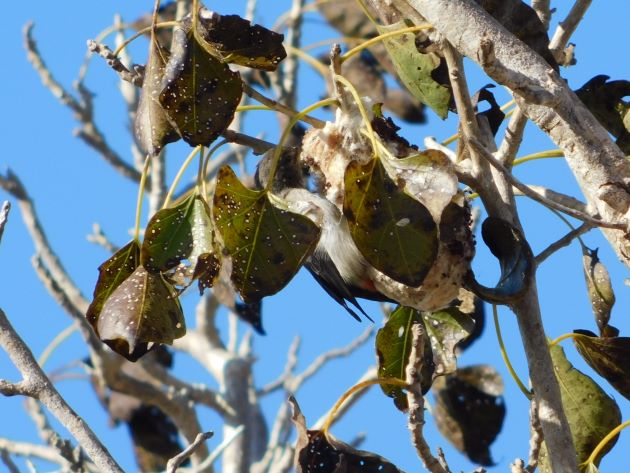 Female Mistletoebird nest building
We noticed that the male Mistletoebird was close by and communicating with her, but also he was not helping with construction at all! It appears he has a role as a guard, but not as a builder! It was windy and cold and the photos below show that the male Mistletoebird was hanging on as best he could!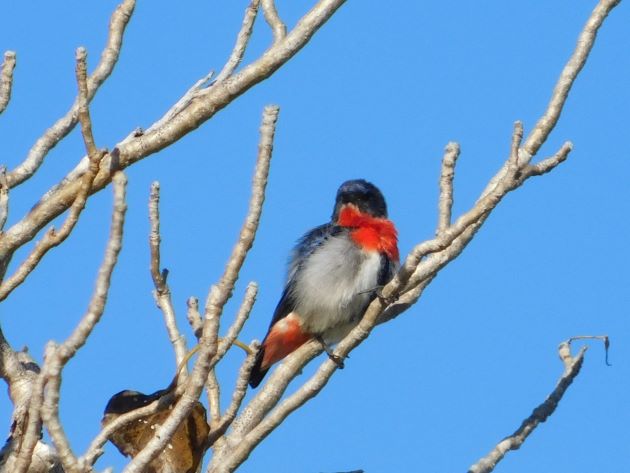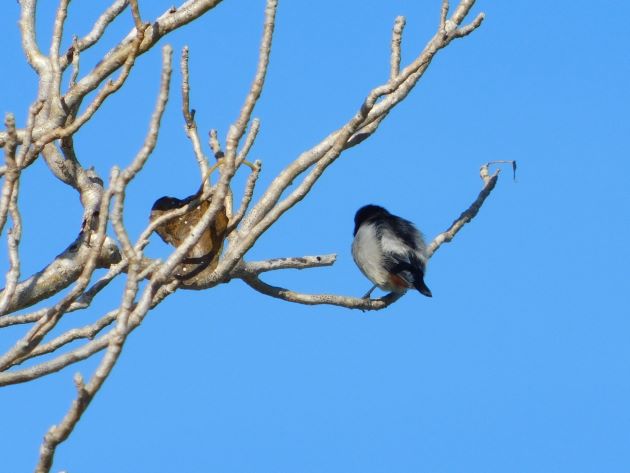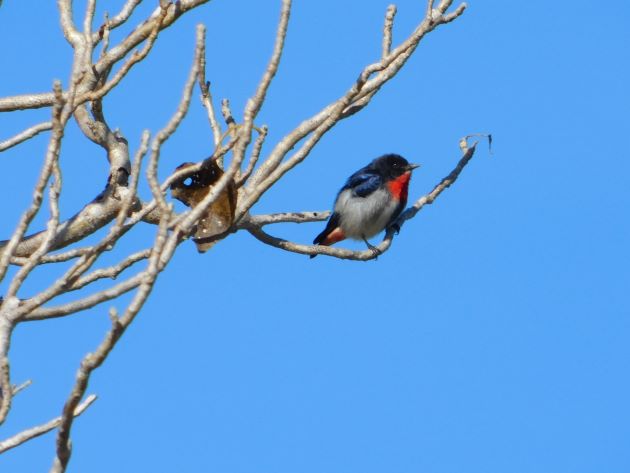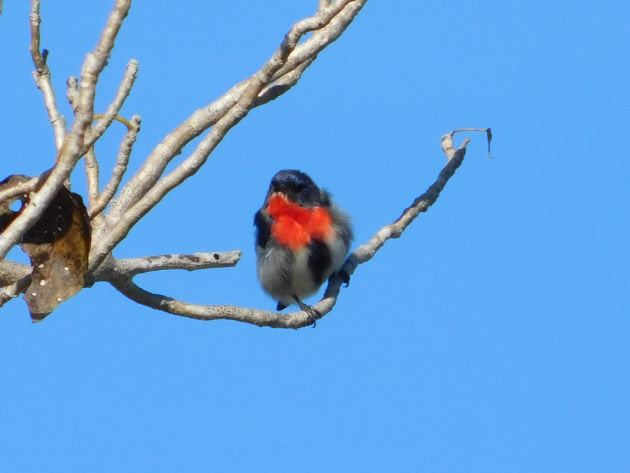 Male Mistletoebird
Birdlife Australia mentions on their website that the female Mistletoebird builds the nest and incubates, but they will both feed the young. It would appear that with our current cold weather the female Mistletoebird will appreciate the warmth of the nest that she has built and the male Mistletoebird will literally be "left out in the cold"!
Mistletoebird egg incubation is about 10-12 days and then there will be a further 15 days when the young will remain in the nest. If they are lucky we will have gone through the worst of our cold weather by then! Of course, we can't really complain when we have such lovely blue skies and we are getting to wear some different clothes for a change!