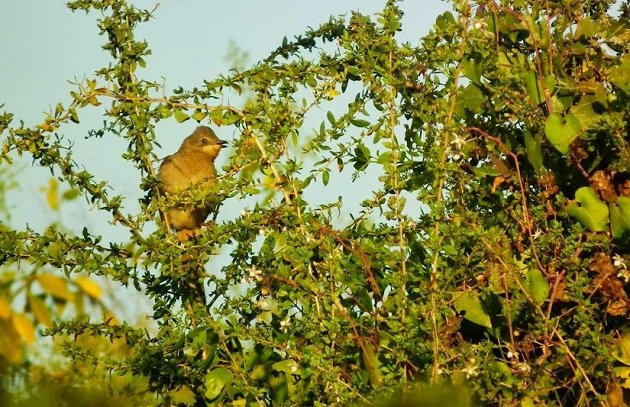 Today is the United Nations World Wildlife Day, a time to celebrate and raise awareness of the living world around us. I remember, several times while motionlessly surveying birds, I found myself being investigated by Striped Field Mice, who would dare to come to sniff me. They were probably just checking if I am already dead and possibly edible and not admiring me, but I admired them for their guts and curiosity to approach a creature so much bigger.
Here go those moments of curiosity, in no particular order:
Europe: And so, I was driving from Greece to Serbia… in central FYRO Macedonia, two birds were circling not far from the motorway… black and white… perhaps White Storks on migration? For a split-second I was considering the white morph of the Booted Eagle… while noticing that they do not have long stork necks and that they were… Egyptian Vultures! My first ever Balkan Egyptian Vultures! 10000birds.com/definitively-the-egyptians.htm
Europe: The sun is scorching the area, and the birds are nowhere to be seen. I lose my nerves, am about to leave, when… Rock Partridges lose their nerves, too, and the entire flock, some dozen birds, takes flight! They rise steeply and noisily, showing their handsome striped flanks, only to land a few meters away and scatter into the bushes. 10000birds.com/rock-partridges-and-hollywood-mandolins.htm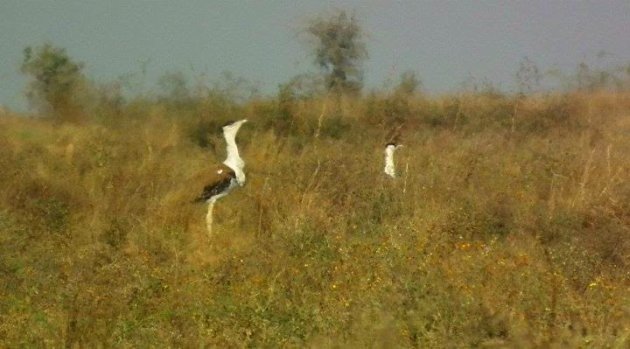 Asia: Indeed, some 150 meters away, four males of the Great Indian Bustard are semi-displaying – more than one per cent of the surviving population! We come a little closer, but not closer than 100 meters, admiring the sight in a religious silence, careful not to disturb them. Our driver is carefully sneaking out of the car to crush some betel nut and mix it with a chewing tobacco – only to slam the door afterwards! 10000birds.com/the-300-survivors.htm
Africa: Two more shadows in the spotlight, two of the most endangered carnivores of the sub-Saharan Africa are coming along the road, toward us: African Painted Dogs (Wild Dogs). One of them wears a collar with a transmitter (this is 21st century wilderness) and they behave as if we aren't there, as if the engine isn't running and as if there's no floodlight in their eyes. 10000birds.com/shadows-of-africa.htm
Asia: We wait on the top of the hillock crossed by a barbed wire fence and topped by a scarecrow. The Sun is just rising. Should we expect the scarecrow to be a bad omen? No, birds are way too smart for that stupid trick. As a proof, two Dalmatian Pelicans are flying low above us, while a Bluethroat disappears into the nearby bush. Sometime later, in an undulating flight, barely a meter or two above ground, a slim brownish-gray bird passes by and flies straight into the very same bush – a Grey Hypocolius (cover photo)! 10000birds.com/the-search-for-the-holy-grail.htm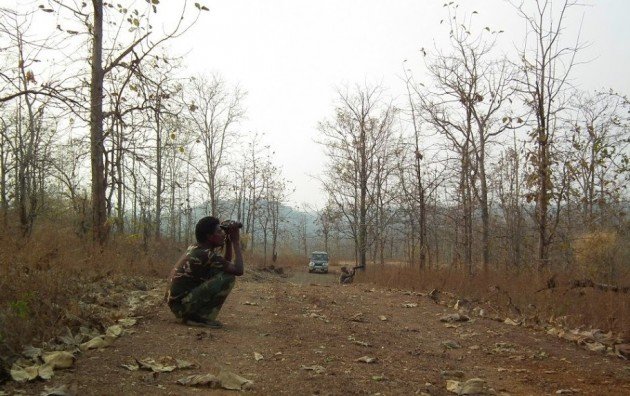 Asia: We are driving along the main road, by troops of Rhesus macaques, and continue by a dirt road into the forest. The Forestry Department checkpoint is unlocked for us (good to know that endangered birds are kept locked) and we drive on through the teak forest that is almost leafless. "There it is!" And our owlet is in a high branch, with its back toward us. It rotates its head 180 degrees to keep an eye on us. Humbly, we approach on foot. The Forest Owlet is watching us – we are staring in awe. Enchanted. The bird that was lost for more than a century is looking at us. Raising and lowering its head, like stretching. And it becomes a motionless observer once more. 10000birds.com/the-search-for-the-rarest-owl-of-india.htm
Europe: Some 40 km north of Belgrade, Serbia, I am driving to the very end of an oxbow lake with the intention of looking for the Ruddy Shelducks that were found here the day before. I already have a history of searches for this species. Actually, when I started to bird, my second ever duck, after the Mallard, was a Ruddy Shelduck! At the Danube in practically downtown Belgrade – how odd is that? Well, too odd to be countable – it was almost certainly an escapee. Soon, I found three large ducks on the water, but as soon as I come closer, they took flight, like proper wild ducks. It happened once more and I gave up disturbing them further – I have seen what I was here to see. 10000birds.com/the-ruddy-shelduck-twitch.htm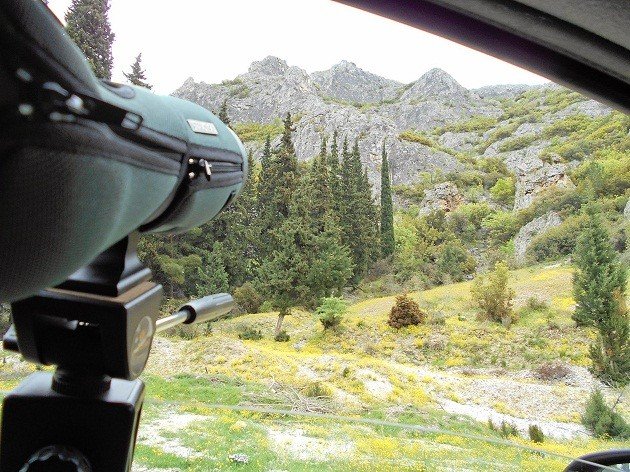 Europe: Then I spotted an easy and obvious one, the Black-eared Wheatear, while the group climbing the steep hillside found the Rock Nuthatch, as well as the Rock Sparrow, striped, pale and indescribable. And a lifer for me – if I manage to see it! P. came back and from some 50 metres and totally different angle, not to mention looking only at a small section of the rock face visible between the cypresses, managed to frame the indescribable bird in his scope field of view. I was amazed, both by the bird itself and his ability to find it. 10000birds.com/birding-on-steroids-or-the-kerkini-lake-in-10-pictures.htm
Africa: In front of us, next to a waterhole was a small acacia with several Cape Glossy Starlings roosting in its crown for the night. A pair of screeching Blacksmith Lapwings was flying around as six Burchell's Zebras were quenching their thirst, suspiciously observing surroundings every now and then. We haven't seen the reason yet, but suddenly you could have palpated a tension in the air that made the zebras step away and even one female Ostrich stand up… Then the Lord of the waterhole came – the White Rhinoceros. The bull weighing almost two tones stopped at the edge of the clearing to sniff the air. 10000birds.com/is-my-rhino-still-alive.htm
Asia: Somewhere below that mysterious eagle, at the far shore of the lake, lies one Bengal Tiger… and further to the right – two more! These are my first wild tigers ever! The closer one raises her head, than lies back. The other two are motionless. No, I am not complaining: I am not in a circus and they are not supposed to perform for the tourists. One Mugger Crocodile swims between us, I can hear the screeching of a Red-wattled Lapwing, on a closer shore are Indian Pond Heron, Little Egret and Little Cormorant, on the far shore are Chital Deer and Lesser Whistling Ducks, above them, an Indian River Tern with its bright-orange bill is patrolling the lake… The guide continues scanning the far reaches of the lake: "There's one more tiger." Four – at one stroke! 10000birds.com/tadoba-andhari-tiger-reserve-the-tiger-afternoon.htm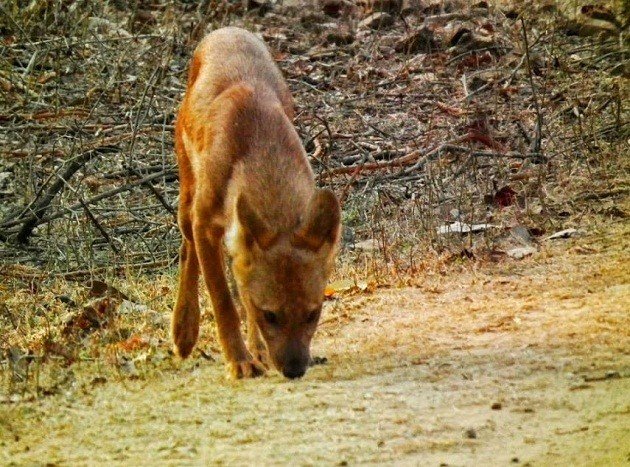 Asia: Among teak and bamboo thickets, a winding forest road takes us deeper into the enchanted Snake Jungle, but alas, not a Tiger in sight. One Nilgai – the largest of Asian antelopes and a few Sambar deer later, we hit a jackpot: there is one jackal-like animal sitting among the dry leaves! Some dog? Who cares? Well, one reason might be – this animal is not only endangered, but even rarer than the Tiger! We are observing a Dhole, also called Asiatic or Indian Wild Dog. A hundred metres down the track, several more Dholes await us, totalling eleven dogs. 10000birds.com/rarer-than-tigers-the-indian-wild-dog.htm
Europe: We wait again. Temperature drops to 11oC. The last birds singing in the darkness are Coal Tits, Song Thrushes and the European Robin. My mobile phone rings, I drop my eyes from the sky, P. yells "There it is!" but everything is over too quickly and before I manage to see it, the Woodcock disappears. Bloody phone! Now I keep my eyes glued to the sky above the trees. The night is already falling and it may be too late. But let's wait a bit longer. And a bit more. I am underdressed and getting cold. There!! 10000birds.com/rosefinches-griffons-and-woodcocks.htm
Those mice I began with had me thinking of what it would be like coming close to something big, really big. Like a school bus big. I would love to find myself next to a Blue Whale, compared to which I am as miniature as that brave mouse was next to me, to be small and humble in admiration of the greatest animal on the planet.
What are your best wildlife moments? And what are your wildlife dreams?