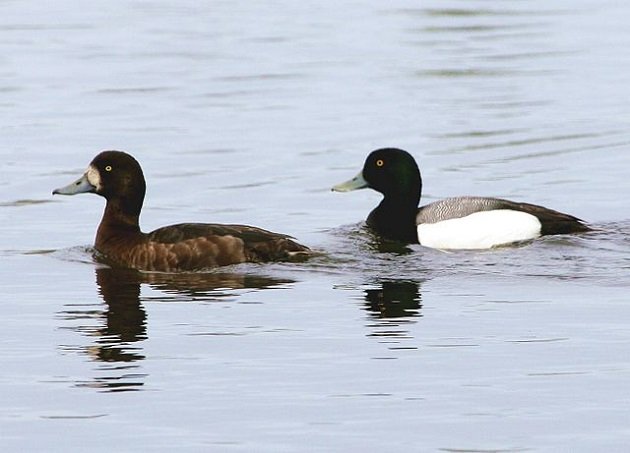 January is sort of a birding sprint – you start fresh and, all of a sudden, head for them all. In a typical birding year, no other month will bring you that many new species as January. The other advantage of this month is that the International Waterbird Census has been organized in mid-winter for more than 50 years, so most of your observations can be put to a very good use.
A month ago I was in the Iron Gates National Park in eastern Serbia, where one Black Woodpecker flew across the road, right in front of us (proving it is an extant taxon). There were three of us and in order to make the most out of a short winter day, we were all assigned different roles. The most agile in quick jumping in and out of the car become the bird spotter, the least experienced become the bird recorder and I was the driver.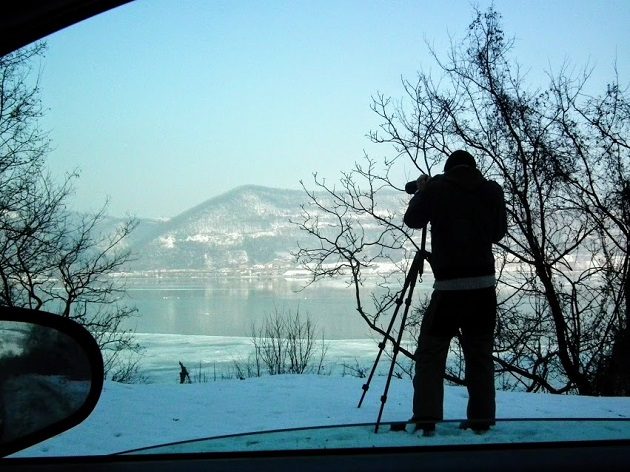 Iron Gates National Park in eastern Serbia
The Danube River was mostly frozen, with sections of open water here and there and we were counting mostly sea ducks like Common Goldeneyes, Smews and Goosanders (aka Common Mergansers), with a few Common Pochards and Tufted Ducks. At some point, our spotter called: "Greater Scaups, 4 of them."
While scaups were present in Belgrade this whole winter, they somehow eluded me, so I got out to see them. And I saw them. And felt nothing, just added a tick to my annual list. I felt… I felt like a tourist.
At this point, let us travel in time, back to the last day of the year 2001, and down to the Lowveld National Botanical Garden in Nelspruit, in South Africa's province of Mpumalanga. And now, what was I doing there? The answer is to be expected: Purple-crested Turaco Tauraco porphyreolophus.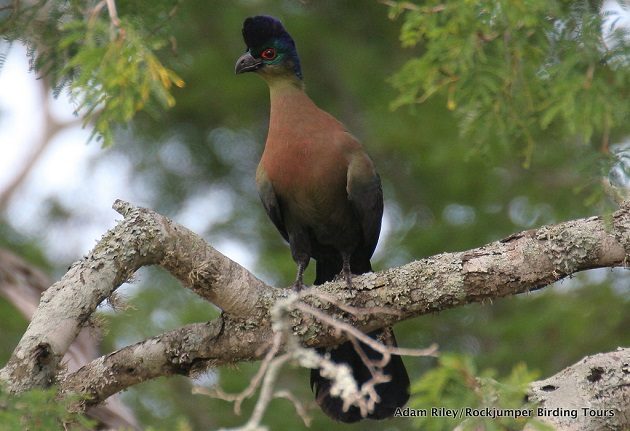 Purple-crested Turaco by Adam Riley
Turacos are strictly African genus of brightly colored birds – all but one. As luck would have it, only that drab-grey one lived in my arid neighborhood at the edge of the Kalahari Desert. So I walked up and down the paths through subtropical vegetation (if I remember well, with 20+ species of figs alone) looking carefully for a green, pigeon-sized bird with a purple crest and scarlet wings. Scarlet, that is, only when fully stretched. Otherwise, under that merciless African sun, on a rather hot day I was searching for a green bird hidden somewhere in the lush green foliage.
Few hours later I gave up. Sweating profoundly, I went to the parking lot and reach for my car keys… And in that moment it happened: the flash of scarlet wings from one tree crown to another! That was it. Standing underneath that other tree crown, I could not spot the bird at all. Invisible, like a phantom. Yet, I sure felt euphoric for finding my turaco.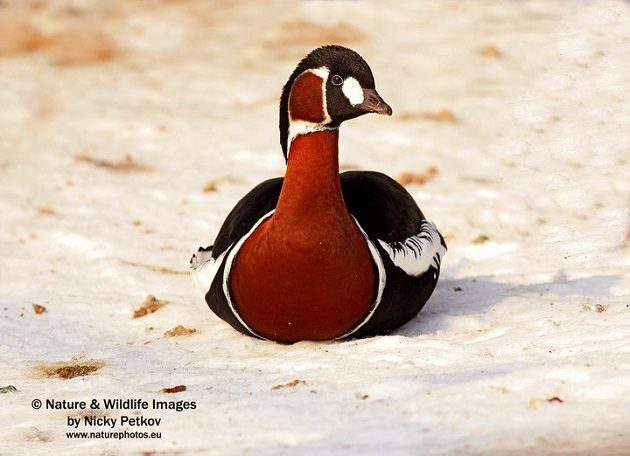 Red-breasted Gooose by Nikolai Petkov
Three weeks ago, I was back in the same general area, this time some few dozen miles up the Danube. Birds here included geese, Greater White-fronted and Greylags and, among 25,000 of these, four rare and stunningly handsome Red-breasted Geese. Also, alongside some 300 Smews, there was a pair of Greater Scaups!
I do not mind having a guide overseas, but closer to home, I have that urge to do things myself. To find my birds – only that way, the sighting has a true value. I found my Greater Scaups myself, I wasn't lead to them. That made them somehow more real than those that were shown to me. And I felt alive again!
Cover photo: Greater Scaup, U.S. Fish and Wildlife Service