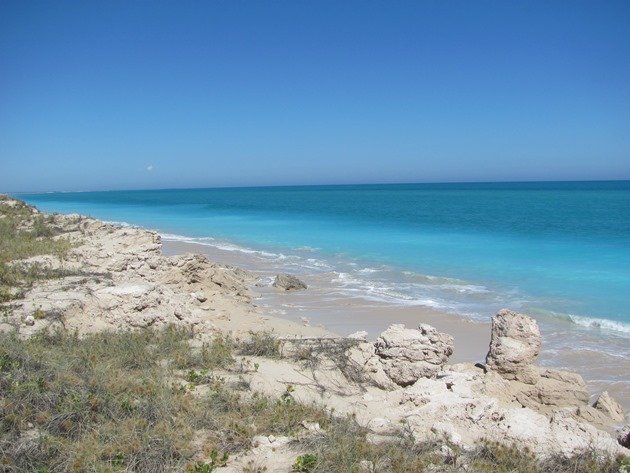 One of the most secluded beaches around Broome is the northern end of Cable Beach. Cable Beach runs for 23 kilometres from Gantheaume Point to Willie Creek and the length of the beach can be traversed by foot or bicycle, but you do need to take note of the tides. Our tides in Broome are very large and the beach can almost disappear at high tide and huge areas of sand are exposed once the tide retreats. Another option is to drive to park about six kilometres from the northern end of Cable Beach and walk north to the southern side of Willie Creek. You access this area by driving inland a few kilometres and then take the Cape Leveque Road and a few kilometres later turn off towards an area known as Coconut Wells. It is approximately 21 kilometres from town on the bitumen rather than worry about the tides by heading off up the beach on your bicycle. Once you reach Coconut Wells the road bears to your right and just as the bitumen ends you take a left turn towards the beach. At the bottom of the slope you reach the tidal lagoon and this is the lagoon that can trap you on the beach if you are not aware of the tides. There is the option to park here or take the sand track along the edge of the lagoon to the flattened area on the top of the sand cliffs. The track can be wet after a high tide, but is generally safe to use with some consideration of the capabilities of your vehicle.
Last weekend we went by vehicle to check on the Pied Oystercatchers that breed along that stretch of beach and there has been continued egg loss over the past few weeks. They are persistent at laying eggs and despite the loss of all the eggs from our last visit there were five new eggs. The Pied Oystercatchers will lay new clutches every ten days if they lose their eggs and several pairs have laid four clutches this year and even this late in the season they have not all given up yet. It is now so hot during the day at 38c (100f) and with such low humidity at 5% that the eggs do not need to be kept warm at all, but they need shading. In fact one of our pairs was doing just that as we headed north to check on not only the Pied Oystercatchers, but any other birds in the area. As we approached she returned to the water and then back to the egg. No doubt her wet feathers will help in keeping the egg cool.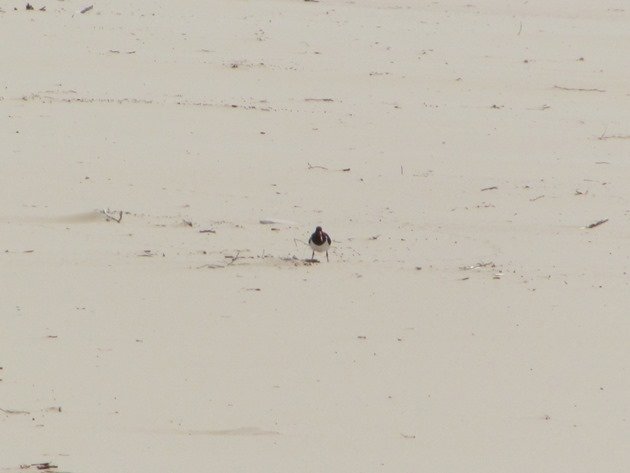 Pied Oystercatcher shading an egg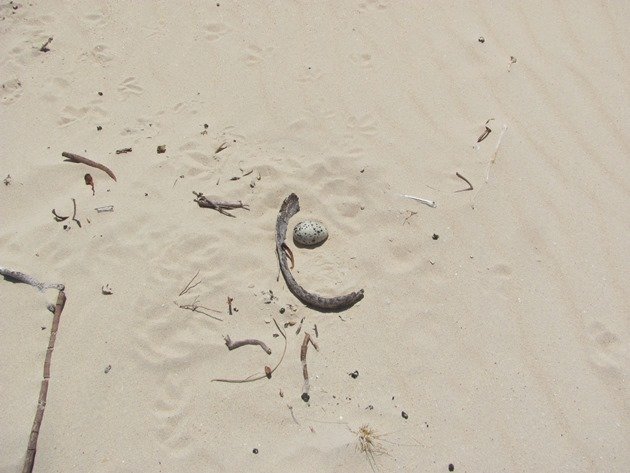 Pied Oystercatcher egg
Thousands of migratory shorebirds are returning to Broome now and any place along the coast is good for birding. The more secluded the beach the better of course! It is incredible to observe the shorebirds race across the reef trying to get food before the area goes under water. The bigger tides offer areas that they can't normally access for food, but for a shorter period of time and the tides with less movement offer a longer period for feeding, but less choice of food.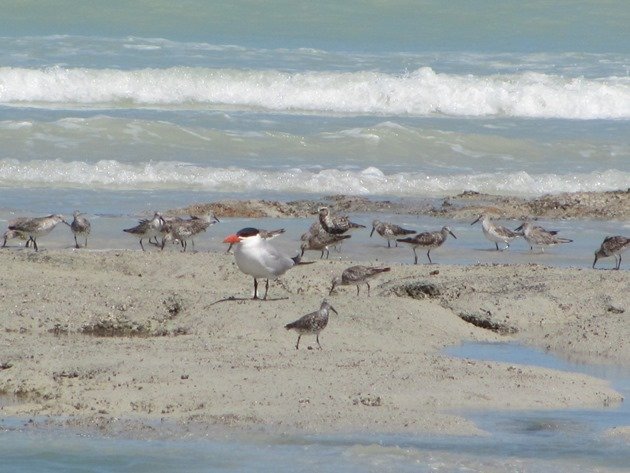 Caspian Tern, Grey Plover and Great Knot
Some areas of the reef become balancing platforms for Eastern Reef Egrets. Pied Cormorants, Little Pied Cormorants, Silver Gulls and Sooty Oystercatchers. This area is one of the better places to find the white morph of the Eastern Reef Egret, rather than the more common grey morph.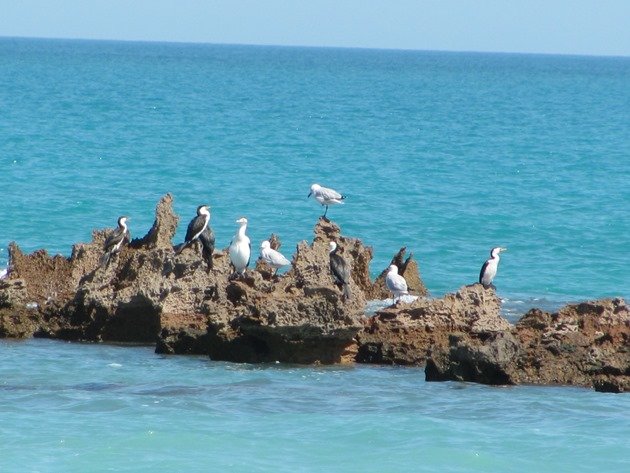 Pied Cormorant, Little Pied Cormorants and Silver Gulls
Once the tide pushes up the shoreline is busy with shorebirds jostling each other for a place in a dense flock. They are constantly running as the waves push up around them. Great Knots, Grey-tailed Tattlers, Whimbrel, Ruddy Turnstone, Bar-tailed Godwits, Red-necked Stint, Greater Sand Plovers and Sanderling huddle together for security close to the water's edge.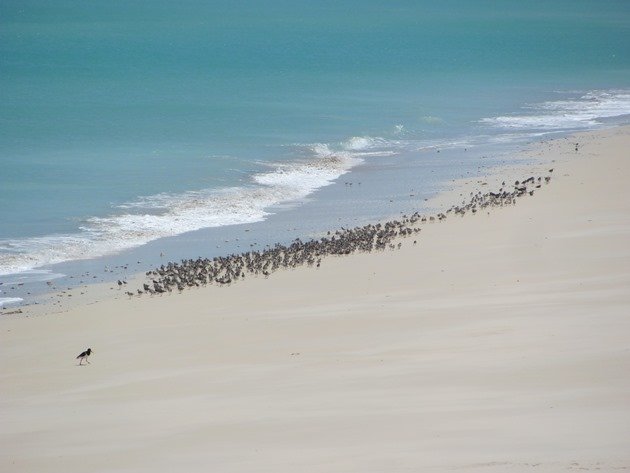 Shorebird roost
As the tide gets higher the shorebirds fly up and over the spit to the damp sand just behind from the last big tide. They can roost peacefully out there away from the hot dry sand and it is significantly cooler for them on the damp sand and in the water itself.
Shorebird roost
We always keep an eye on the migratory shorebirds, because you may find a bird with a flag indicating it was marked somewhere other than Broome. Shorebirds that have been marked overseas or interstate often pass through Broome as they travel south, or they may choose to make this area their new southern home. Last weekend there was a Ruddy Turnstone that had been marked (orange flag and blue flag) on King Island, near Tasmania, and was having a stopover before moving on south. It was actually spending a lot more time sitting or looking for food than some of the other shorebirds and had possibly only just arrived from the north. Even the smallest shorebirds can carry engraved leg flags nowadays, so it pays to check!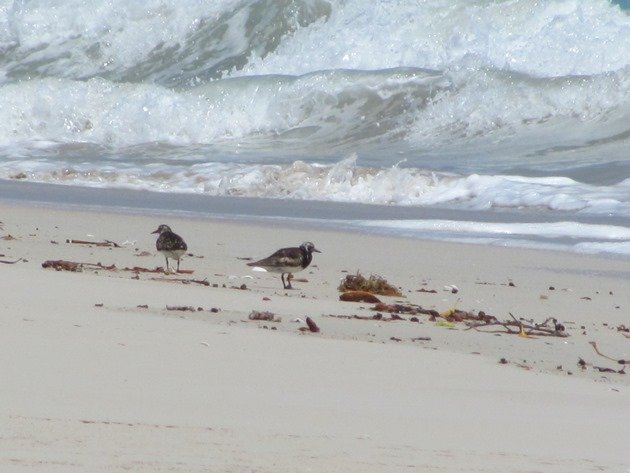 Ruddy Turnstone-one marked on King Island, Tasmania
The walk to the Willie Creek lagoon entrance takes a couple of hours and as we wandered north we were suddenly surprised to see a Beach Stone-curlew move out from behind a small dune. We have actually been observing this species at this location a bit more often this year than other years, but it is always alone. I investigated where the Beach Stone-curlew had been and noticed it had recently deposited a small pile of waste. As a shorebird that eats mainly creatures that live in shells it was not too surprising to see that unlike other birds that leave a wet deposit it was quite solid and full of grit. I am not sure I would have known what it was had we not got the bird and its footprints as evidence!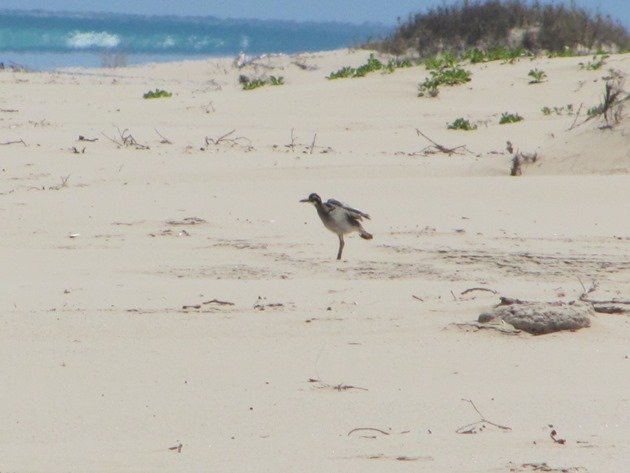 Beach Stone-curlew having a stretch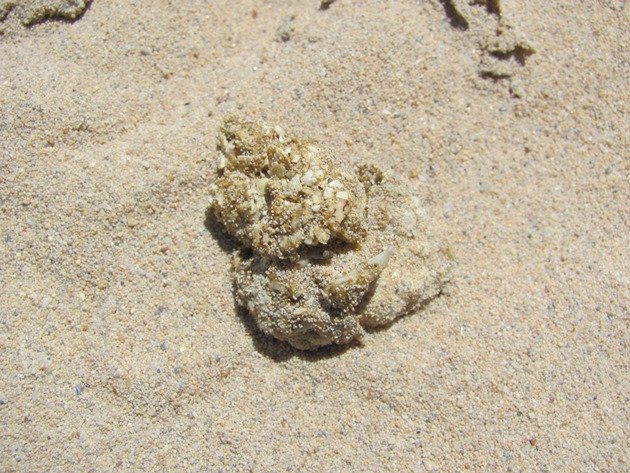 Beach Stone-curlew waste
This particular Beach Stone-curlew was then our walking companion for about an hour! They do tend to prefer walking to flying and we were quite happy for it to lead the way back south!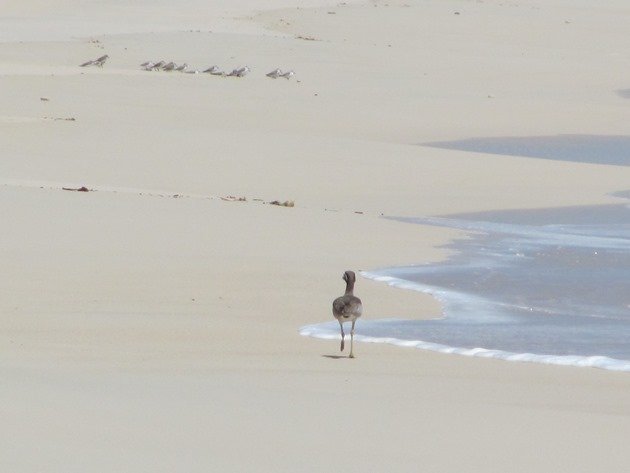 Beach Stone-curlew-our walking companion-and Sanderling
The wind had picked up during our walk and we had observed several Lesser Frigatebirds overhead. I have never had much luck at photographing them and was almost not going to even attempt it when one appeared to be holding itself in a thermal right above us. So, several photographs later and I actually have something to show for it!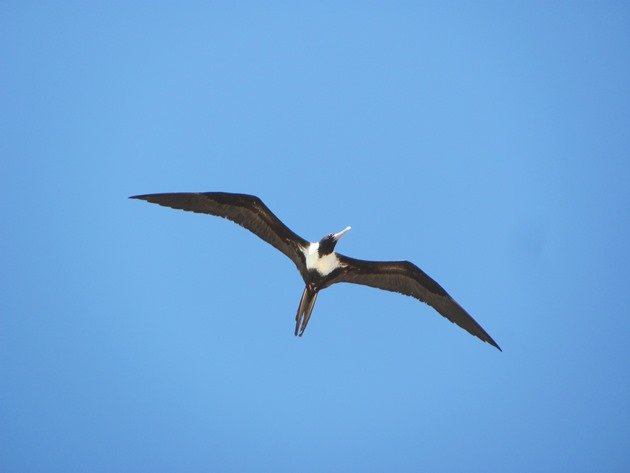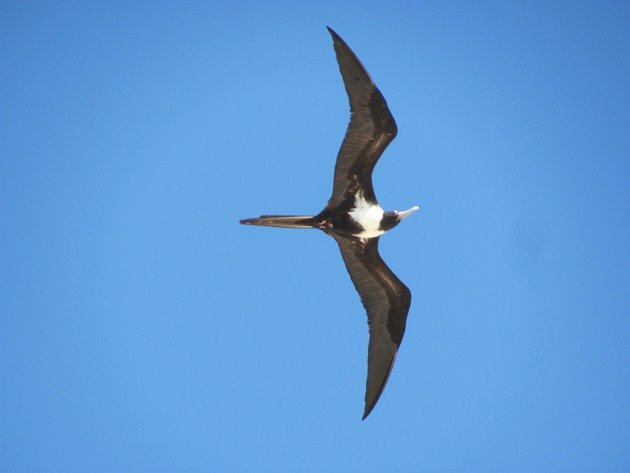 Lesser Frigatebird
Returning to the lagoon entrance where you take the option to park or continue on the sand track to the beach we discovered a family of Brolga had dropped by to feed and they were joined by a lone Australian White Ibis.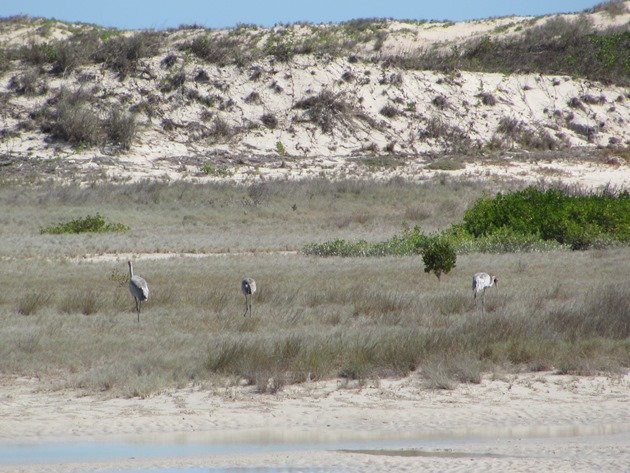 Family of Brolga
An example of just how windy it had become is the state of this Blue-winged Kookaburra perched in the tree in the turnaround area!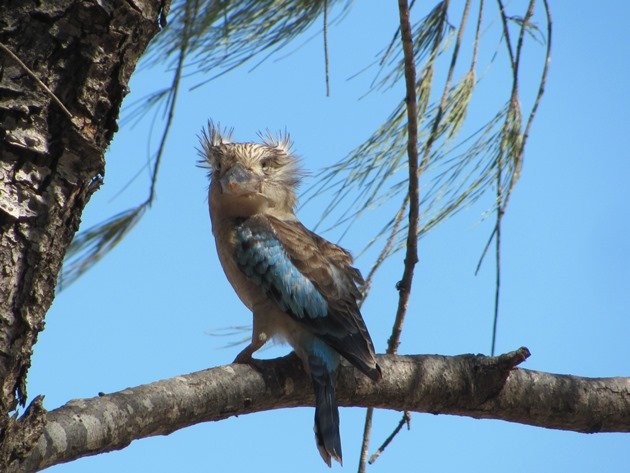 Blue-winged Kookaburra in the breeze!
Whether you like a long walk on a secluded beach or are interested in shorebirds this is a great spot to explore. Even better, once the tide is right out you can explore the creatures of the reef!