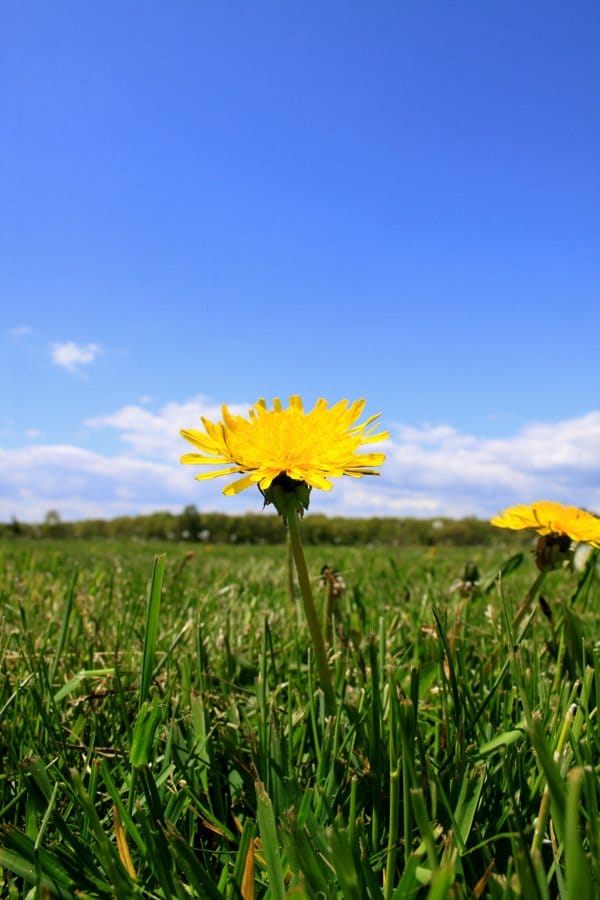 Mother's Day weekend was deeded over to Daisy long ago.  I had no say in what we were doing or where we were going. Considering Mother's Day is in early May and I am a birder this situation nearly gave me nightmares.  Fortunately for me I was only subjected to shopping for one afternoon and it was a necessary trip.  But this post isn't about shopping it is about visiting Caumsett State Historic Park and not birding.  What?  A description of not birding on a birding blog?  Why?  Read on, reader, read on.
Caumsett State Historic Park is in northwesternmost Suffolk County on a small peninsula that sticks out into Long Island Sound called Lloyd Neck.  It was once the estate of Marshall Field III but was acquired by New York State in 1961.  The  1750 acres are used for a variety of outdoor activities, but horseback riding and biking seem to be the top two, followed by other passive activities like jogging, photography, and birding.  The grounds are impressive, especially on a brilliantly sunny day in early May which is what it was like when we visited on Mother's Day.  Birds were singing, flowers were blooming, and the sun was shining.  This was a family outing so I was not to pay attention to the first option* but the latter two, to say nothing of the huge acreage of lawns and fields, which provided plenty of entertainment for Desi, who, at seventeen months, is more than willing to get into and explore everything, much like the Northern Mockingbird below.**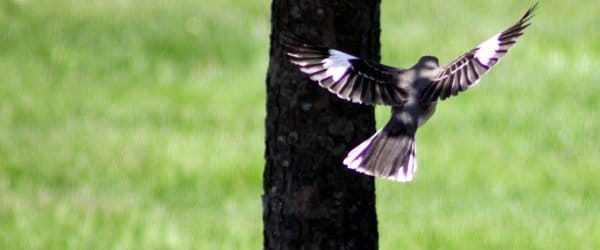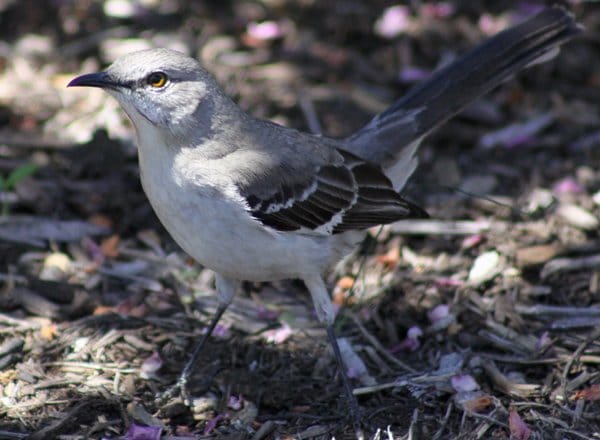 Our first stop was in the walled garden immediately adjacent to the parking lot.  Though it is called a garden it is really a large lawn divided into four segments by tree-lined walkways with plantings under the trees and along the walls.  It was a perfect place to let Desi run around and have a grand old time.  While he ran free Barn Swallows and Chimney Swifts flew through the air overhead and, really, I couldn't help but hear and see them.  I mean, I would have to be blind and deaf not to, right?  And when Desi made a beeline for one of the trees and startled an American Robin off of her nest you can be sure I noticed and, later, when we walked past that tree and the bird was back on the nest I snuck a shot or two.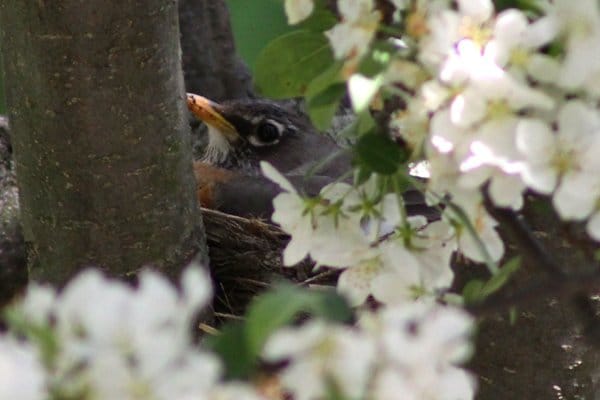 Having managed to hear some good birds and having managed to get a couple decent pictures of common birds when I was not supposed to be birding did not prepare me for what was about to happen.  We were walking down a path, still withing a couple of hundred yards of the park entrance.  Desi was, of course, pointing and yelling at everything that moved and some things that didn't, as he is wont to do.  Then a small flock of Canada Geese caught his eye and the chase was on!  He was chasing the geese and I was chasing him!  I was not concerned for the geese because they could easily escape the uncertain steps of a toddler but for Desi in case one of those geese decided to take a stand.  Of course, and I should have seen this coming, Desi wasn't actually trying to catch the geese but to show his daddy what he had noticed, that one of the geese was different.  It was, in fact, a pretty darn good bird for New York at any time of year, but really good in May.  A Greater White-fronted Goose!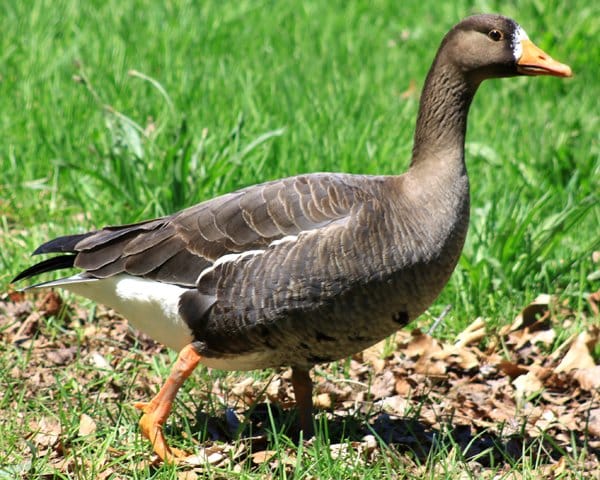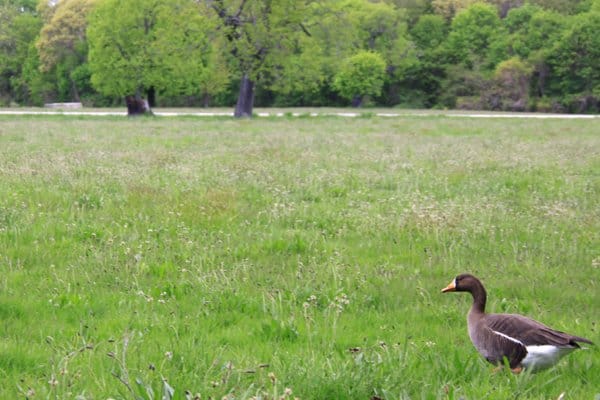 Not only had Desi spotted and identified the bird (well, he pointed and yelled Baaaaaaaaaaa!!!!) but he had, unknowingly (?) provided me with the just the cover I needed to get some shots of it.  After all, I am not birding if what I am actually doing is taking some shots of Desi with the geese, right?  And if my lens should wander off of Desi and get a couple of nice shots of a rarity, well, mum's the word, right?  Well, on Mother's Day perhaps I should choose a different word.  But, either way, Greater White-fronted Goose!  Desi must have his holidays backwards so you can imagine how closely I am going to be watching him on Father's Day!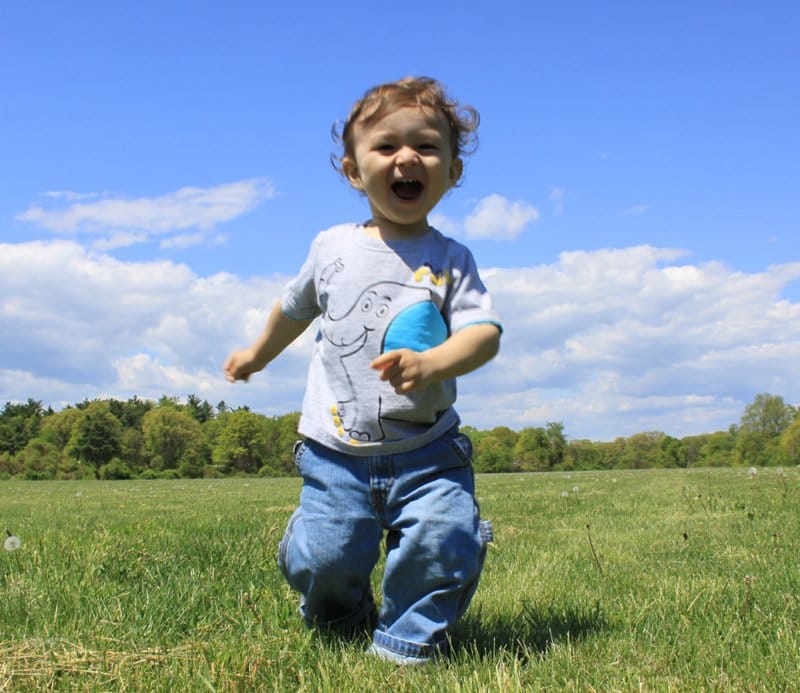 One happy boy with one proud Daddy!
The rest of our time at Caumsett State Historic Park was wonderful.  The grounds are great to wander around and if your kid likes pointing at things like horses and yelling random syllables then it is a great place to visit.  It is an even better place to go if you have slightly older kids that like riding bikes as there are miles of flat paths to explore and we saw quite a few families doing just that.  Because it was too far for Desi's little legs to take him and he refuses to stay in the stroller for any length of time at all anymore we never made it to Long Island Sound but the outing was a fun and successful one anyway.  Our picnic was delicious and the two folks who rode their horses past while we ate made Desi's day.  I highly recommend a visit to Caumsett to not bird and I suggest you bring a toddler to show you the good birds!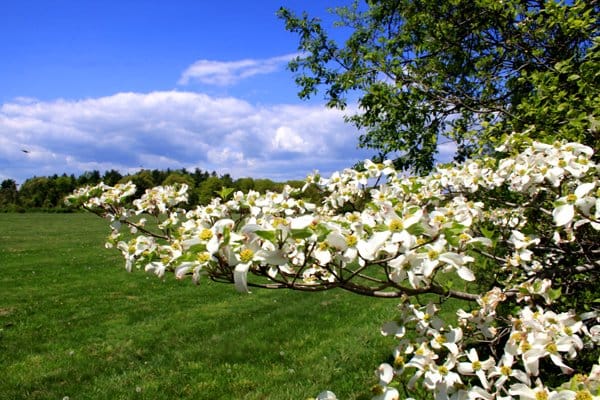 *Besides, I could certainly keep track in my head the variety of bird songs I heard for later surreptitious reporting.  I added five species to my Suffolk County life list this way! For those who must know they are White-eyed Vireo, Warbling Vireo, Black-throated Green Warbler, Black-and-white Warbler, and Nashville Warbler.
**What's that you ask?  Why did I have a 75-300 mm lens with me on a family outing that wasn't to be about birds?  Good question!
…