November 2007 has been a blast here at 10,000 Birds. One of the major catalysts has been the big, beautiful BIRD: The Definitive Visual Guide. First, I reviewed this magnum opus of avifauna. Next, we started giving copies away. In the process, readers delivered a boatload of brilliant bird limericks and some excellent recommendations for birding sites. Best of all, there are more books to give away!
Corey has been on an absolute tear as his New York State Big Year hits the homestretch. He broke the 300-bird barrier by picking up some rarities in Montauk. Of course, he built up to this incredible achievement by fattening up on species like Bohemian Waxwing, Little Gull, Golden Eagle, stunted geese, and assorted winter finches throughout the month, yet followed up by viewing a King Eider of all things out by Albany. If you're not convinced Corey is leading a charmed life as far as birding goes, you haven't read his most recent trip reports from Germany, particularly the one in verse.
Speaking of verse, language was on our minds this month. Charlie wrote about the indispensable virtues of scientific nomenclature for avifauna while I shared my opinion of International Ornithological Congress recommendations for common English-language names for birds. And Corey wasn't the only one who got around; Charlie shared images of Hong Kong and Bangalore, sharing in the process his pointed thoughts on plastic bags, tucc tuccs, Prince Harry's assault on Hen Harriers, and how to be a (quite) good bird photographer. I didn't go anywhere of consequence in November 2007 but I did, among other things, host Oekologie #11.
While most of our readers might come to us as naturalists and travelers, our most popular posts this month captured the attention of fans of tattoos, fans of football, fans of redheads, and fans of shooting (and possibly stuffing) ducks. It takes all kinds to make a blog go round. Milkweed, mockingbirds, and Edible-nest Swiftlets were also hot topics, as was our BIRD giveaway. The giveaway announcement also happened to be the most heavily commented post of the month. Corey's Diabolical Bird ID Quiz attracted devilish amounts of attention as did the announcement of Charlie's "Old Friends, New Friends 2008 World Tour" coming soon to a continent near you. Readers also responded well to Corey's photos of Pine Grosbeaks Feeding on Mountain Ash for obvious reasons: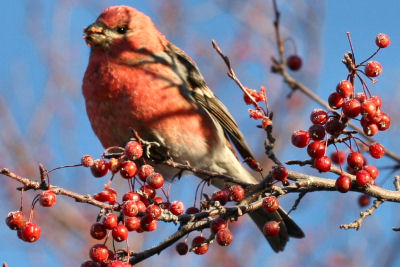 Your humble hosts truly appreciate the recognition we've received this month. For example, I was thrilled to be a part of Jeff Gordon's Spark Birds 1: Cape May Autumn Weekend 2007. Being included in ReZoom.com's 40 Bloggers Over 40 was also an honor, even if only one of us fully qualifies for that title. What means the most to us though is that, even through the Thanksgiving lull, this site served more subscribers, visitors, and page views than ever before. For that, we are extremely thankful.