By the time this post goes up onto the interwebs I will be winging my way to the South American paradise of Ecuador, which is loaded with lifers.  Some might see my nine-day excursion as irresponsible considering that I am currently unemployed, have a ten-month-old baby, and a blog that has recently added about twenty new beat writers.  Personally, I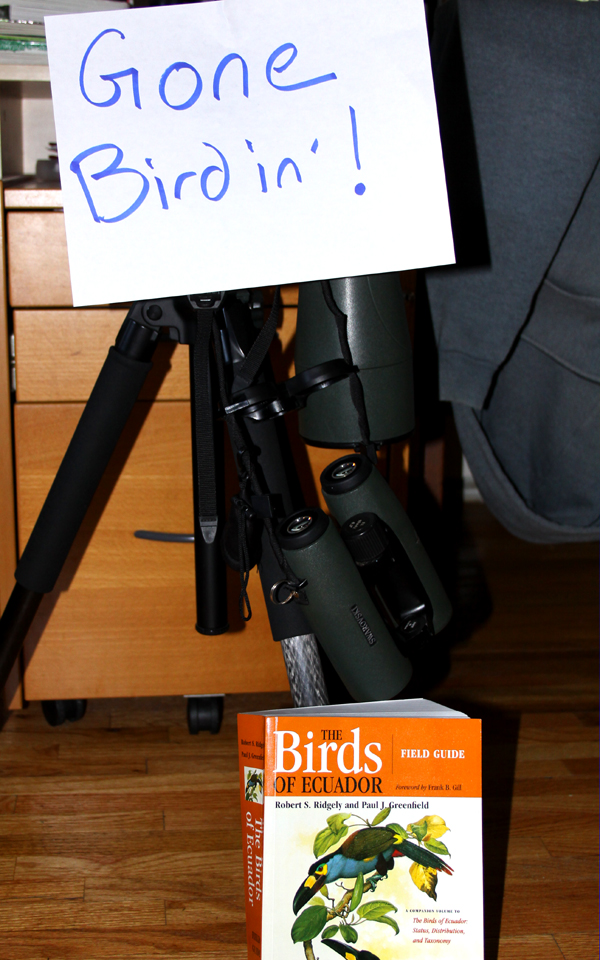 don't care what this hypothetical "some" thinks, but, in my defense against my imaginary detractors, I will say that I am going to redouble my efforts to find gainful employment upon my return, Desi is safely in the capable and loving hands of his grandmother and mother, and the blog and beat writers are going to be well taken care of in case of technical difficulties by Mike and Charlie.  Besides, Ecuador!  You know, in South America!  Where there are the Andes, rain forests, antpittas, a horde of hummingbirds, and tons of tanagers!  It would be irresponsible of me not to go.
Those who read 10,000 Birds will likely be less than surprised to learn that I and my six traveling companions, all Queens birders, will be hosted at the Pululahua Hostal, which is owned by one of our new beat writers, Renato.  You might remember Mike making a visit to Pululahua back in January and raving about the birds and the wonderful time he had.  Well, I think that I will have just as good a time and, considering that I am spending twice as long in Ecuador as Mike did, I will likely see significantly more species!  This is a very good thing because my life list is currently mired at 785 species.  If things go according to plan I should see my 1,000th lifer while I bird Ecuador!  Sweet!
But, really, the birds in Ecuador, while numerous, are more than just plentiful.  There are some seriously sought-after species as well.  Where else can one see Giant Antpittas, Torrent Ducks, Sword-billed Hummingbirds, Andean Condors, Oilbirds, Toucan Barbets, and many other primo species?  I just hope I survive the inevitable head-exploding (like I have on my last couple of outside-the-states trips).
Anyway, I just wanted to make sure that you 10,000 Birds readers knew where I was when I didn't show up on the blog for the next nine days or so.  You know, in case you miss me?  If you can even miss me now that we have such an amazing array of beat writers providing better content than I ever could…
Wish me luck on my journey and look for some (hopefully) amazing images and blog posts upon my return!