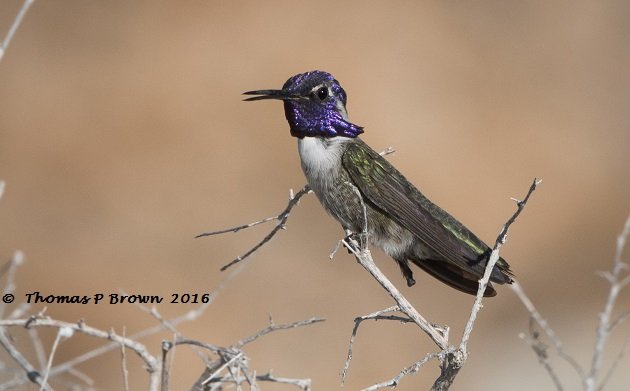 In the wild and wonderful animal kingdom, being born with a birth defect, or receiving a maiming injury is most certainly going to be fatal, and usually pretty quickly. Being born without a foot, for a bird, would certainly qualify as this type of ailment. In the long run, feeding and sleeping, are all things that would be effected to the point where quality of life, and life expectancy would be dramatically altered. The one exception to this rule, could very well be the little Costa's Hummingbird that I photographed last weekend. I found him in an area that I call the "Hummingbird Patch" way up at the end of an arroyo, near La Ventanna, Mexico. This area is almost always a lock for finding the Xanthus's Hummingbird, one of the Baja's endemics.
If you think about it, hummingbirds do nearly 100% of their feeding airborne, to my knowledge they never walk on the ground, and resting is done on a small branch, where the use of only one foot could suffice. If any bird would have a reasonable chance for living out its full life, then this little guy was it. Even in nesting, and caring for the young, the female Costa's Hummingbird has almost total responsibility for the next generation, so even here he would be let off the hook to some degree.
In this photo as well as the cover image, you can clearly see that there is no foot on the right leg.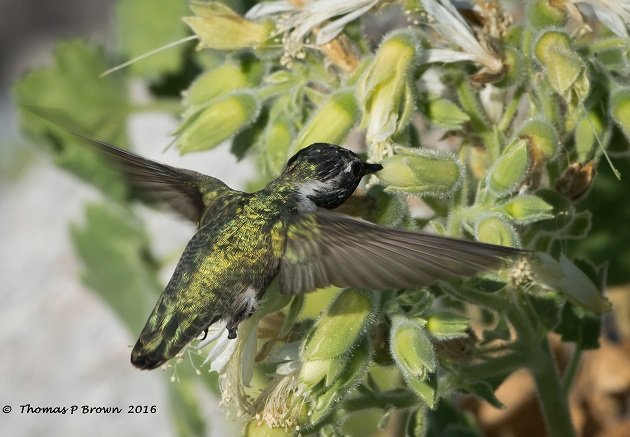 I just can't help but pull for my little "Pirate Hummer" and hope his peg leg does nothing to inhibit his great life there in the La Ventanna arroyo.