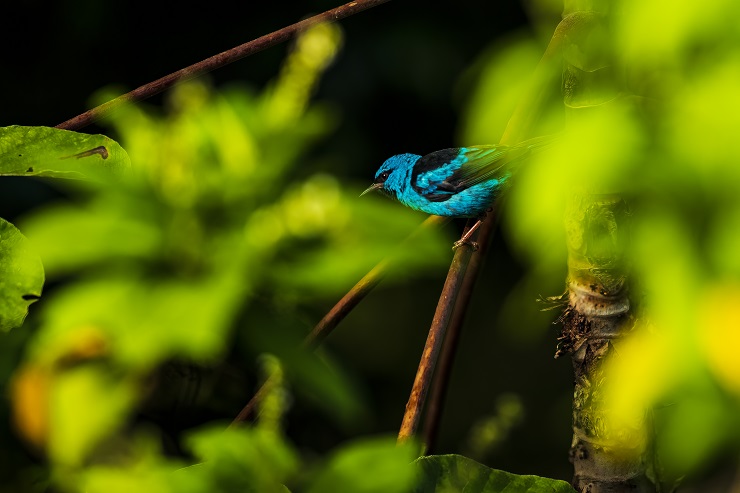 The thickly forested central region of the island of Trinidad isn't often visited by birders who traditionally flocked to the Northern Range by virtue of the Asa Wright Nature Centre (which is still closed in case you were wondering); the furthest south one may have ventured on a weeklong sojourn likely would be the mudflats of Waterloo on the west coast. Due east from this point is a fertile belt of cocoa estates and intact forest, within which lies La Vega Estate.
Best known for its prowess as a plant peddler, this expanse of land also serves as a nature park for persons interested in nature-based recreation. As a birder, I've found this place to be a complete treasure trove for many species difficult to see elsewhere. Personally I've seen over a hundred species over several birding trips there, the overall species list for the location is approximately 160 – a tally that will only increase.
With each visit La Vega serves up a different cadre of superstars, and our last visit some days ago was no different. What strikes me about the location is that throughout the year there is never nothing to see. Even for a July trip – a time of year notorious for quiet forests – we ended up with 63 species. Mind you, this was only over a few hours in one portion of the park. The rain ended our session prematurely but only just, as responsibilities and other commitments were looming anyway.
The morning began with a walk to the highest point along a richly overgrown pathway to a lookout point with a broken down observation deck. Barred Antshrikes called from the undergrowth, as did a Golden-crowned Warbler. As the sun hadn't yet broached the surrounding hills, we didn't make any attempt to pursue anything we heard along that brief ascent. At the top, we rounded a corner and found not only the sun in all its glory, but Orange-winged Parrots and what seemed to be an ever-increasing number of Guianan Trogons.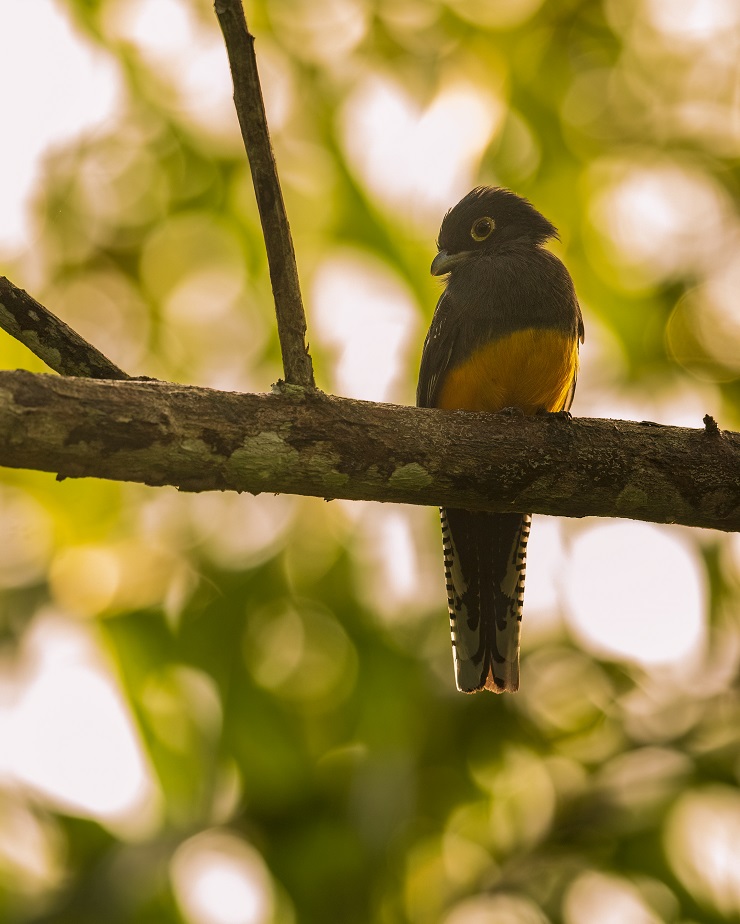 A female Guianan Trogon sits between me and the rising sun, looking coy as ever.
First there was one, then two. Then we thought we heard a third. When we finally got a visual, there were at least six Guianan Trogons calling from all around us. At least one adult male, probably two adult females, and several juveniles. Making a brief appearance was a lone Green-backed Trogon as well. Without a doubt, however, the smaller trogons stole the show for the entire morning session.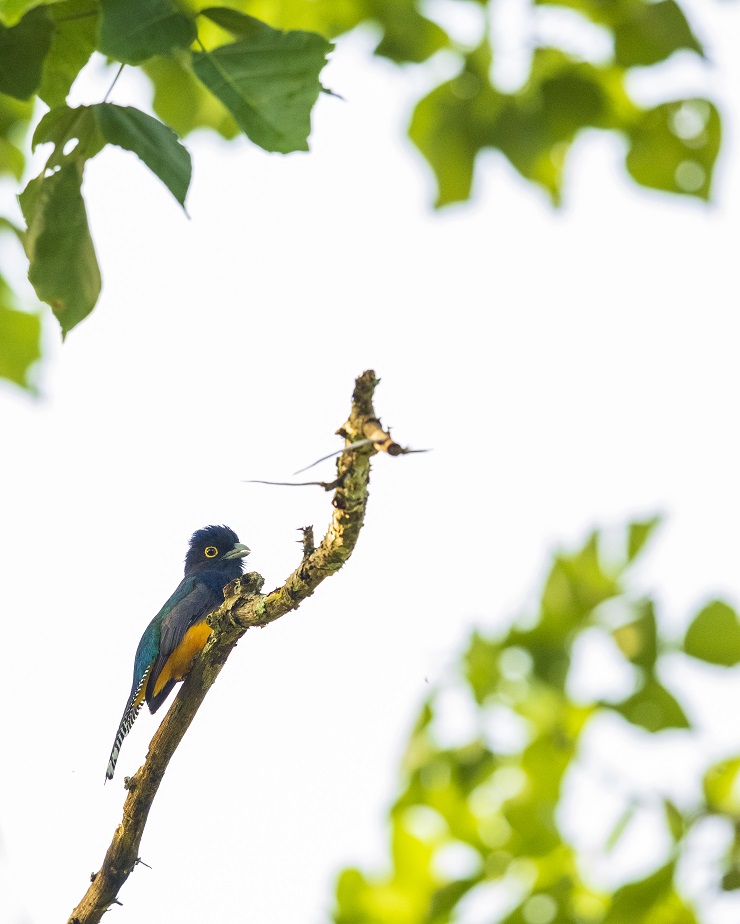 The adult male Guianan Trogon has a striking yellow eye-ring.
Around the lookout point at the very top of the hill there was a never-ending stream of passerines. Pairs of Violaceous Euphonia, Blue Dacnis, and White-shouldered Tanager all made appearances. A small group of Turquoise Tanagers fed on fruiting cecropia, albeit briefly. A lone Streaked Xenops vocalized as it flew in, and a Rufous-browed Peppershrike gleaned some grubs from a branch at eye-level. Naturally, once I picked my camera up, it hopped behind some leaves.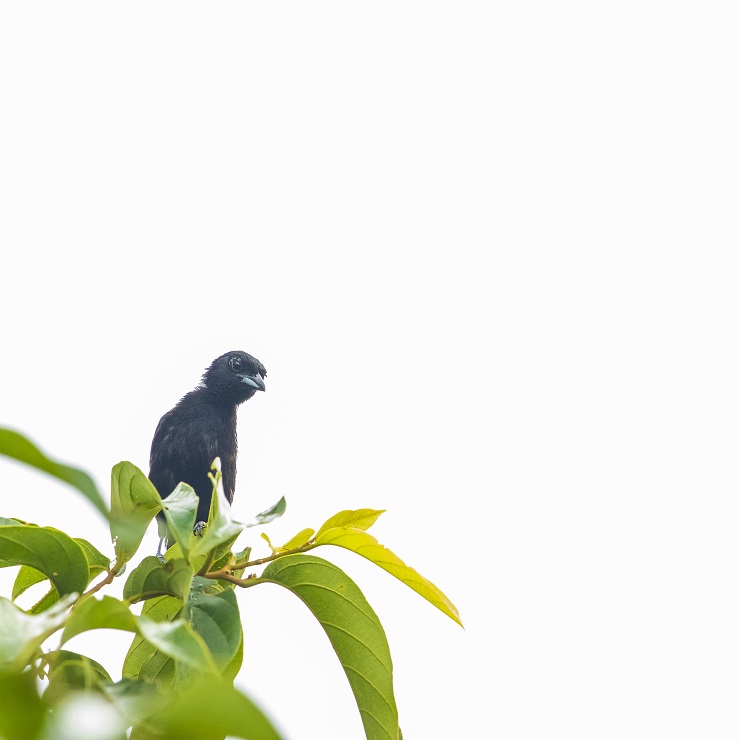 White-shouldered Tanager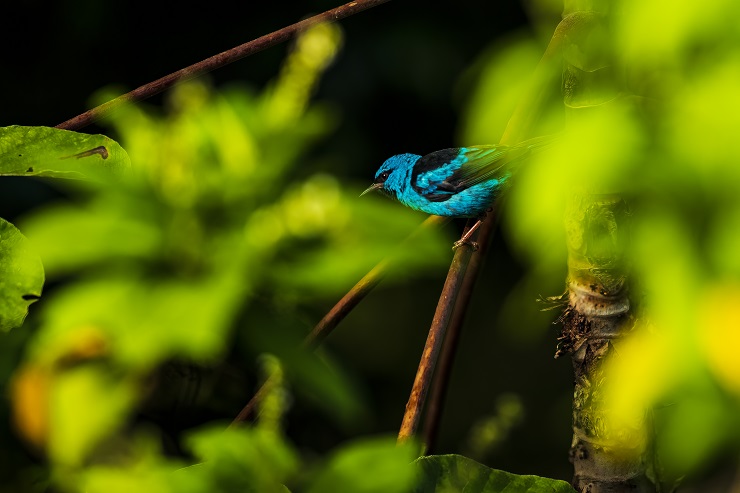 Blue Dacnis
It was admittedly difficult to concentrate on any single bird with trogons calling non-stop. However, the rasping call of a Squirrel Cuckoo got our attention. Oftentimes they are much easier heard than seen, but with some work we managed to locate one, sitting motionless in the sub-canopy. Excited, we basked in its delicate beauty as it soaked in the morning sunshine. A few minutes later, some movement a few metres above this bird gave away the presence of a second Squirrel Cuckoo.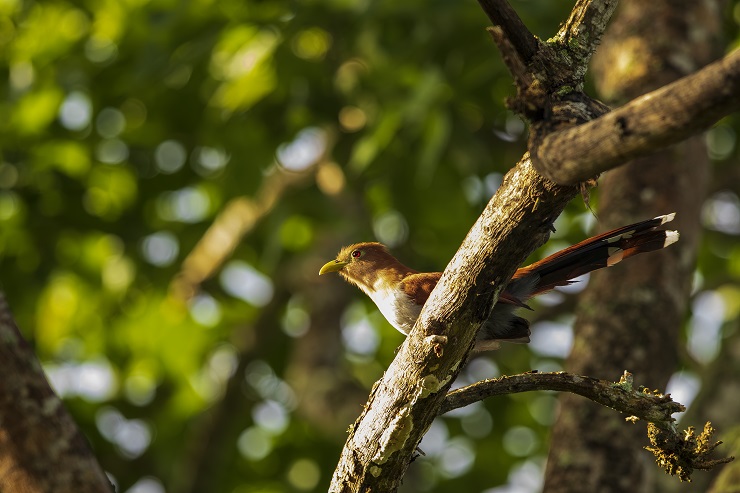 Squirrel Cuckoo
This large and charismatic bird was surely the bird of the trip. Even Channel-billed Toucans calling loudly in the distance couldn't tear me away from this pair. They aren't rare birds by any means, but a leisurely view like this was without comparison.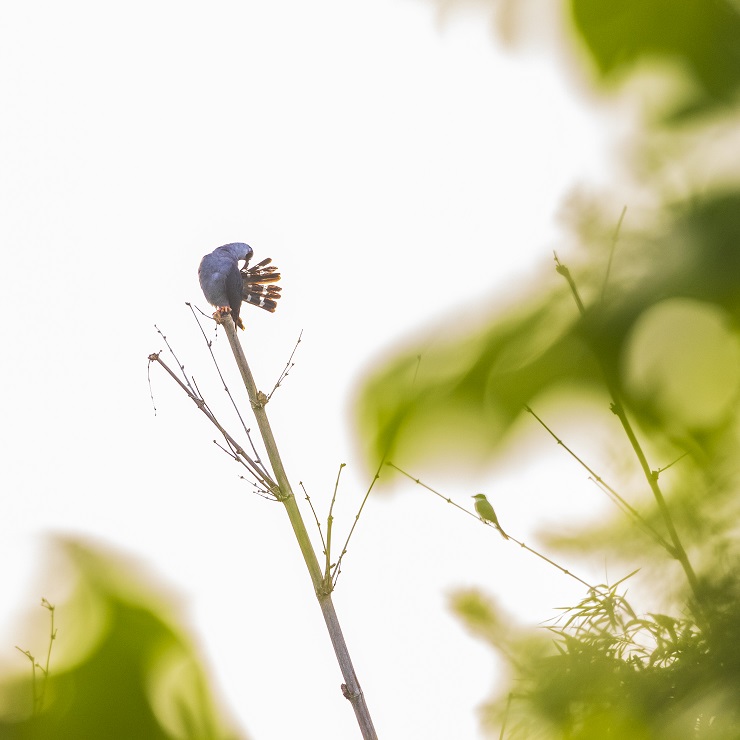 The presence of austral migrants makes T&T an attractive birding destination all year round. Both Plumbeous Kite and Fork-tailed Flycatcher are present for the southern winter, the former breeds here, the latter tends to bring their young with them.
On our way back down we managed another incredible view of another bird that is notorious for remaining obscured. A member of the "trilling" (and thrilling) subspecies group of the Long-billed Gnatwren is present throughout Trinidad, and is yet another headache-inducing species. Imagine a tiny bird that not only loves the thickest of thickets, but is also fond of never sitting still. A pair of these diminutive dinosaurs seemed to be interested in building a nest near to the path we were walking, and they were as interested in us as we were in them.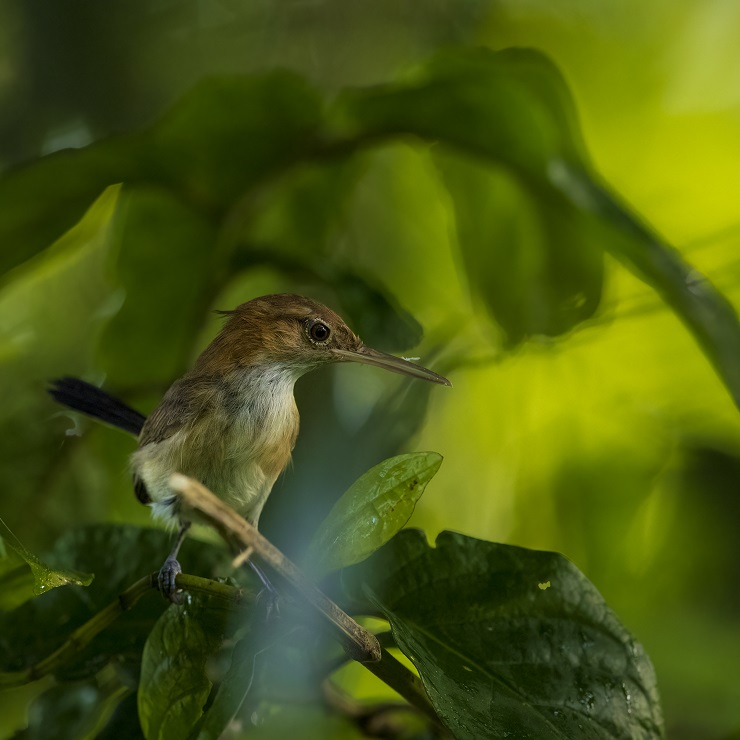 Long-billed Gnatwren
By this time we were expecting some raptor sightings, but the approaching storm had other ideas. Instead, we occupied ourselves by finding several Silver-beaked Tanagers hiding out in the bushes as an Euler's Flycatcher vocalized from further in. We had a brief glimpse of a White-flanked Antwren as it hopped out of view just under a Blue-black Grassquit. A quick venture into another trail yielded a scarcely seen White-winged Becard along with more Golden-crowned Warblers and another pair of Barred Antshrikes.
The pond next to which we had our breakfast was also the source of breakfast for an Anhinga as well as an Osprey. A Striated Heron flew across the pond to try its luck from another bank. These cunning herons have been observed using small leaves and sticks as bait to lure fish closer. Even human-discarded foodstuff has been utilized by these resourceful birds!
We drove out of the park in a torrential downpour. More birds may have been added but ultimately they were not. You can view the full list here – I of course forgot to stop the track as per usual, please reassure me and tell me that I'm not the only sufferer of this affliction.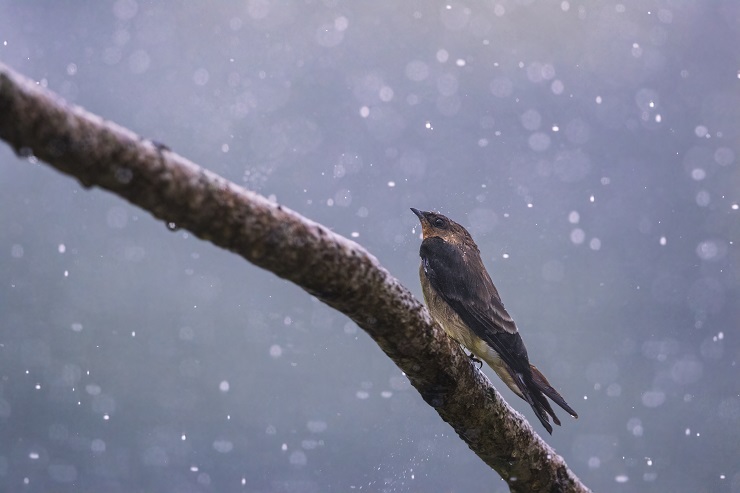 Southern Rough-winged Swallow