This past Monday was President's Day in the United States.  For me, it meant a day off of work and for Daisy it meant a day off of school.  And what better way to spend an extra day off than to go for a walk around the West Pond of Jamaica Bay?  Of course, with Daisy the non-birder with me there was no early start to the day: we got to Jamaica Bay at a little after noon and sat at one the picnic tables to enjoy the repast we picked up on Cross Bay Boulevard while awaiting the Q53 Ltd Bus that got us to the refuge.  Once our eating was done we took to the trail and sought out birds.
Of course, I had a specific goal in mind, the drake Barrow's Goldeneye that had been seen repeatedly in the early morning and late evening on the West Pond and during the day in the bay.  Unfortunately, the rare goldeneye remained elusive, though we did spot a small flock of his Common Goldeneye brethren and a host of other ducks, both dabblers and divers.  All three expected geese were around (Snow Geese, Canada Geese, and Brant).  The land birds were a bit more scarce, with occasional Yellow-rumped Warblers, White-throated Sparrows, and American Goldfinch around but not too much else.
A walk down the Terrapin Trail led us to a view of some more Snow Geese taking a midday siesta.  I took a bunch of shots but they were rather boring as the geese weren't doing anything but sitting there.  At least the shot below has both a "normal" Snow Goose and a "blue-phase".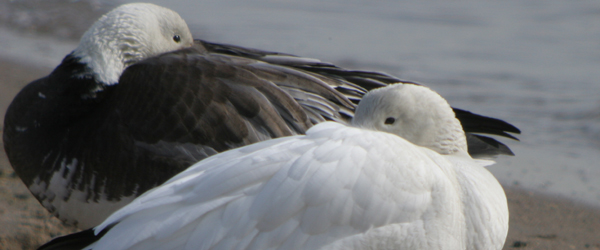 We continued our way around the pond after staring at the Snow Geese for a bit and I gamely tried scoping the bay in the hopes of finding that Barrow's Goldeneye, but cold and Daisy's growing boredom at watching me watching the bay rapidly ended that attempt.  Not that I minded because the ducks I could find were almost all Bufflehead and so far away that the birding I was doing was more in the realm of the hypothetical than the actual.
A bird that was very definitely actual was this Northern Mockingbird which Daisy spotted and we both watched plucking and eating bittersweet berries.  Of course, it only grabbed berries when my eye was not to the scope taking pictures, but, nonetheless, I like the shots I got.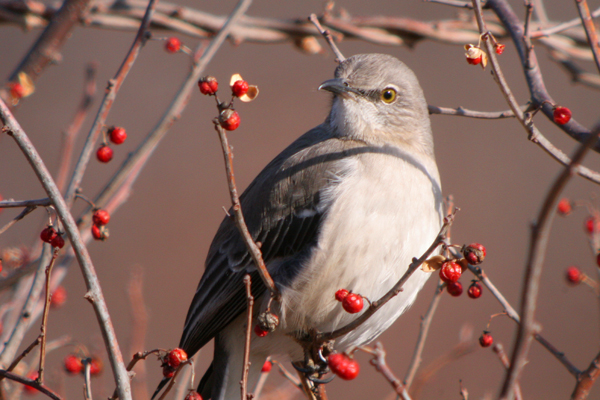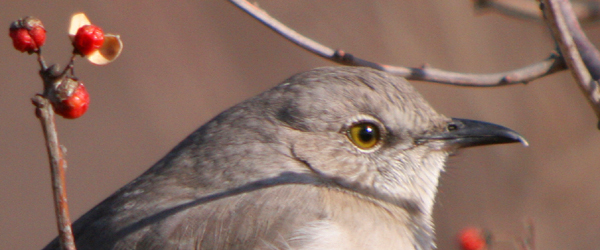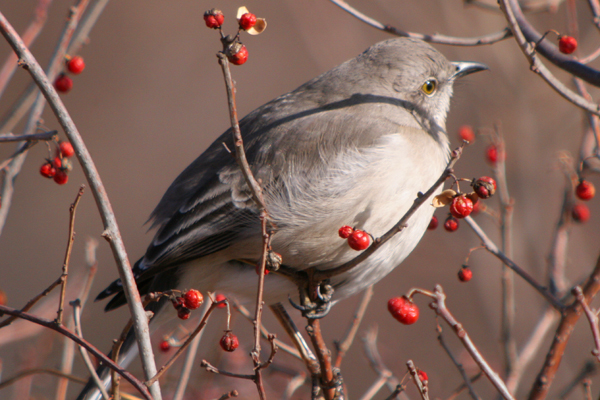 On the way home we walked through the eastern section of Forest Park, again with a specific species in mind, the Common Redpolls that it seems every Queens birder but me had seen at the waterhole.  We were not luck enough to see any finches at all at Forest Park, and we headed home to warm up and drink some tea.
It was a great way to spend President's Day but I must say that I am disappointed that Barack Obama didn't allow me to see a Barrow's Goldeneye or Common Redpolls.  I thought he was supposed to fix everything.  What's that you say?  Presidents can't control the movements of birds?  Darn it, then who can I blame for missing my twitches?