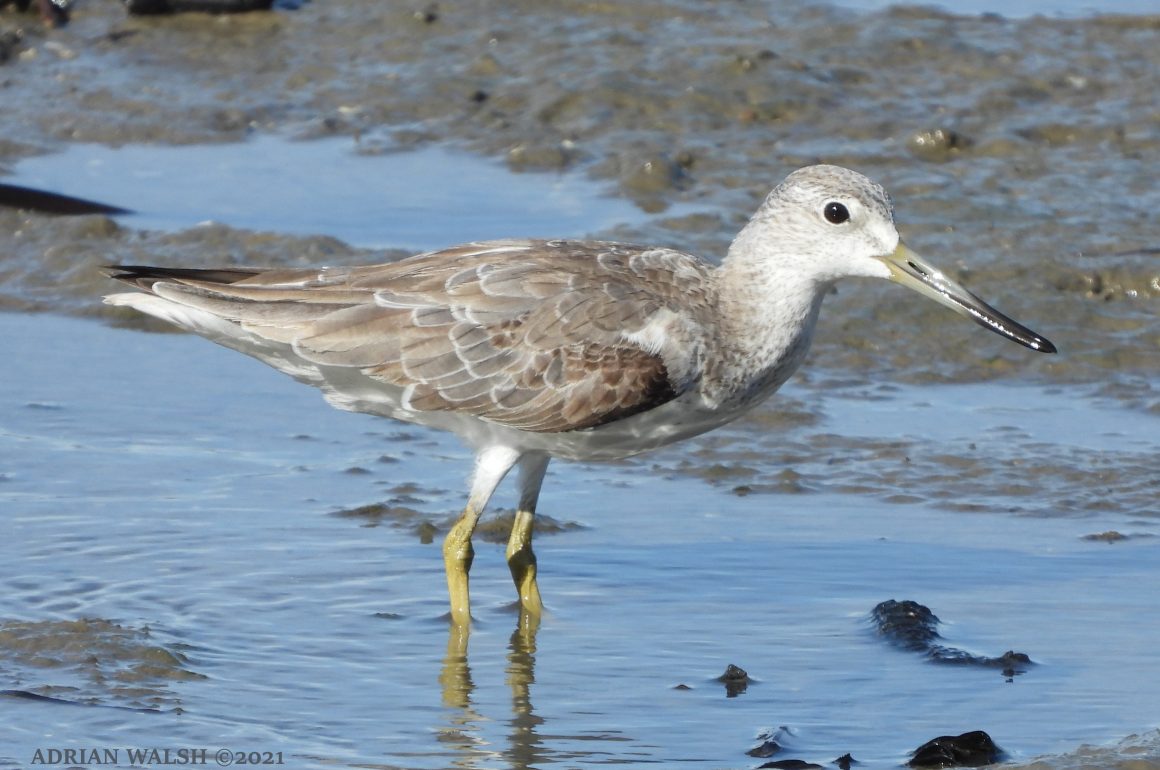 Nordmann's Greenshank on the Cairns Esplanade [Adrian Walsh]
Down here in Australia one can be a birder for a long time without experiencing a proper twitch. Now by a 'proper twitch' I mean chasing a rarity or a vagrant and going [or being] an I.D.I.O.T [Incredible Distance In Ornithological Travel].
The main reason is that, unlike the Northern Hemisphere where bird migration is rife such that rarities appear relatively commonly, Australia has far less migration and thus records rarities far more rarely…
A quick glance at the Australian Twitchers' Facebook page only recognised a few vagrants in the eastern half of our continent for the 2021 year so far. 
BUT there was one rarity recorded this year on the first of January that caught my, and many others', attention such that a proper twitch could be considered.
The recorded bird was a Nordmann's Greenshank. This was the first record for my home state of Queensland, indeed a first record for anywhere in Australia away from the north west area of Western Australia.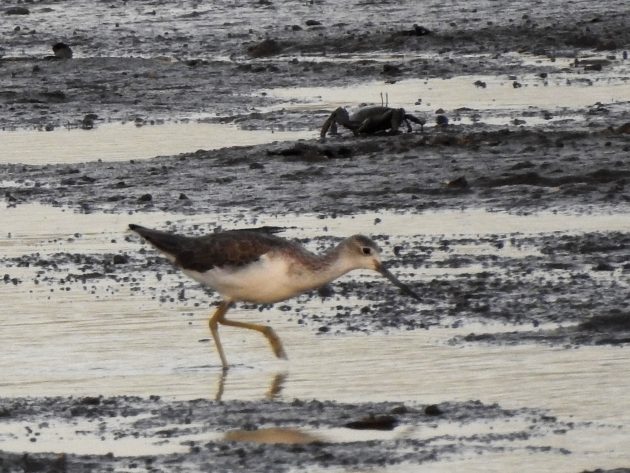 Nordmann's Greenshank photographed hunting on the Cairns Esplanade [Ken Cross]
The bird had been found standing calmly on the muddy esplanade of the northern city of Cairns by Adrian Walsh who, just as calmly, sounded the alarm. Adrian  attracted a little bit of local press as the news of 'Nordy' spread far and wide if only in birding circles.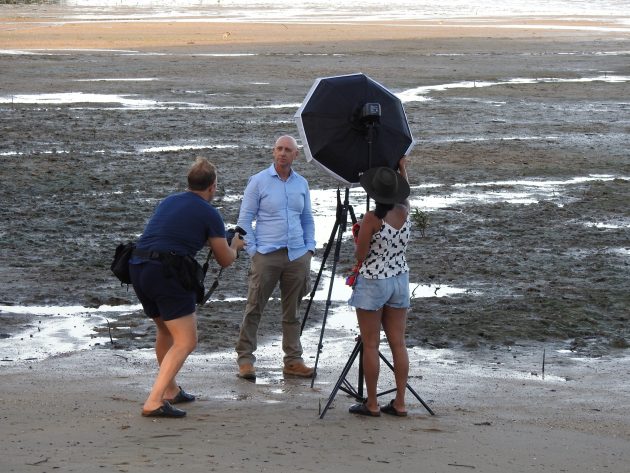 To consider whether to twitch or not one had to weigh up the pro's and con's.
The arguments against? This would really be an I.D.I.O.T. Cairns was some 1600 kilometres, nearly 1000 miles, away. I would have to fly and rent a vehicle. I would be away from my family for a time and my visiting in-laws from Tasmania….Perhaps this would be a trip worth taking…

Still, one should consider properly the arguments for going.
1. Nordmann's Greenshank would be a terrific bird to have on my Australian and Queensland Lists and the odds were this would be the only opportunity for this to occur ever. [I already had Nordmann's on my life list from a single sighting of two birds in coastal Thailand back in 1995. That was clearly some time ago.] In addition, it should be stated that this Greenshank is rare everywhere!
2. There were other target birds in this area of the state; namely Spotted Whistling Duck, Chestnut breasted Cuckoo and the migrant Black faced Monarch.
3. A good friend, Carolyn, was keen to go to chase all of the above.
4. Finally, my brother lives in Cairns offering free accommodation, at least for some of the time we would be in the north.
So, soon we were on the Cairns Esplanade excited about the possibility of impending lifers and enjoying the humidity of a tropical summer. The search had begun. Sadly, the first half a day came and went without anyone seeing Nordy, as its discoverer Adrian had dubbed him.
Day Two began with a visit to the nearby Cattana Wetlands as the tides were wrong for waders. Wandering around the wetlands we met, and were soon introduced to Adrian Walsh, who was watching a bird on a nearby small island. The bird sadly was very much deceased. A Black Bittern, a potential lifer for Carolyn, had some-how managed to hang itself in some tree branches. Thankfully, this did not turn out to be an omen.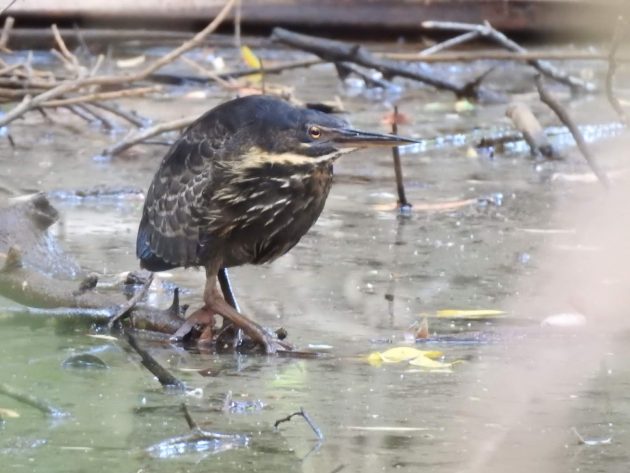 A Black Bittern; although this one is very much alive. [Ken Cross]
Undaunted we returned to the mudflat for what turned out to be an all-day vigil of monitoring mud before finally, in the last hour of light, our bird turned up allowing some decent views but very poor photographs. All of the photographs of the Nordmann's Greenshank published here were kindly shared by Adrian Walsh who has captured the bird beautifully in thousands of images over the last few months.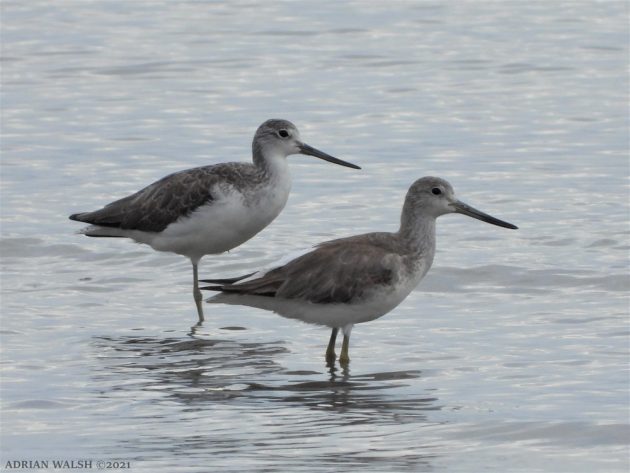 Common Greenshank to the left and Nordmann's Greenshank. Nordmann's, among other things has a noticeably thicker billed which is two toned; light coloured in the basal half and darker distally. It has more yellow legs than the greener legged – more accurately named – Greenshank [Adrian Walsh]
Still, even in relatively poor light, it was wonderful to see one of the rarest of the world's waders; sadly, only some 2000 individuals are estimated to survive. To underline the mystery of this species in 2019 a Nordmann nest was discovered; the first in 40 years! The species nest in Russia in trees and for the Russians looking it was for too-many years, 'Nyet, Nyet, Nyet" until finally in June 2019 a Russian scientist, looked up, smiled, nodded, and muttered a thankful, "Dah!" In south east Asia, the birds are tied to the estuarine habitat and are recognised as crab specialists.
Their habit of dashing around hunting crabs was commonly seen on the Cairns Esplanade; the bird resembles in behaviour and appearance the much smaller Terek Sandpiper – wintering species present here in Cairns.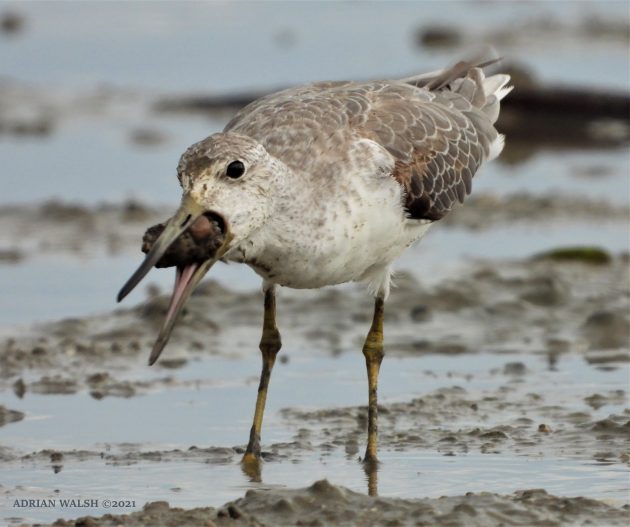 Nordmann's Greenshank, in its wintering grounds is known as an active predator of crabs. Here in Cairns it lived up to that expectation. [Adrian Walsh]

The similar but much smaller Terek Sandpiper [Ken Cross]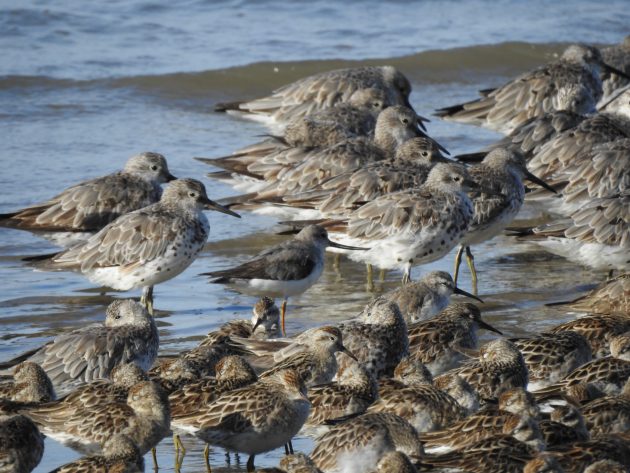 Terek Sandpiper surrounded by other migratory waders on the Cairns Esplanade; mostly Great Knots and Sharp tailed Sandpipers. [Ken Cross]
It is great to go on a twitch and achieve success!