In addition to the birds I saw in Berlin's Volkspark Hasenheide I also saw Eurasian Red Squirrels (Sciurus vulgaris). These are not the tiny North American Red Squirrels (Tamiasciurus hudsonicus) that I'm used to but bigger beasts with adorable ear tufts. I only saw a couple, and both were in the northwestern part of the park, near a fenced-in cemetery which I assume gave them a place to retreat to when harassed by the all-too-common-in-Berlin unleashed dogs.
I was amazed by their acrobatic abilities and I would think that they would give Grey Squirrels a run for their money. I would think that, anyway, if I didn't know what has happened in competition between the two in Britain.
Anyway, my first encounter with a Eurasian Red Squirrel was a distant look that gradually got better as the squirrel got closer. I came within inches of getting a great shot of it leaping. Just to share my misery here it is: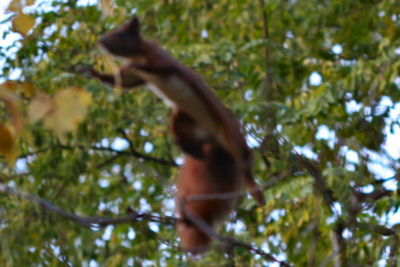 just a bit out of focus
I like this shot much more, despite the rather poor light.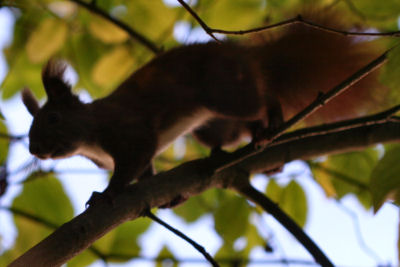 How cool are those ears?
The last picture I got, and none of these pictures do this adorable mammal justice, should have been a full-frame picture of the the squirrel on the ground. But just as it was about to emerge from behind some bushes within about two meters of me, in perfect light, a mangy, foul, evil, unleashed dog came along and scared it up a tree, leaving me with this so-so consolation shot that at least captures its color rather well: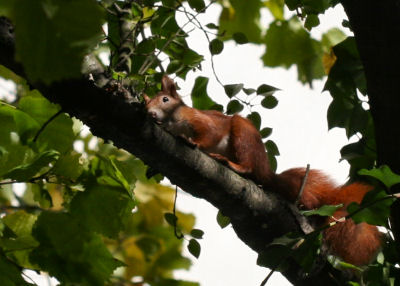 Anyway, seeing a new species of squirrel was a treat and I hoped you liked these rather average shots. But if you want to see some good pictures, well, we here at 10,000 Birds are here to please. Just click here.