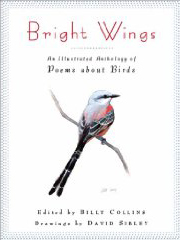 Birds inspire people.  Whether one is inspired to go out and buy a bag of bird seed to attract birds to one's backyard or chase a reported rarity to increase one's life list isn't what matters.  No, what matters is that it is birds that drive one to such acts.  In Bright Wings: An Illustrated Anthology of Poems About Birds, the birds that inspire poets are front and center as they rarely are in poetry anthologies.  Edited by Billy Collins, a distinguished poet and two-time poet laureate of the United States, and illustrated by the amazing David Allen Sibley, who needs no introduction here, Bright Wings is sure to please even the most literal of birders.
While a couple of the included poems (like Stevens' "Thirteen Ways of Looking at a Blackbird") will be recognized by any student of poetry, most are from contemporary poets and will, most likely, be new to anyone who doesn't subscribe to poetical journals or buy recent volumes of poetry.  This reader was greatly pleased to read poems I had never encountered, and, in particular, the two poems by Greg Delanty, "On the Marriage of Friends" and "From Woody's Restaurant, Middlebury" made me decide to seek out an anthology of his work.  And while I had heard of David Wagoner, I had never encountered his "To a Farmer Who Hung Five Hawks on His Barbed Wire" and I am glad to have made the acquaintance of this strongly cathartic poem.  "Peregrine Falcon, New York City" by Robert Cording is so true and frustrating that it made me want to scream out loud.
Now, I could go on ad nauseum about pretty much each individual poem but I think I have largely made my point: there are lots of poems worth reading here.  For the serious birder it is easy to find the poem you remember but can't think of the title or the poet because the book is actually organized in taxonomic order!  That's right, it starts with loons and seabirds and ends with finches, though both the first and last poems in the anthology focus on people.  The order of poems is that one little extra thing that makes a good book great!
It is especially interesting to me when two different poets have poems included about the same species.  In "Keeping Track" Bob Hicok tries his best to transcribe grackle-speak and gets his frustrations onto the page:
some tweet, chirp, what am I, a xylophone?
I translate best I can, now a gaggle of, a swarm of
six, who knows for sure what singings
they really are?
And in that inability to describe the sound of grackles Hicok captures some part of what grackles are, perhaps better than when Sibley, transliterating the noises grackles make in his field guide, uses "kh-sheee" and "karrz" and "zweeesh" among other oddities.  Sometimes one has to turn to the realm of the poet to capture more fully the essence of a bird which is why it is so surprising that the very next poem in the anthology, "Grackles" by Lisa Williams, manages to also capture the essence of grackles in her own way, without reference to specific grackle-sounds at all.  I particularly appreciate this stanza:
then settled on the hill behind the fence
for several teeming minutes to remark
its tapestry, each razored beak, each tail
parting Sunday's gray air like a spear
Both poets capture some essential grackle-ness but do so in completely different ways.  The two poems each have some great images and it is fascinating how the same subject matter can bring about such divergent poems.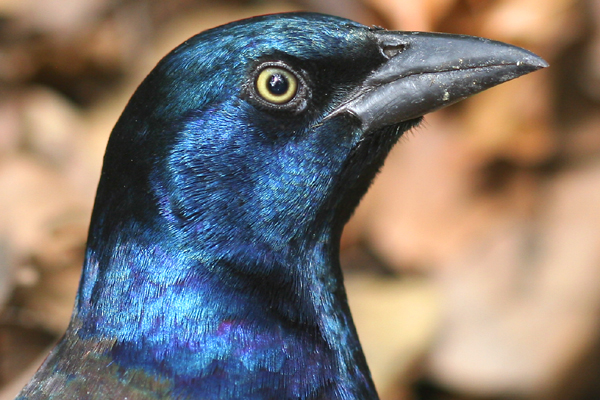 Of course, I would be remiss if I failed to comment on David Allen Sibley's contribution to the book, his wonderful illustrations of many species of bird.  They are, of course, gorgeous, and worth the cost of the book alone.  I particularly like his starling and his Chipping Sparrows, both of which capture the essence of the birds depicted as well as any poet.  His Turkey Vulture is also to die for (ha!): it almost seems that if one looked long enough one would see the wings wobble.
Anyone out there who likes poems or birds should own this book, which will be published on 13 November.  The holidays are coming and it would make a handsome gift for everyone from feeder-watchers to hard core birders and from dilettantes in the world of poetry to those who eagerly await the next issue of Poetry.
Product Information:
Hardcover: 288 pages
Publisher: Columbia University Press
Language: English
ISBN-10: 0231150849
ISBN-13: 978-0231150842
Product Dimensions: 7.4 x 5.8 x 1 inches