Yesterday, Sunday, three days before I was scheduled to be a dad (still not yet!) I was out and about in Nassau County with five other birders on the Queens County Bird Club's "South Shore Potpourri" trip, a yearly search for waterfowl both rare and common in the assorted small parks and ponds that are scattered over southern Nassau County like sprinkles on a particularly tasty donut.  Last year it was the first field trip I took with the club and I enjoyed it enough that when it rolled around again this fall I couldn't resist, which explains why, at 7:30 Sunday morning, I was getting picked up by Ian in the parking lot of Alley Pond Park, after a bus ride to said parking lot, and heading east to see ducks.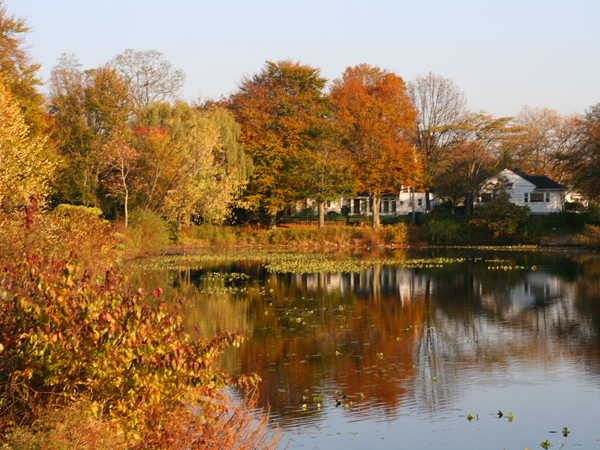 Our first stop, Lofts Pond Park, was rather uneventful, with a pair of Northern Shovelers, a hen Green-winged Teal, four Hooded Mergansers, four American Black Ducks, and a horde of Mallards providing our only waterfowl sightings, though Ring-billed Gulls and a Great Blue Heron enlivened our sightings list.  The sun was out and the day promised to warm up quite a bit, welcome news for a November field trip.  Stop number two, Milburn Pond and Milburn Creek Park, had many more species of duck and goose, with Canada Geese, Brant, American Wigeon, Ruddy Ducks, Mute Swan and Gadwall all being entered on our burgeoning waterfowl checklist.  Passerines were oddly scarce though, as if the sunshine that warmed us also freaked out the smaller birds, so they hid in the bushes from the unseasonable warmth.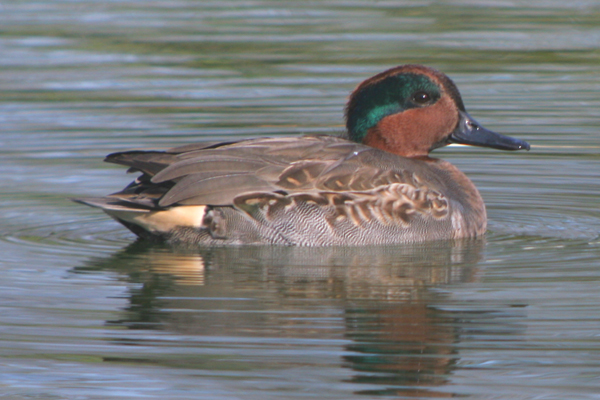 Cow Meadow Park and Preserve, one of my favorite small parks in Nassau County, gave us great looks at Green-winged Teal like the drake above, and also our first shorebird of the day, a pair of Greater Yellowlegs.  It was also nice to add four herons and egrets, with both Greater and Snowy Egrets making a showing and Black-crowned Night Heron and Great Blue Heron roosting and foraging as well.  We also ran into a small patch of non-waterbird activity, which on most days would have gone unmentioned, but on this day of almost no small birds we reveled in Yellow-rumped Warblers, a Downy Woodpecker, and some Song Sparrows.  The downy even obliged by staying still for a shot.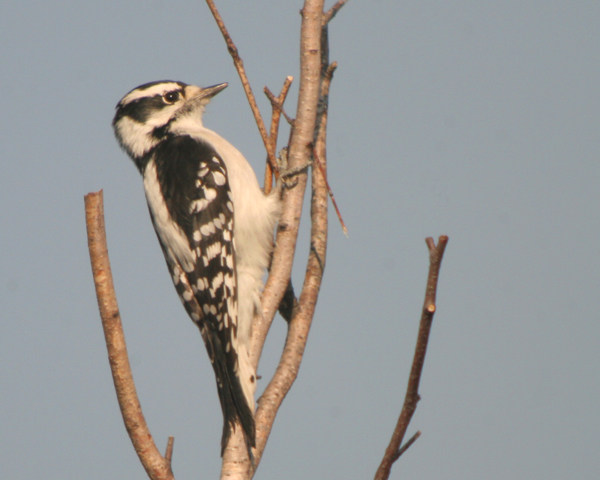 On to Cammann's Pond Park, where certain bird bloggers will remember seeing a Ross's Goose earlier this year.  No such rarities this year, and even the Ring-billed Gulls were feeling the lack of excitement.
Our final stop of the trip, Mill Pond Park, was loaded with a variety of ducks, and we saw pretty much every species that we had already seen and we added a bunch more species like Wood Duck, Ring-necked Duck, and Blue-winged Teal to the day list.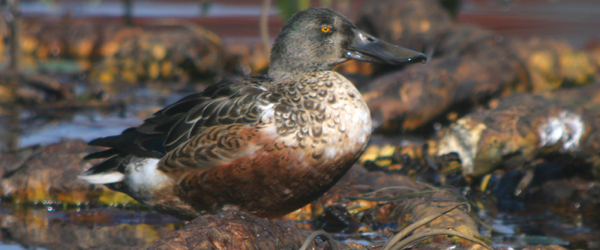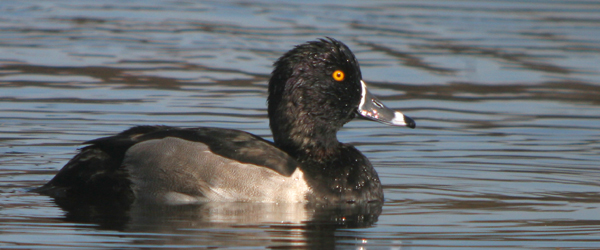 All in all, it was a nice morning's birding and I can't wait until next year when I may very well bring my nearly-year-old son along for the trip!