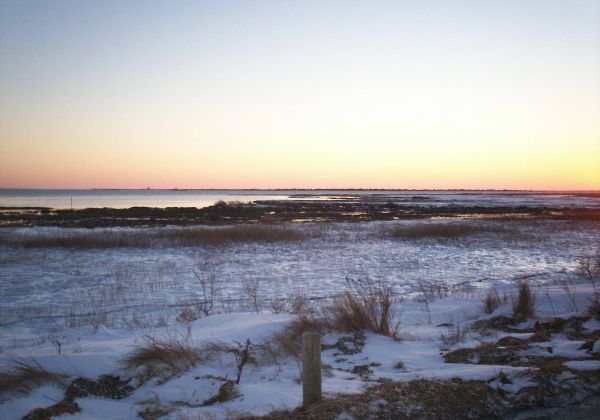 The hardest part of reviewing this jacket, much like the hardest part of birding itself, was reckoning with the perversity of Mother Nature. Though I got this lovely item a month ago, it's taken this long to find some temperatures that would let me even come close to fairly assessing a jacket that claims a 20 degree Fahrenheit/ -7 degree Celsius comfort rating.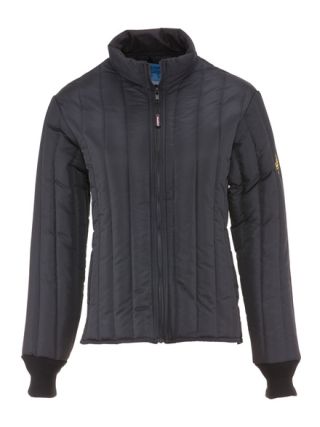 Now that the thermometer has belatedly registered some winter, I am here to tell you that I found the Women's Vertical Puffer Jacket a very pleasant wearing experience. I tested it in windy lakefront conditions, nighttime chills, and even light precipitation. In every instance it kept me cozy.
It was comfortable in other respects as well. Knit cuffs and a high collar kept unwanted breezes from sneaking in, and the materials were all pleasant to the touch – especially the linings of the pockets, which is a real plus if you have to take your gloves off. In fact, on one occasion when I found myself taking my dog out in the middle of the night for some urgent tree-sniffing, I just kept my hands in my pockets and could barely tell that I'd forgotten to wear gloves at all.
The design was also impeccable. The light fill, fitted cut, and vertical puffs not only looked flattering, they meant that I was able to maintain mobility – I could even layer with a t-shirt and sweater without ending up feeling like that kid from A Christmas Story in his snowsuit. It's pretty key for a birder to be able to move her arms so I really appreciated that aspect.
In fact, the only two issues I noticed with the Refrigiwear Women's Vertical Puffer Jacket were a few loose threads in the inner stitching and the lack of a loop or flap for hanging it up on coat hooks. I should also note in total fairness that I did not have the jacket long enough to test its overall durability, but I saw nothing to make me think that it would be a problem with normal wear. Overall, I'm very happy with this jacket and I hope to be wearing it for a long, long time.