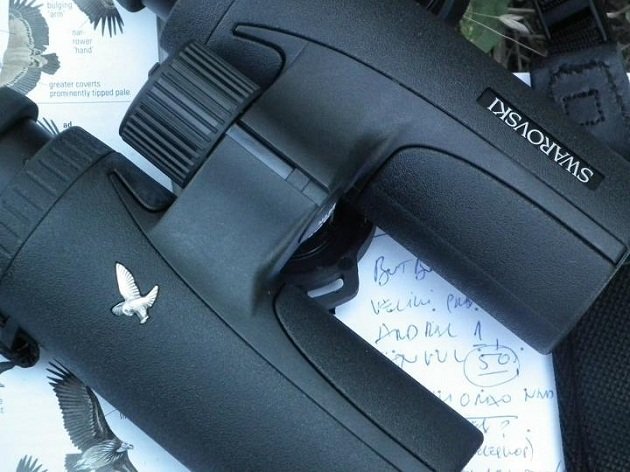 I like 8x30s. I started with one such pair, until I capsized my kayak and had to swim to the riverbank with bins around my neck. A few days later, when I complained about algae growth, the repair serviceman told me that it would be cheaper to get a new pair, than to polish the prisms.
Instead of buying a new pair, I started to use the one I already had but never used: 12×40. Around one kilogram – heavy like a brick, it offered powerful magnification, but somehow never felt right. While we were checking possible heronry sites along the Danube (trying to think like: If I were a heron, would I nest here?), because of their superior magnification I offered my bins to a friend and took his 7x50s. And had one of those wow moments: his bins were bright and sharp. And mine were out of focus at any given time, like those 1950s colour movies. At least, they were in colour.
So, 12x is not good enough? Ok, let's try 20×60. Those were big and heavy like two bricks, some 1.5 kg. And the view? Shaded dark, even when focused – out of focus, like watching some early Charlie Chaplin movie and trying to ID the birds flittering in the background. That is when I went back to 8x30s. And stayed with them for good.
In 2011, I acquired a pair of Swarovski 8×30 CL Companion. The first impression when I opened the package was that binoculars have ideal dimensions and are ergonomically well shaped. The next morning, I used them outdoors and confirmed my initial impression: the optics are superior; the colours bright and the contrasts strong, but what I like the most is their size (4.7 in / 119 mm long) and weight (17.6 oz / 500 g). A friend of mine tried them that same morning and described her impressions: "Wow! Weighing only 500 grams? Like five chocolate bars!"
CLs are well balanced and rest easily in the hands, even when held in just one hand. Their construction allows your thumb to lie comfortably in its notch, your index finger lying on the focusing wheel, and the remaining fingers grasping a binocular tube without anything to hinder you from doing so. The morning I first tested them was filled with migrating flocks of European Bee-eaters and their constant bubbling voices. One bird was flying towards us and, just prior to avoiding us, only slightly raised its head (showing us its yellow throat) before picking up an insect in mid-air. Finally, their colours – bright yellow, sky blue and chestnut red – were like watching Avatar in 3D!
A few weeks later, I was guiding a EuroBirdwatch event in Belgrade, Serbia. Next to the Ratno Island Reserve, a group of about 30 adults and kids were watching their first White-tailed Eagles, a cooperative young eagle even pulled fish out of the river and playful Common Kingfishers were chasing each other, fishing or just showing off. And all the time I was testing the CLs, I was wondering what the difference was between them and their big brother, the ELs. This time another friend of mine came with the ELs, so we swapped our bins and came to the same conclusion – on a bright sunny day, they are equally bright and sharp.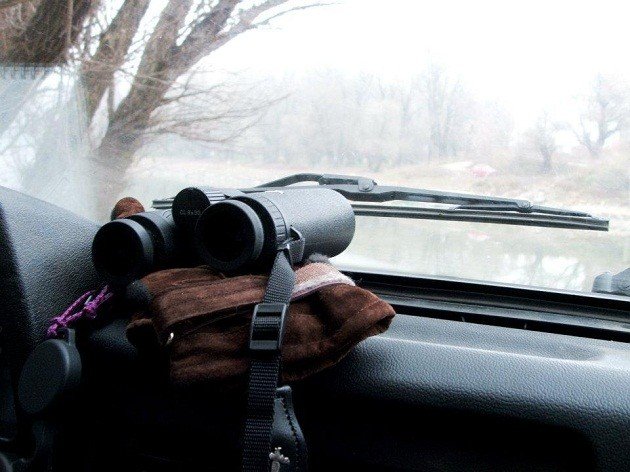 Photo by Senka Puhalo
Still, testing binoculars on a bright sunny day? Okay, I had a lot of opportunities to test their shadow-probing possibilities, as well as sunset and fog birding afterwards. E.g. counting Pygmy Cormorants resting under the willow crowns on an overcast winter afternoon and seeing well the dark shaded birds, as well as a Peregrine overshooting above me. Almost as if the Pygmy Cormorants knew I was trying to count them, the majority chose to fly to their roost in a thickening darkness, some dozen minutes after the Sun had set. The light was fading but the flocks of cormorants clearly stood out against the sky (okay, light-polluted city sky, to be more precise).
Then, a Saker Falcon in the autumn fogs: CLs true colours allowed me to scratch off the chance of it being a young Peregrine. Or studying fine details of the plumage of a nearby Common Buzzard (this particular bird) in a fog so thick that I can barely see the bird with naked eyes! Yes, I am quite happy with CLs performance in gloomy winter days.
And the final impression, another friend's comment: "Inside those bins of yours, small birds live, so you always see them whenever you look through!"
Indeed, I do.
With a bit of luck, I intend to test the CLs on an Antarctic cruise – more about that in the next post (in the meantime, you can increase my chances by voting for me at this page).