Nassau County, New York, March 2009
After having fully explored the trail around the West Pond at Jamaica Bay, we four bird bloggers agreed to load up Patrick's car and head over to Jones Beach to see what kind of birds we could find there and some other locations in Nassau County.  Carrie had been at Jones Beach pretty recently, but was happy to return, while I'm not sure that John had ever been, but he certainly seemed to enjoy the experience.  And who wouldn't enjoy birding Jones Beach, where there are always birds and often rarities to be found?  This visit to Jones Beach did not disappoint, though it took a little while for the bird action to pick up.
When we first arrived at the Coast Guard Station we did what all birders do when they arrive: we scanned the bay.  Distant Common and Red-throated Loons were just recognizable while Brant, Red-breasted Mergansers and the three common gulls were closer and easier to identify.  More American Oystercatchers were on a distant sand strip and Jacob, who I had last seen while doing the South Nassau Christmas Bird Count, got us on a Northern Harrier flying past.  Good birds all but rather typical for the Coast Guard Station this time of year so we decided to walk over the nature center to see if we could find the Snowy Owl that has been hanging out there for months and see if we could find John his life Lapland Longspurs.
The owl was simple to see and John had it in his bins within a minute of commencing to look.  The longspurs proved more elusive: though we found both Horned Larks and Snow Buntings, to say nothing of an "Ipswich" Savannah Sparrow we failed to find a single longspur.  Back to the Coast Guard Station we went where a gull lacking any dark coloration sat on the sandbar: Glaucous Gull!  A first-winter Glaucous Gull to be more exact, and a lifer for both John and Carrie!  That took the sting out of missing those longspurs I'm sure.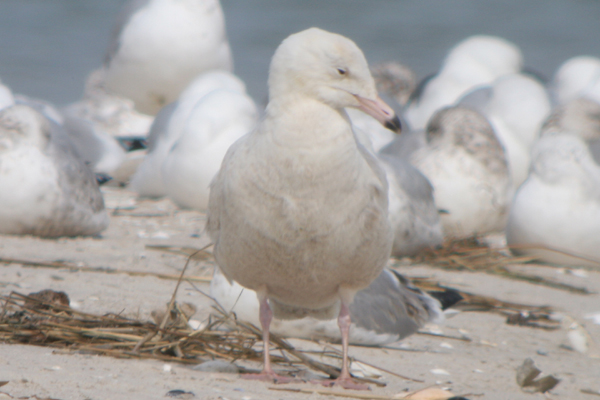 While we were admiring the Glaucous Gull another birder pointed out that three plovers had landed and were feeding on the mudflat behind the gull.  We turned our scopes that way and found my first Piping Plovers of the year.  Sweet!  After a brief discussion we decided to take the short drive over to Point Lookout to look for the Harlequin Ducks that have been delighting birders of late.
At Point Lookout we enjoyed Horned Grebes in close (though I butchered my attempts to get good digiscoped shots) and more American Oystercatchers on a jetty.  I did manage to get some decent shots of the oystercatchers…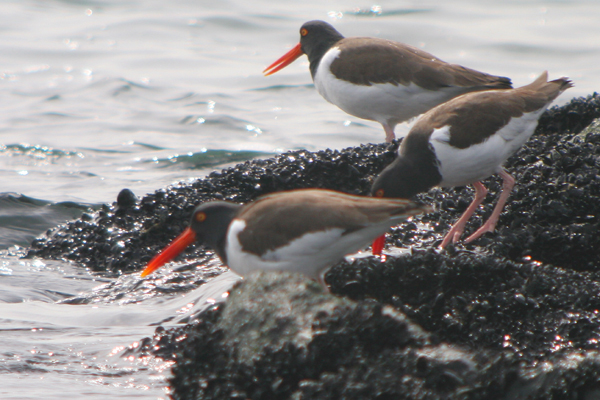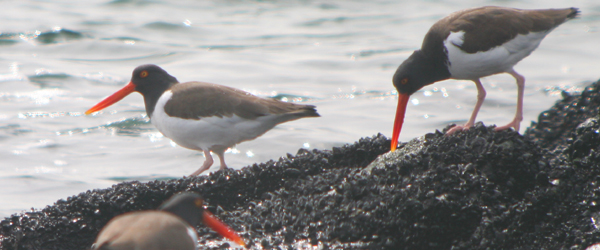 But the main attraction, the stars of the show, were, of course, the four Harlequin Ducks that have been haunting the Point Lookout jetties for a couple of weeks.  The two subadult males, the gorgeous, breeding-plumaged adult male, and the female swam past the last jetty at a rather high rate of speed, but, fortunately, not as fast as my camera!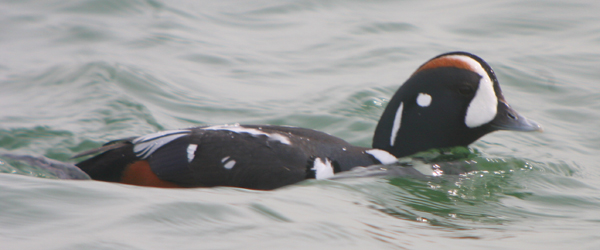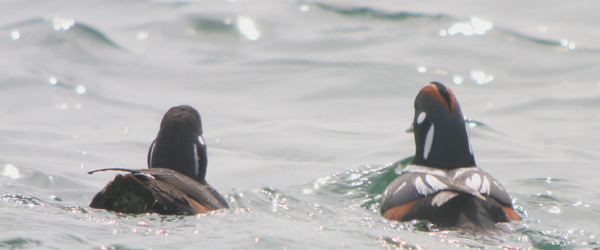 We were mildly disappointed by the lack of Purple Sandpipers but somehow seeing four Harlequin Ducks, which were a life bird for Carrie, made it all perfectly fine.  And what a look at a life bird!  She was lucky to get a breeding-plumaged male as a first look (not like me) which makes the moniker "harlequin" quite easy to understand.
After battling our way against the wind on the walk along the beach back to Patrick's car we rewarded ourselves with some pizza and girl scout cookies and then made one last stop at Cammann's Pond, where the Ross's Goose had eluded me a couple of months ago.  Though the pond was chock full of Hooded Mergansers, Northern Shovelers, Brant, Canada Geese, Mallards, and several other species it looked like the Ross's Goose had eluded me yet again until John managed to find it hiding out under an overhanging bank of the island in the middle of the pond.  The goose, instead of leading us on a wild goose chase, decided to swim up close and then past some Canada Geese, as if to show off its tininess.
Another lifer for both Carrie and John!  What a day's birding!  It just goes to show that when you get four bird bloggers together the birds just can't help but show themselves…so if you are a bird blogger I highly recommend tracking down other local bird bloggers and getting out there birding with them.  You might not get lucky enough to get lifers but I guarantee you'll have a good time!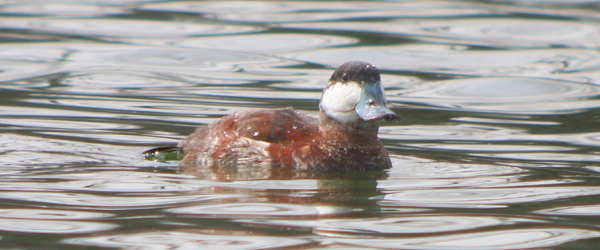 …
This post was originally published on 20 March 2009, but we hate to keep posts this good buried in the archives!
………