My home country of South Africa can only be described as a birding paradise! Although in raw numbers (843 species recorded to date) it doesn't compete with tropical countries to the north or on other continents (especially South America), South Africa makes up for this in several ways:
• the highest number of endemics on the continent: 19 true endemics, 2 breeding endemics, 1 winter endemic and 45 near-endemics (having more than 70% of their range within the borders of South Africa);
• two near-endemic bird families (more details below);
• generally easy birding with large numbers of birds, many readily observed;
• excellent information on the country's birds and where to observe them;
• superb bird photographic opportunities;
• extensive infrastructure allowing easy access to the best birding sites; and
• solid value for your birding buck.
In this post, I'd like to focus on a small selection of South Africa's special endemic birds.
Starting off with my favorites (I have to say that!), the Rockjumpers. Originally considered monotypic, two species are now recognized. Cape (or Rufous) Rockjumper is a true South African endemic and restricted to the southwest Cape. Drakensberg (or Orange-breasted) Rockjumper is a Drakensberg Mountain species whose range is shared with the tiny landlocked kingdom of Lesotho. Their taxonomic affinities have caused great confusion and debate amongst ornithologists; they were originally assigned to the thrush family, then Old World warblers before being shifted to babblers (the last mentioned a common dumping-ground for any aberrant passerines). DNA evidence then indicated that they are an ancient group mostly closely related to the bizarre and wildly different rockfowls and they were therefore contentiously placed in the Picathartes family, before finally finding a contented home in their own family, Chaetopidae.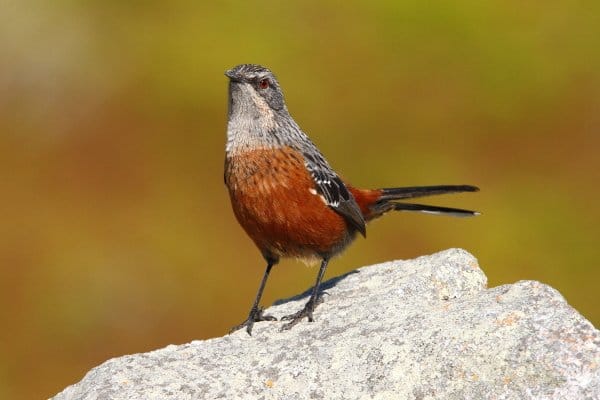 The Cape Rockjumper (here a female) is best sought at Rooiels, on the east coast of South Africa, north of Cape Town. An image of a male can be found in my African Birding Beat intro post http://10000birds.com/introducing-the-african-birding-beat-2.htm.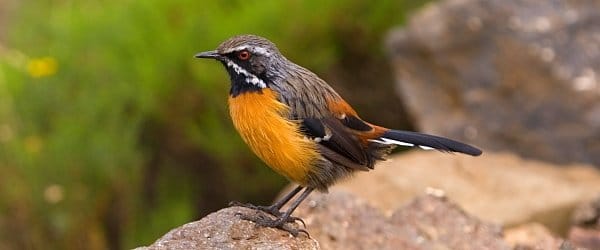 One of the Drakensberg Rockjumper's most reliable stake-outs is Sani Pass, a winding 4×4 track from the village of Himeville into the mountain kingdom of Lesotho. Males of this species are more brightly colored in their non-breeding winter plumage.
The Sugarbirds are another family endemic to Southern Africa, again with two species; Cape Sugarbird (being a true endemic to the southwestern Cape) and Gurney's Sugarbird (occurring at scattered sites through eastern South Africa with a small isolated population in the Eastern Highlands of Zimbabwe.) Stands of nectar-rich Proteas are the sugarbirds' preferred habitat and this is the essential 'ingredient' when searching for them. The sugarbirds' taxonomic affinities have, like that of the rockjumpers, also provided a challenge to ornithologists. They have been considered sunbirds, Australasian honeyeaters and thrushes before being placed in their own family, Promeropidae.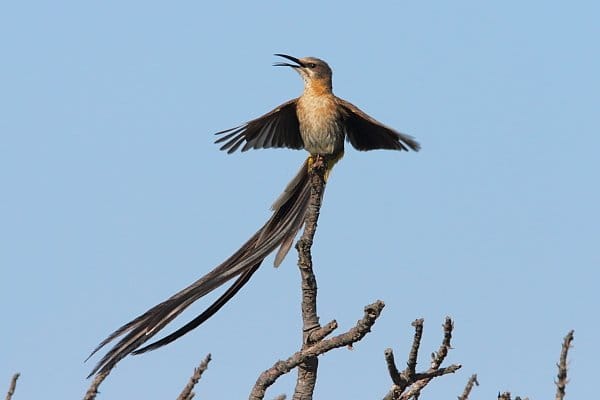 The long-tailed Cape Sugarbird is quite common in and around Cape Town, and prime sites include Cape Point National Park and Kirstenbosch Botanical Gardens.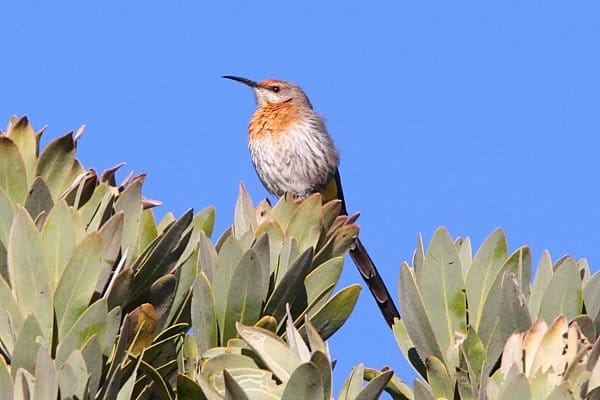 The more elusive Gurney's Sugarbird is most reliably seen on the lower slopes of Sani Pass in KwaZulu-Natal Province.
A plethora of colorful and busy sunbirds occur in South Africa, many of them filling niche's occupied by hummingbirds in the New World. However they are not at all related, hummingbirds are allied to swifts but sunbirds (and spiderhunters) to white-eyes, flowerpeckers and other passerines; a perfect example of convergent evolution. Three of South Africa's sunbirds fall into our category, the stunning Orange-breasted Sunbird is a true endemic restricted to the southwestern Cape's unique Fynbos. Two near-endemics are Greater Double-collared and Southern Double-collared Sunbird, both more widely distributed in forest edge, woodlands and other habitats that produce enough nectar to sustain their busy bodies.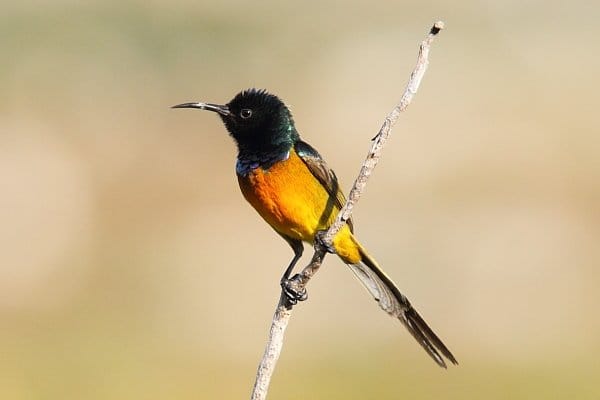 The colorful Orange-breasted Sunbird is common in Fynbos habitats, which it shares with Cape Sugarbird.
The Southern (or Lesser) Double-collared Sunbird (left) is an often abundant species that is usually first detected by its cheery song. It occurs in forest edge in eastern South Africa, and in Fynbos, and even into arid areas, in the southern parts of the country. Greater Double-collared Sunbird (right) is less common and more localized than its smaller cousin. It is most reliably found in mid-elevation ranges, especially where Aloes are flowering. Notic the different width of the red chest band, this is the most obvious feature when separating these species.
Long-tailed Pipit is classed as a Winter Endemic and its story is a fascinating one. Upon retirement, ornithologist Richard Liversidge and his wife settled in the city of Kimberley in the Northern Cape. Here he kept up his birding and one of his local patches was an urban field hockey ground where he used to walk his dogs on a regular basis. Richard noticed a variety of pipits that foraged on this grass playing field and after some observation decided that further investigation was called for, as one type seemed larger and longer tailed than any pipits with which he was familiar, and they occurred in large flocks, also an unusual feature for South African pipits. In 1996, several pipit specimens were collected for DNA analysis and it turned out that there was not one, but two new species to science in this sample! The Long-tailed Pipit was the more obvious one, this species turning up every winter in this arid region of South Africa, before mysteriously disappearing. However during a summer visit to the far northwest of Zambia on the DRC-Angola border, I filmed pipits with young that Richard Liversidge, just before his untimely passing, confirmed were Long-tailed. The second discovery was a cryptic species now known as Kimberley Pipit and its exact range and niche are still being debated.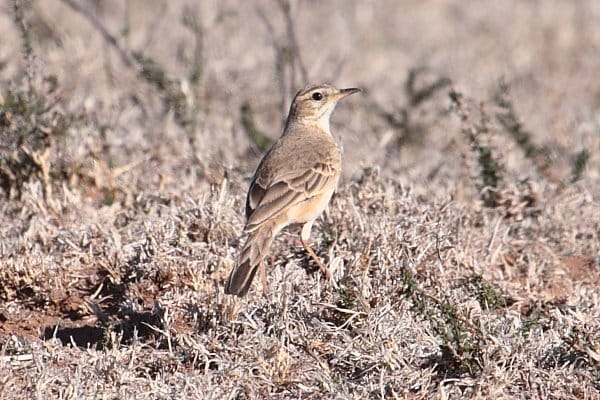 The little known Long-tailed Pipit appears every winter in the area around Kimberley, but much about this bird is still a mystery. It is most easily identified by its habit of rapid tail-pumping, a feature which first drew the attention of its discoverer, Richard Liversidge.
South Africa's national bird is the Blue Crane. This small, elegant crane is arguably one of the world's classiest birds, with a gunpowder blue plumage, massively extended primary plumes (that look like long tail feathers when perched), a resonant call and an exhilarating and elegant courtship dance. Blue Cranes are almost entirely restricted to South Africa, with an isolated (but dwindling) population in Namibia's Etosha National Park and a few pairs in Botswana. Their numbers have dropped dramatically throughout their range, although the population seems to have stabilized, if not increasing in the southwestern Cape; however elsewhere in the country they are still under immense pressure.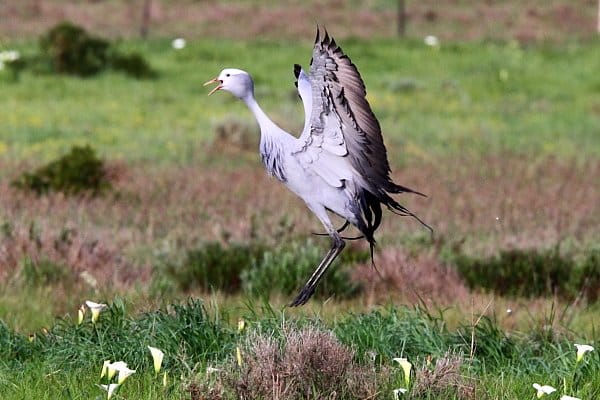 A dancing Blue Crane, South Africa's national bird.
Another near-endemic, shared only with tiny Lesotho and Swaziland is the bizarre Southern Bald Ibis. It used to occur widely throughout South Africa, breeding even on Table Mountain which towers over Cape Town, but over the decades its range has contracted and is now centered around the Drakensberg Mountains and outlying rocky areas. Sharing much the same story with its cousin the Northern Bald Ibis, a closely related species that during the Middle Ages was widely known throughout Europe as the Waldrapp (meaning "Forest Crow"). It bred in large colonies on cliffs and castle ramparts throughout southern and central Europe, before it began a relentless march towards extinction. By 300 years ago it had disappeared from the whole of Europe and this pattern followed in the Middle East and North Africa. It now exists only in 4 breeding colonies at 2 locations on the coast of Morocco and a recently rediscovered relict colony in Syria, where it had been declared extinct for 70 years. Sadly this tiny Middle Eastern remnant has declined from 7 birds at discovery to just a single pair and 2 juveniles. The Southern Bald Ibis' situation is fortunately not as chronic but it is still classified as Vulnerable.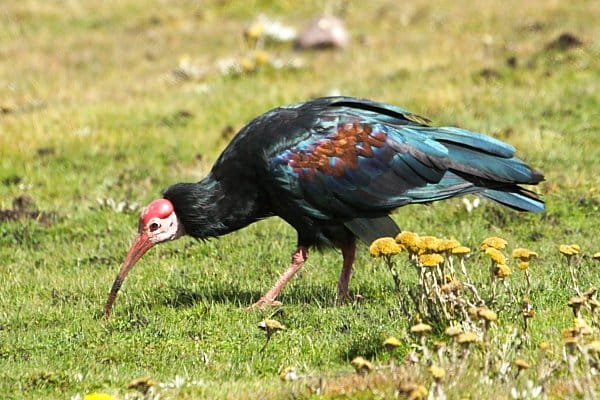 The Southern Bald Ibis can be seen feeding in flocks on grasslands at the top of Sani Pass, where this image was taken.
My final bird for this post is another of my favorites, the Ground Woodpecker. Like the Southern Bald Ibis, its range just extends into Lesotho and Swaziland and family groups occur in rocky and mountainous areas from the Cape Peninsula northwards into eastern South Africa. This is the largest of South Africa's woodpeckers, and in appearance and behavior it is completely different to other members of its family. Its genealogy indicates that the Ground Woodpecker is a very ancient diversion off the standard woodpecker evolutionary lineage. They are almost entirely restricted to ground level, with family groups often perching on exposed boulders issuing forth their strange gull-like shrieks.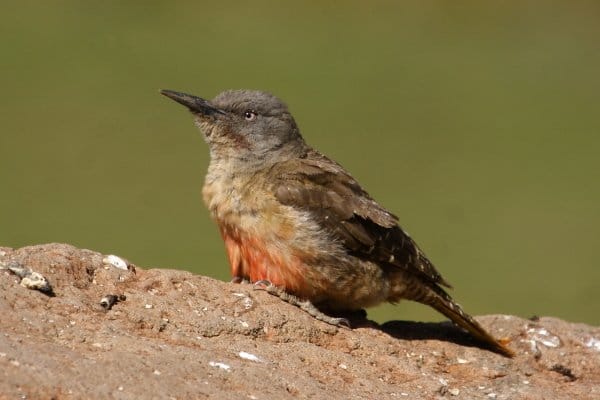 Sani Pass is also a good site for finding the aberrant, pink-bellied Ground Woodpecker.
I would also like to take this opportunity to wish all 10,000 Birds followers and friends a merry Festive Season and a superb, bird-filled year ahead!
All images © Adam Riley