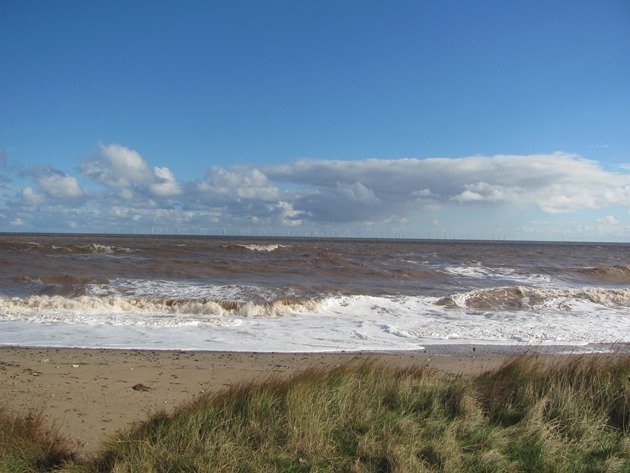 During our visit to the UK last year we were able to make two visits to Spurn National Nature Reserve and this area is only 27km (16.8 miles) from my parents' home in a straight line, but due to the Humber River flowing in between it does take about 90 minutes to get there via the Humber Bridge and then travelling through Hull and numerous small villages to get there. You can in fact see Spurn Point in the distance from Killingholme Haven Pits and it is in the header photo on the far left. It has been renowned for rare birds for many years and during our visit in 1994 we were amazed at how far people would travel for a rarity. In those days there were no mobile phones, but there was a pager system for "twitchers" and on our visit in 1994 everybody was chasing a Red-backed Shrike. In October 2016 everybody was receiving messages on their mobile phones and also of interest were some people that did not own a telescope or binoculars and just photographed every bird with a massive camera even larger and heavier than many of the telescopes! They then used that to identify what they were looking at! Another big change in twenty two years is the presence of distant wind farms in the North Sea as in the above photo.
Until late 2013 it was possible to access Spurn Point by road most of the time, but the storms in December of 2013 took away the road and much of the land and nowadays access is restricted by the tide. It is important to obtain the access times if you wish to venture out on the point and to understand that they are now letting nature take its course rather than try and change it. There are no facilities on the point and a few hours are needed to explore it.The Spurn National Nature Reserve is very popular due to the fact that there are coastal areas, river access, the Canal Scrape hide and the surrounding fields that offer a huge variety of birds. Spring and autumn migration is an incredible sight with "falls" of birds dropping into the location and every day brings new birds and another influx of birders. There is free parking at both the Blue Bell Cafe and at the Canal Scrape hide and despite its popularity it does not feel overcrowded. Most visitors are moving constantly in search of the various birds in different environments and add to that the ever changing weather in October and it makes for a great day out.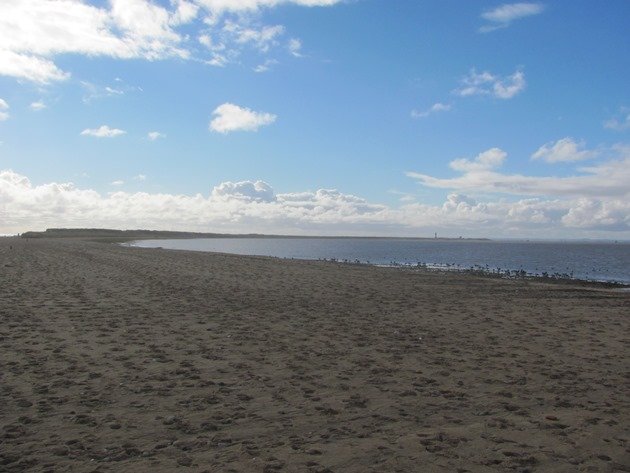 Spurn Point when access is open
Our first visit on October 7th we were overwhelmed by the number of birds that were in the area and we had never seen so many European Robins before. There was literally one on every post and there had been a recent "fall" of them and 935 were recorded that day! Other birds in significant numbers were 2630 Redwings, 108 Eurasian Blackcaps, 235 Goldcrest and 24 Ring Ouzel. We observed seven of the nineteen Jack Snipe present that day and that was during a wet period when we spent some time in Canal Scrape hide while the weather passed through. One of the thirteen Yellow-browed Warblers was also present at the hide and a Water Rail that was not at all easily photographed! There was a Dunlin present at the hide, but all of my photos show it either feeding or preening!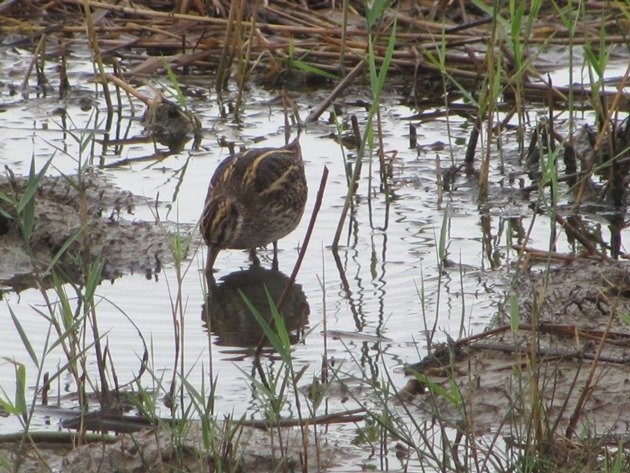 Jack Snipe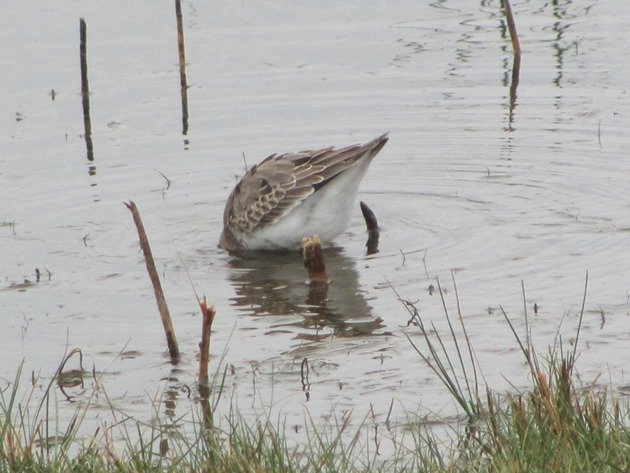 Dunlin feeding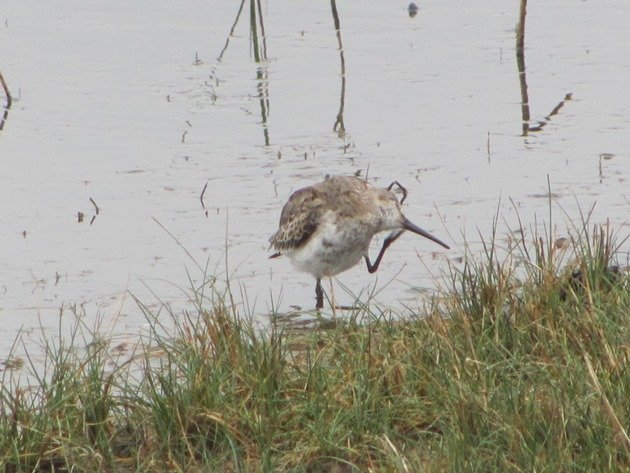 Dunlin preening
Following the drizzly and windy weather we ventured out along the coastal path and sadly came across a recently deceased Meadow Pipit. It is always hard to grasp the actual size of a bird until you literally have it in your hand and we collected the specimen and gave it to the Spurn Bird Observatory for their records. They have been recording bird species numbers and banding/ringing birds for many years with the initial roll call of bird species starting in 1938.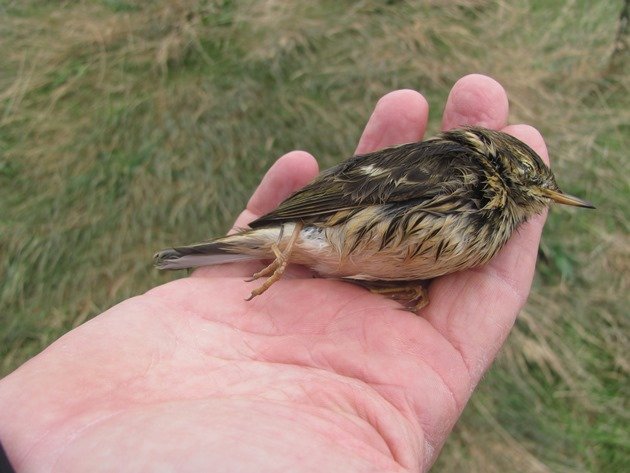 Meadow Pipit
During this visit we walked the coastal path, but could not access the point due to the tides and we also spent some time at the Canal Scrape hide and walked the triangle giving access to birds both in the bushes, fields and the Humber River. Despite the inclement weather our species list also included Little Egrets, Brambling, Common Chiffchaff, Dunnock, Barn Swallow, Common Redshank, Common Starling, European Goldfinch, Eurasian Wren, Garden Warbler, Tree Sparrow, Common Blackbird, Coal Tit, Long-tailed Tit, Goldcrest, Redwing, Eurasian Magpie, Little Grebe, Common Moorhen, Eurasian Wigeon, Mallard, Eurasian Teal, Common Pochard, Northern Lapwing and Common Snipe. Walking close to the Humber River added Black-tailed Godwits, Eurasian Oystercatcher, Eurasian Curlew and European Golden Plover. A Common Redstart was attracting attention beside the path on the rocky shore and several people had stopped to photograph it.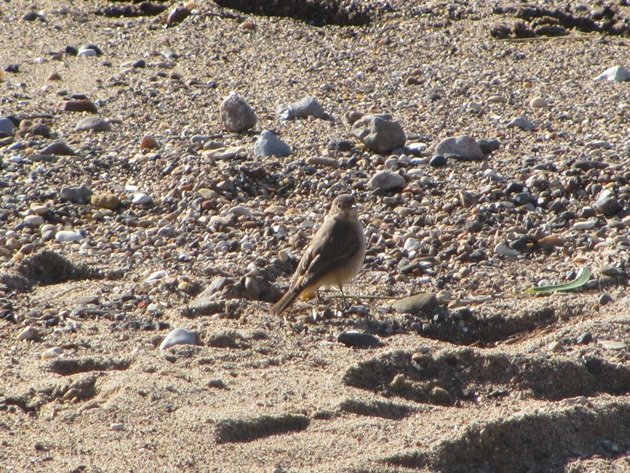 Common Redstart
Returning to Spurn National Nature Reserve on 23rd October we were faced with much better weather and had avoided the madness when a Siberian Accentor arrived in the area on October 13th and they had to use the police to control the situation due to its proximity of a gas refinery! It was the second Siberian Accentor for the UK, but nine ended up being recorded between the 4th and 24th October! Spurn National Nature Reserve was an easy area to get to and over four thousand people made the trip to see the rarity! This time we were able to walk out towards the point and there were numerous Black Brant on the Humber River this time and a Hooded Crow. It was being overlooked by many of the birders that appeared to be looking for much smaller rarities!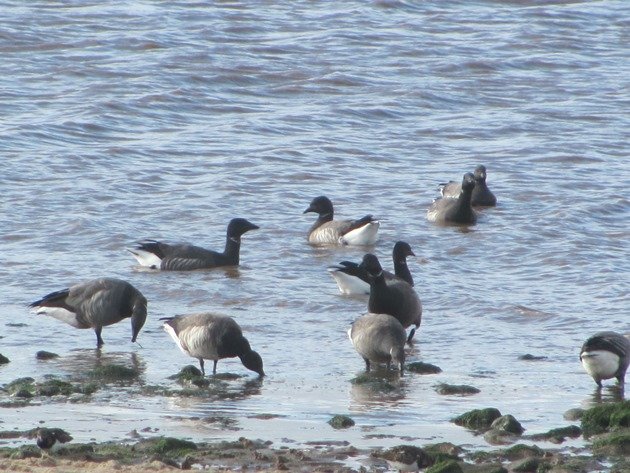 Black Brant
 The shoreline offered Grey Plover, Ruddy Turnstone, Common Redshank, Dunlin, Black-tailed Godwit and Eurasian Curlew. Once again the Canal Scrape hide was a great place to sit and observe the birds and a Common Snipe was happily feeding directly in front of the hide. A Mute Swan was roosting for much of the day as well!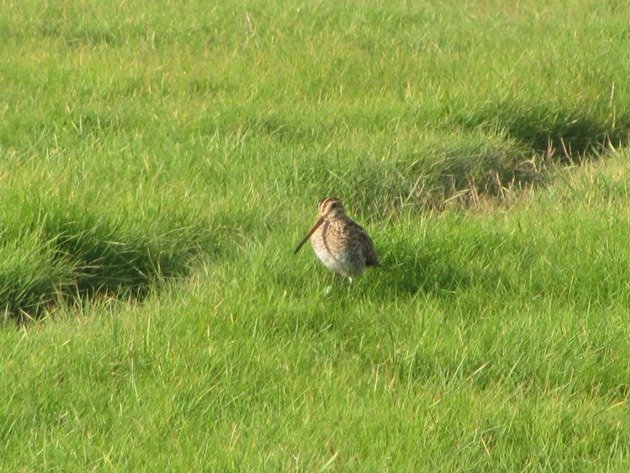 Common Snipe
Mute Swan
A Little Grebe spent much of the time feeding in front of the hide and it wasn't until I looked at the photos afterwards that I realised I had captured it eating a small fish! It didn't really look like there would be much food in the small body of water, but there obviously was by the number of birds using it.  The Water Rail was still present and also the Yellow-browed Warbler, but not showing for good photographs!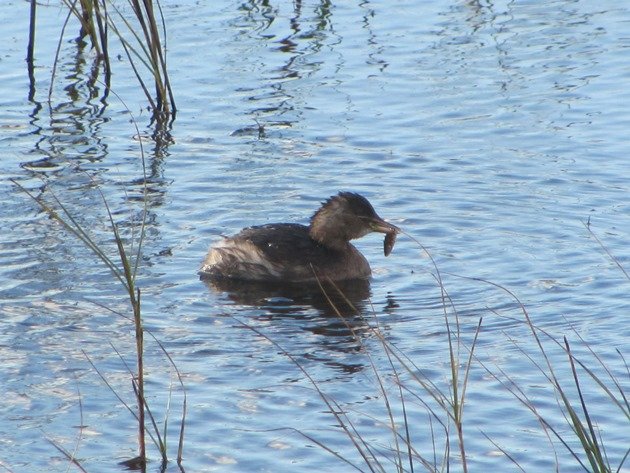 Little Grebe
We also took advantage of the good weather, which was cold but not wet and walked to the Kilnsea wetlands and that is also a haven for bird-life. You follow the trail through the hedgerow and then across the fields to a hide and you can easily observe the bird-life. There is also a car-park closer to the hide for those who don't want to walk quite so far.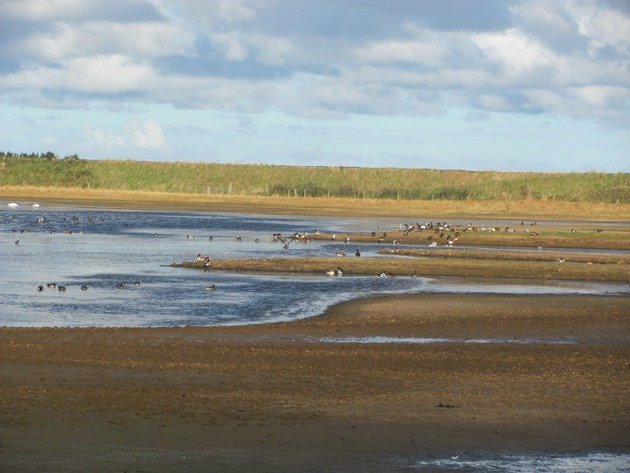 Kilnsea wetland
Once again it was no surprise to see Little Egrets that had been so rare in 1994, but appear to have adapted to being in the UK year round nowadays.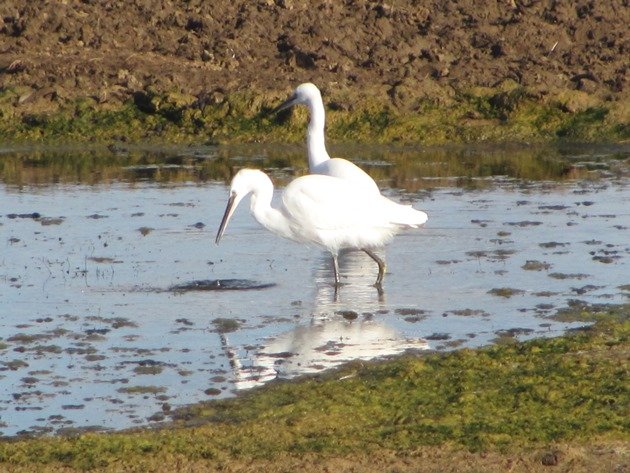 Little Egrets
It was another excellent day out birding and some of the other species we observed that day were European Robin, Common Blackbird, Common Starling, European Goldfinch, Eurasian Wren, Dunnock, Garden Warbler, Tree Sparrow, Common Blackbird, Common Chiffchaff, Brambling, Goldcrest, Great Tit, Blue Tit, Redstart, Goldcrest, Redwing, Fieldfare, Eurasian Magpie, Little Grebe, Common Moorhen, Eurasian Wigeon, Mallard, Common Shelduck, Greylag Geese, Northern Lapwing, Ruff, Pied Wagtail, Grey Heron, Great Cormorant, Common Pheasant and Common Kestrel. 
Spurn Bird Observatory recorded 210 bird species in October 2016 alone and is definitely worth putting on your bucket list for places to visit in the UK and of course it does look like October is the month to visit! The variety and number of birds in the area is just incredible and even better is the fact that it is such a large and varied habitat that you do not feel like you are among a crowd of people at all. You can easily find a spot to stop and enjoy the birds around you. Of course it can be useful to have others around when you find a small unidentifiable little brown bird!