Business brought me out to Orange County, CA for a week in mid-October. Despite the length of my stay, I had precious few available moments for birding. My dear pal Amy brought me for some Upper Newport Bay birding not once but twice. The first attempt was undermined by the severity of Santa Ana winds blowing hard out of the Mojave Desert but our second excursion served up some of that sweet birding one associates with coastal Orange County. Unfortunately, I didn't encounter any of my long list of target species, most specifically California Gnatcatcher. And then my business trip began in earnest. Meeting after meeting, event after event, the commitments that delivered me to the gnatcatcher's doorstep conspired to keep me from finding it.
But everyone knows you can't keep a good birder down. Isn't California the land of possibility? For example, I could tell from my balcony (overlooking both Newport Bay and the Pacific Ocean!) that Western Bluebirds lived in the golf course attached to my hotel. So one morning I walked the grounds to discover that birds that seem pretty brazen from nine stories away become somewhat shy when encountered at ground level. I also learned that, apart from the occasional bluebird or Hooded Oriole, anything flying around an Orange County golf course is likely a House Finch, Yellow-rumped Warbler, Song Sparrow, or Black Phoebe. Yes, crows come around often enough, as do ebullient batches of Bushtit, but really it's all about the aforementioned four species. I found House Finch particularly off-putting in light of its irritating adaptability. Those of us on the East Coast encounter Carpodacus mexicanus often enough but the West Coast is where this species is from and believe me, from palm trees and brush to chimneys and cacti, the House Finch seems quite at home.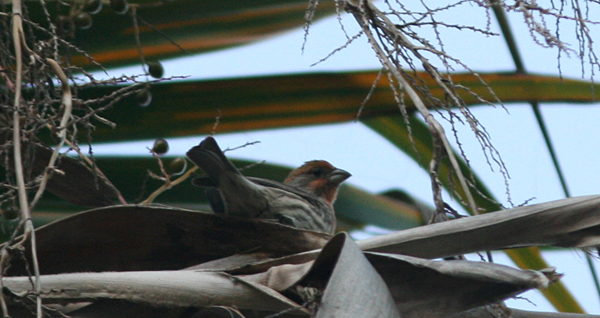 Basically, the grounds of the hotel were nice for common birds along with oodles of Anna's and Allen's Hummingbirds. However, if I had any hope of returning to New York with a new coastal California specialty, I needed to escape. By cosmic coincidence, Charlie had an overlapping roster in Los Angeles along with a rental car and willingness to use it. But alas, although we did get together, we couldn't do so during daylight hours. I was beginning to accept that I would not get another run at California Gnatcatcher.
My big break came with a four hour block of free time before an awards dinner on the final night of my stay. My master plan was just to make my way to the Back Bay Drive and explore the terrain. Bins (but not camera) in hand, I walked and birded until I found myself right back at the Upper Newport Bay parking area. Cali gnatcatchers were alleged to live in this very place. Would I finally find one?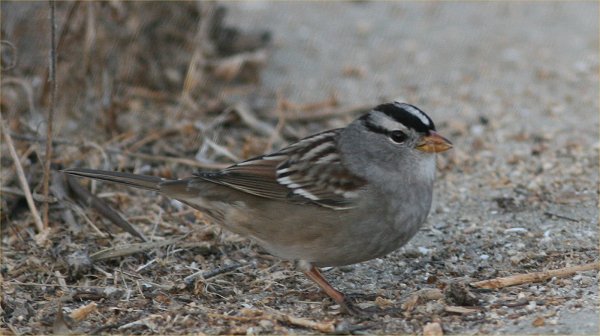 Not during midday on a hot, sunny day, I wouldn't! In my eagerness to explore as much of the area as possible, I arrived at exactly the wrong time to be wrangling songbirds. So I ogled the same Willets, curlews, dowtichers, gulls, terns, and skimmers I spotted earlier in the week, this time reinforced by waves of Western Sandpipers. I walked all the trails, taking in the same raptors and waders and waterfowl I'd already seen. And I walked and looked and walked some more.
Hours passed. As the sun started to dip, land birds became more active. Of course, most of them were still finches, but I was able to add species like Say's Phoebe, Northern Mockingbird, and Raven to my trip list. What I could not add, it became increasingly clear, was any of my target species. No Cactus Wren, despite the cactus. No Pacific-slope Flycatchers despite the slopes and flies. No western warblers even in the midst of migration. And worst of all, no California Gnatcatcher.
The time had come for me to make the long walk back to my hotel in preparation for the evening's gala. Of course, on the way out, I did what any of you would have done in my place and checked one last time in what I imagined was the most likely locale for gnatcatchers. And, in a plot twist that would seem utterly contrived if it weren't utterly true, a gnatcatcher popped up long enough for me to home in on it and then bobbed in and out of the brush enough for me to get relatively good looks. My quest for a California Gnatcatcher ended with a gnatcatcher right there in California.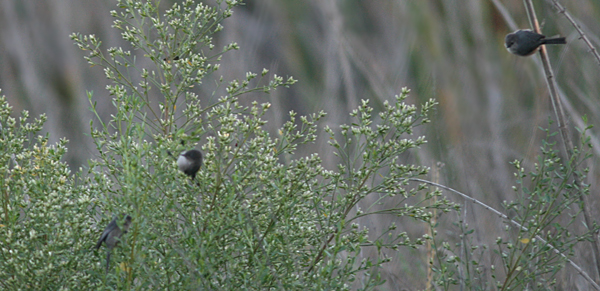 The logical question, of course, is whether this California gnatcatcher was truly a California Gnatcatcher. After all, Charlie worked this same territory that very morning and, I learned when I returned to my room, only came up with Blue-gray Gnatcatcher, a terribly similar species. Fear not, true believers. While I'm not willing to stake my life or even a reasonable sum of money on my identification, I'm fairly certain, based on the limited white in its tail and overall darker appearance, that this was the bird I was looking for.
And with that, my Cali quest came to an end. My event that evening was fabulous and the next day, I had breakfast with my good friend Jay, who longtime readers might recall went birding with me on his wedding day! I even added American White Pelican to my year list en route to the airport. But the tale of this terrific trip will always be, without a doubt, cornering that elusive California Gnatcatcher.