TECPAN, GUATEMALA FEBRUARY 2009 – Surprisingly for a country with over 720 bird species on its list, Guatemala doesn't have any species to call its very own, unless you consider Goldman's Warbler a full-fledged species. Endemic, however, may be in the eye of the beholder. The Endemic Bird Area (EBA) BirdLife International has designated North Central American Highlands shelters 20 extant restricted-range species. Some of the rarest of these, such as the Horned Guan or Azure-rumped Tanager, can only be found in those high pine-oak forests found throughout the highlands of western Guatemala and Chiapas, Mexico. Since these birds, I am told, are exponentially easier to spot in the right parts of Guatemala, they might be considered functional endemics, species that are best found in this fantastic country. They're not the only ones either. Another desperately coveted cracker of a bird that visitors to Guatemala really must seek is the precious Pink-headed Warbler.
The Pink-headed Warbler (Ergaticus versicolor) is resident in the mountains of Chiapas, Mexico and western Guatemala. The 2008 IUCN Red List classifies this warbler as Vulnerable as populations throughout its rather restricted range have declined in response to ongoing habitat depletion.
The Resplendent Quetzal may be the national bird of Guatemala and the aforementioned guan its banner avian attraction, but most birders I know, including the ones on our last trip, have a hankering for some Pink-headed Warbler. Our hosts were unprepared for the depths of our ardor but, in their infinite graciousness, arranged for an impromptu excursion to prime pink-head territory. We traveled 90 km northwest of Guatemala City to the municipality of Tecpán and pulled up to what appeared to be an alpine lodge. The temperature was certainly cold enough… our quarry, we were told, liked it that way. A small coniferous wood behind the restaurant was propitious for pink-headed warblers. We were here but were they?
The clammy chill didn't seem to bother the local birds as things heated up rather quickly. Our first bird was a beauteous Blue-hooded or Elegant Euphonia hobnobbing with a bushel of Bushtits. We walked through a clearing, picking out species like Spotted Towhee and Rose-breasted Grosbeak, only to find even better birds on the other side. A stand of thin pines sheltered a rather camera-shy Mountain Trogon along with an abundance of woodcreepers and Brown Creepers, the only ones I saw in Guatemala. Soon, warblers started to appear, familiar ones like Wilson's, Townsend's, Crescent-chested, and Black and White. But where was that elusive Ergaticus?
Action along the edge of the clearing brought our vigilant group within a couple of yards of a Russet-capped Nightingale-Thrush. Above that bird, I spied my very first Olive Warblers, whose bland name surely belies their luminous beauty. These weren't the only warblers around either as Hugo, our sharp-eyed guide picked out a pink-head. Too bad nobody else did! Still, the chase was on.
We followed Hugo up a steep, slippery hill in pursuit of our pink-headed quarry but a rising wind suggested that our luck might be better where we started. I was excited to get a brief glimpse of a skulking Rufous-browed Wren on the way down, but that was nothing compared to the next electric moment as we all locked in on the bird du jour.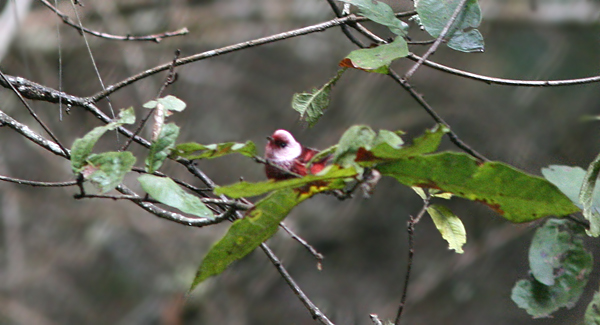 Success!
Can I tell you, the field guides do not do the Pink-headed Warbler justice. Picture a petite passerine with a face flush with scarlet and shadow, fading gently to the color of cotton candy and carnations. That sweet silvery pink creates a collar which abruptly resolves into a commanding carmine, a color that positively burns against cool conifer green. The Pink-headed Warbler was so gorgeous, so radiant that I hardly gave my life Red-faced Warbler, working right alongside it, a second glance. Our garrulous group, teetering just moments before on the brink of failure, was rendered speechless with wonder at the sight.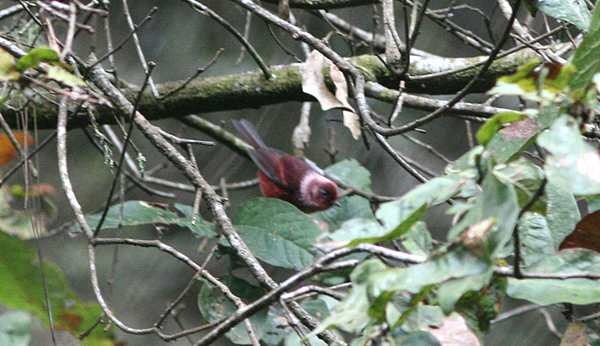 This wood behind Rincon Suizo had plenty more to offer, including a challenging Neotropical migrant that commanded our attention for far longer than a Hermit Thrush, a bird many of us were rather well-acquainted with, should have. But every time another pink-head, or perhaps the same one or two every time, flitted back into view, all eyes were upon it.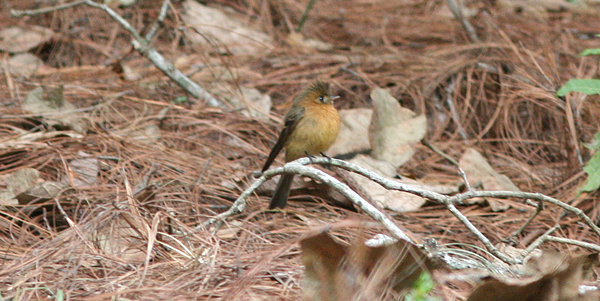 Tufted Flycatcher
All too soon, our timetable demanded we retreat from this magical habitat. However, as luck would have it, the meal awaiting us inside the warm, well-appointed restaurant was equally enchanting. The traditional breakfast of black beans, eggs, tortillas, plantains, and assorted additions, fortified with the sensational coffee that comes standard with every meal, was one of the best I've enjoyed in a long time. Rincon Suizo may be off the beaten path for many visitors but with the quality of its kitchen, preceded of course with an appetizer of Ergaticus versicolor and other enviable avifauna, it is well worth the trip!
Our phenomenal guides, Irene and Hugo of Operador Latino (http://www.operadorlatino.com/) really delivered for us by bringing us to the most likely location for our lovely target and actually getting us on the bird. I'll have more compliments to heap on both of them, but the true hero of the day for fitting this side trip in a full-to-bursting tour of the Western Highlands was my friend Ana Cristina Prem of INGUAT. The Guatemalan Board of Tourism's commitment to welcoming bird watchers from around the world comes from a warm and genuine place. If you want to one day see the Pink-headed Warbler – and believe me, you do – consider yourself lucky that your chase will most likely bring you to Guatemala!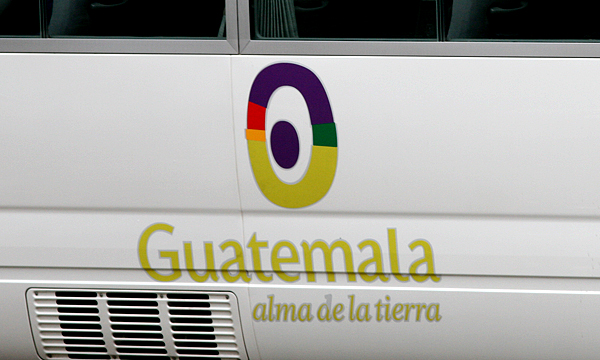 The soul of the earth
————————————————————————————————————————————————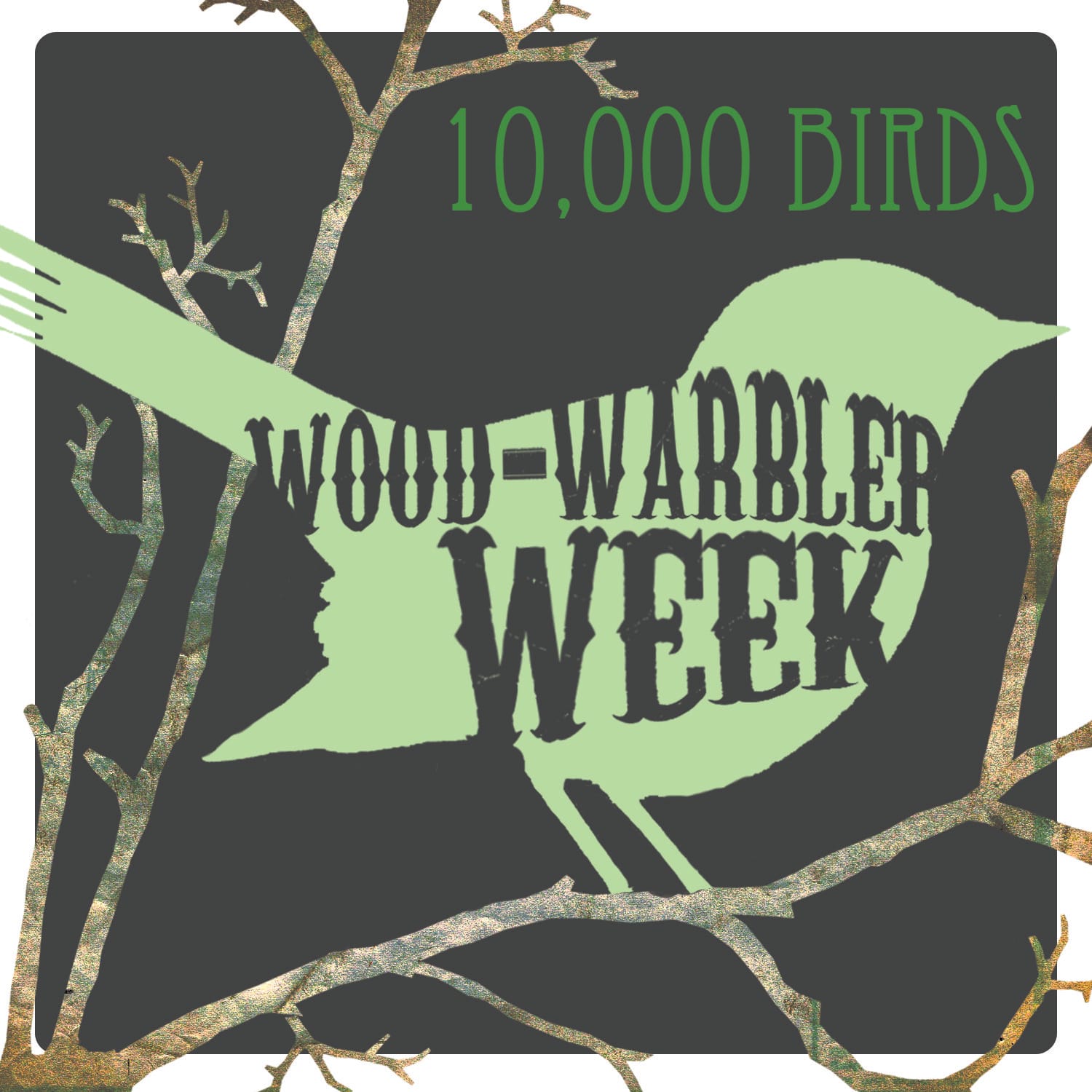 This week, 8 May – 14 May 2011, is Wood-Warbler Week on 10,000 Birds!  Though wood-warblers, the mostly brightly colored birds of the family Parulidae, are only found in the New World we felt that birders the world over would be pleased to see a plethora of posts about these striking and sought after species.  Though we are devoting a whole week to wood-warblers we really are only just barely scratching the surface of possible topics involving this amazing family of birds.
Right now great flocks of wood-warblers are making their way north from the southern United States, Mexico, the Caribbean, Central and South America to breed across the United States and Canada.  Many other non-migratory species are living their lives across the neotropics, doing their best to survive and pass on their genes. Wood-Warbler Week is a celebration of all wood-warblers and we hope you join us in celebrating these absolutely wonderful birds.  Read about them here but also get out and experience them.  You won't regret it!
————————————————————————————————————————————————