Winter is one of my favorite times to bird, mainly due to the proliferation of shorebirds that stalk their prey on the sandy beaches near where I live. The Florida Panhandle hosts a range of shorebird species, and it's not uncommon for me to see half a dozen on a casual jaunt along the water.
Friday evening was one such birding trip. I had  managed to finagle my way out of work a little early, and still had at least an hour of daylight left when I arrived on the barrier island located in Navarre. The Gulf side is good for birding too, but lately I had had better luck with birds on the much calmer Santa Rosa Sound.
I wasn't disappointed. A small brackish pond with muddy edges sported Sanderlings, Dunlin, Killdeer, Semipalmated Plover, federally listed Piping Plover, and a lone Black-bellied Plover. The birds scurried back and forth, not bothered by my presence at the outskirts of their preferred habitat area. Many Dunlin appeared to be resting, their heads tucked neatly against their backs. Sanderlings and Dunlin cruised the water-line as well, along with a half-dozen Willets.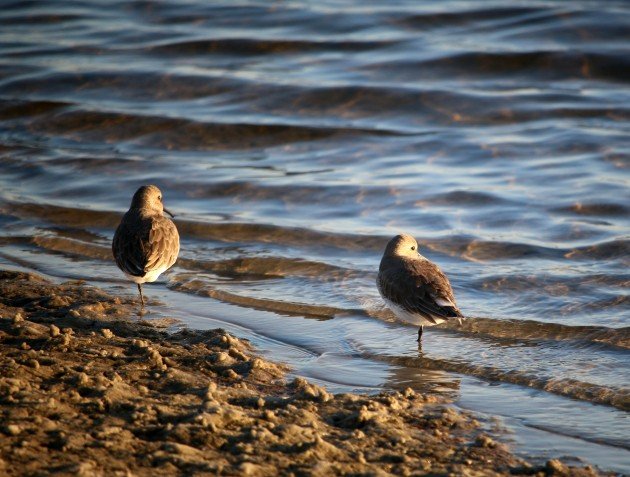 Dunlin along Santa Rosa Sound
Sometimes fate aligns for the perfect bird photo. My husband was fishing for redfish and flounder in the sound, so I plopped myself down on the sand to watch the vibrant orange, red, and gold of the approaching sunset. As I relaxed, a pair of Willets and a pair of Dunlin turned the corner and made their way towards me, busily looking for food in the shallow water. Because I was already low to the ground and still, they came within feet of me, offering unprecedented views. It was amazing!
Carefully balancing my camera on my knee, I snapped one of my favorite photos of all time: the shorebirds perfectly silhouetted against a color-soaked background. I may work hard at bird photography, but this image was captured based on pure luck, and I neither moved, nor used manual settings, nor fiddled with post-processing to get it right. No, it was the birds themselves, combined with a beautiful environment, that made it all possible.
Note: Click on the feature photo for the entire image.