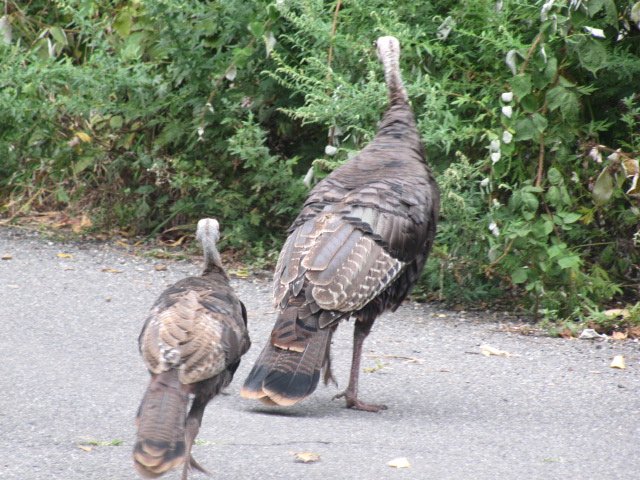 To trot, or not to trot? Many Americans will spend part of their Thanksgiving holiday participating in "Turkey Trot" fun runs, followed by the annual feast at which turkey is the star attraction. But what to do when the turkey fights back?
A recent news story (OK, the word "news" is stretched here, as it's more of a roundup of local "turkeys on the rampage" stories) documents close encounters of the nasty kind between wild turkeys and humans, from Massachusetts to Wisconsin to California. Perhaps inspired by The Birds, these birds often tend to be aggressive around people. Helpfully, a Massachusetts wildlife biologist quoted in the article recommends standing up to bully turkeys instead of turning tail. (Just try not to be on the receiving end of their beaks or spurs.)
Sometimes, though, running from a turkey might be your best bet. You'll understand why if you skip the Thanksgiving football games and parades in favor of the cult favorite (and decidedly *Not Safe for Work*, or anywhere else for that matter) Thankskilling, in which a foul-mouthed, evil turkey rises from the dead and terrorizes college students going home for the holiday. And if you're in the Seattle area during the next few weeks, you can check out Thankskilling the Musical. (Disclaimer: My soon-to-be-husband is part of the dastardly creative team that has earned a place in hell for their work on this filthy yet hilarious show.)
Need some cheering up after so much turkey mayhem? Turn to the White House, which this year, upped the ante on the tradition of the U.S. president "pardoning" a turkey from being eaten; two turkeys were nominated and the public voted on which one was spared. The results are in, but the good news is that the "loser" won't be ending up on a dinner plate, either. Kinda like that episode of the West Wing.