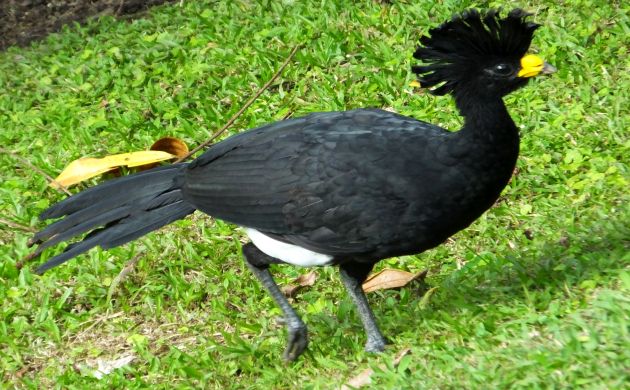 "Birdiness". No, not an official word but, um, so what? Many birds sing local dialects, and human languages are dynamic, they can't help but change, evolve over time. It's what they do, otherwise, we might be speaking some long forgotten Homo sapiens root language. I wish I knew that one, then I could say that I know the original words, and I am adding "birdiness" to the original lexicon. If someone says, "Hey, you can't do that", I would respond, "That sounds like a "should", a concept that I don't believe in or follow and besides, since I'm a birder, well I can do whatever the heck I want because we birders have priority for many things and show it through the creation and modification of words like "pishing", "twitching", or even "cosmic mindfu#@er"". But back to this new word and it's definition. I suppose "birdiness" means something along the lines of "a major state of, or high quality of numbers of birds", or, in the birding vernacular, "lots of birds to look at", or in some circles, maybe even "serious twitchamania".
In any case, I start off my mentioning this new addition to verbal and written communication because it seems to be the best way to describe birding around Arenal, Costa Rica. Mike and Corey of 10000 Birds fame can probably attest to it because they bore witness to some of the birdiness up around Arenal a few years ago. If you haven't been, I hope you make it some fine day because well..not just birdiness, but tropical birdiness! Some examples of the situation up around La Fortuna and Arenal:
Bogarin Trail– Also known as the Fortuna Nature Trail, this homegrown hotspot is located just outside of town, on the same little side street as the "Five Star Backpacker Hostel" and the "Rancho Perla Restaurant". Never having stayed at the hostel, I can't comment on its supposed five star status, but I have dined at the Perla and can't recommend it enough. Carlos Sanchez and I were there last week and they brought him an honest to goodness cappuccino exactly how he ordered it. That might not sound like much but trust me, in Costa Rica, this is major. In any case, it's a good place to have lunch and/or dinner after looking for crakes and other birdy goodies on the Bogarin trail. Since they also have good WiFi, you can also then update your eBird lists. The Bogarin trail is named after the guy who created this wonderful avian oasis, Geovani Bogarin. Quite the host, show up, pay the $10 trail fee and Geovani might give you coffee, pineapples, or papaya while cracking jokes and talking about the birds and other animals that have come to live in the area of regrowth around the trail. If he says that someone should jump into the little crake pond to attract the crocodiles, don't believe him. Most of all, don't do it because you will scare the White-throated Crakes that come out to feed.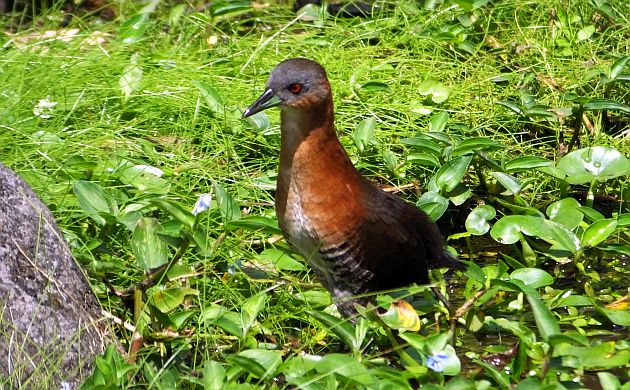 This normally super skulky bird also poses for pictures. 
Birdiness also takes place with the insane feeder action whereby Gray-headed Chachalacas hang out with Orange-chinned Parakeets, honeycreepers, tanagers, loads of bill snapping Clay-colored Thrushes, saltators, and so on, all right in your face.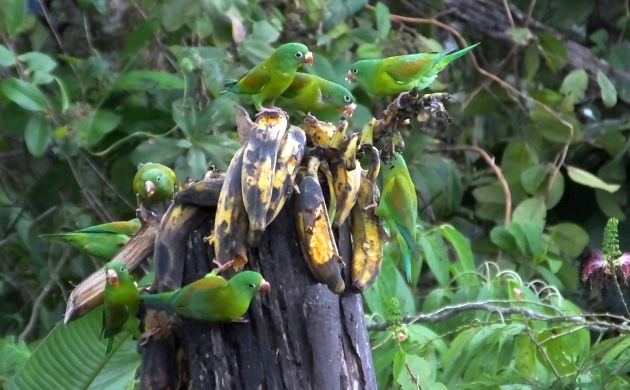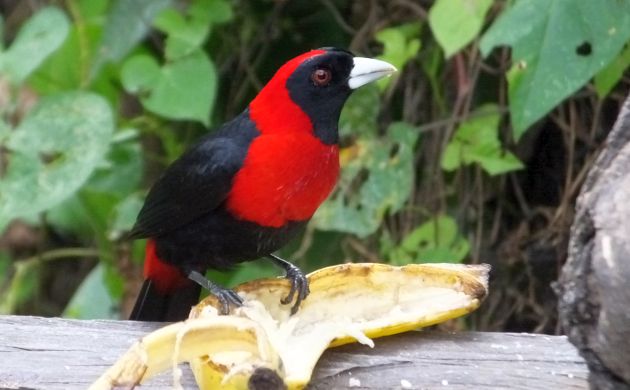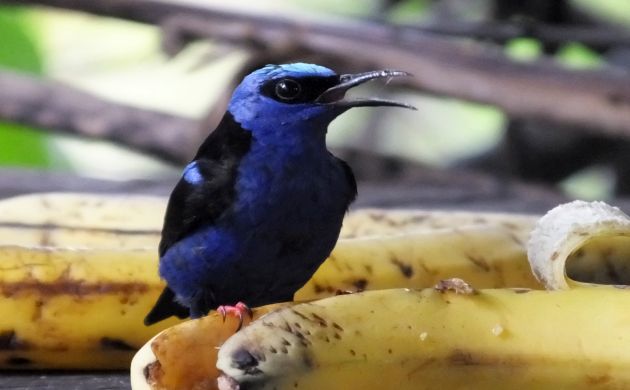 Yeah, it's a bit of overload but there's nothing wrong with too many birds!
If you can drag yourself away from the feeder, walk the trail and you might get lucky with Uniform Crake while looking at Rufous-tailed Jacamars, wrens, Olivaceous Piculet, wintering wood warblers, Barred Antshrike and various other species. Keel-billed Motmot has even made an appearance and sometimes, there is a roosting Black-and-white Owl.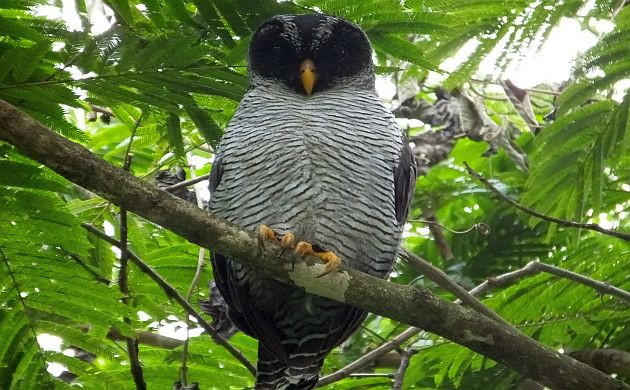 Why hello! How nice of you to spend the day in full view on a trail at the outskirts of La Fortuna!
Peninsula Road– A 15 or 20 minute drive from La Fortuna, the Arenal National Park gets busy with the birdiness, especially in the Peninsula Road area. Bird from the road itself and you can easily total more than a 100 species for the day. Some of the birds on that list could be Great Potoo, White-fronted Nunbird, Keel-billed Motmot, Semiplumbeous Hawk, Ornate Hawk-Eagle, Bare-crowned Antbird, and oh, so many more!
The motmot with a keeled bill.
Arenal Observatory Lodge– Whether you stay at this popular lodge or not, you can always pay $10 to bird the grounds. Since the grounds are in a constant state of birdiness, yes, it's a good idea to do that. Check the feeders in front of the restaurant to watch Great Curassows walking on the lawn while oropendolas, various tanagers, and other birds feast on tropical fruit. Some will also feast on a fruiting fig behind the feeder including Scarlet-thighed Dacnis (looks as good as it sounds), and the other day, a rare for Costa Rica Cedar Waxwing!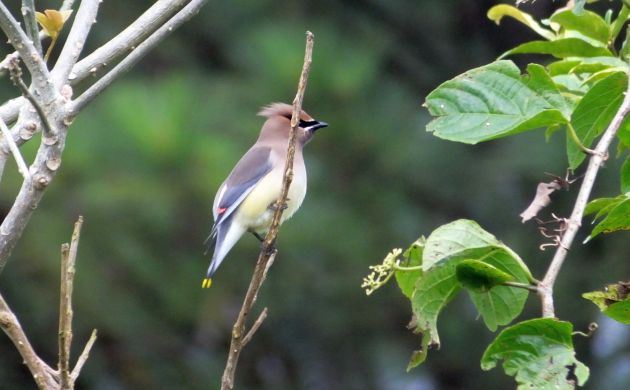 This was a damn good year bird.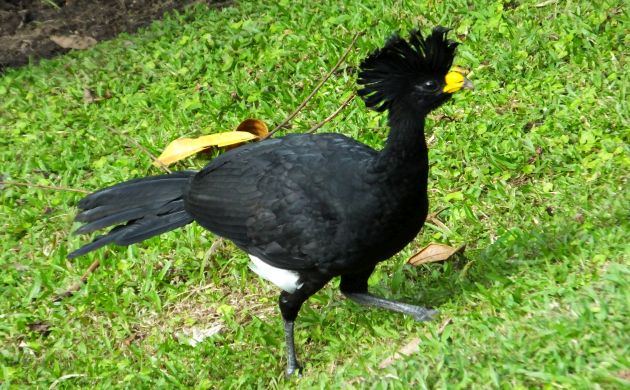 Fancy curassows.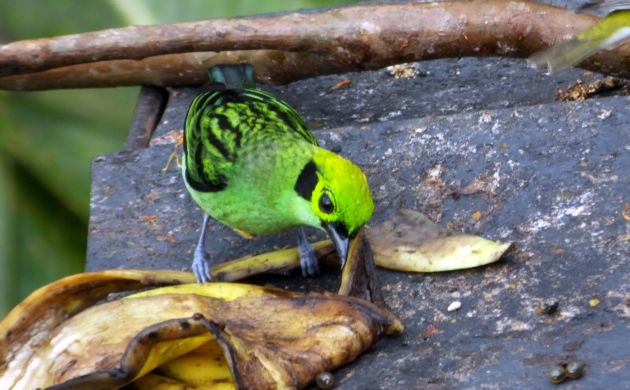 It's a tanager and it's emerald.
After tiring of the feeder action, check out their well maintained trails to look for antbirds (several are common), Song Wren, busy mixed flocks, and other avian stuff. Check the trees in the garden and keep an open mind and eye for anything because this is one of the only accessible sites in Costa Rica where Lovely Cotinga, Bare-necked Umbrellabird, and Yellow-eared Toucanet all occur on a regular basis. The only problem with getting that rare trio in one day is that it might give you some kind of birding conniption.
Private trails– Other private trails in the surrounding area also show their own degrees of birdiness. These include the Arenal Mistico hanging bridges trail, SkyTrek, and the Waterfall Trail just outside of La Fortuna. While birding near the entrance of the Waterfall Trail just the other day, the raptor situation was good. I glimpsed an Ornate Hawk-Eagle, am pretty sure I had a quick look at a Black and white Hawk-Eagle, had Swallow-tailed Kites, Double-toothed Kite, Broad-winged Hawk, and, best of all, a calling Barred Hawk that circled right over our heads.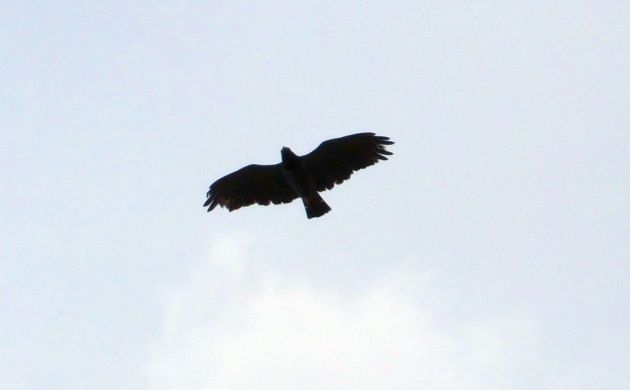 This is the shape of a calling Barred Hawk.
Striped Owl– If you want a bit more of birdiness, take a night drive on the road that goes past Eco Arenal just north of town to watch for Striped Owl on the wires. So far, I'm two for two with that beauty!
A Striped Owl from another site in Costa Rica.
As if these weren't enough sites to visit, Arenal can also be used as a base to bird the wetlands of Cano Negro and other quality sites in the area including the road to San Ramon. Around Arenal, the birdiness is real, I hope you can experience it!