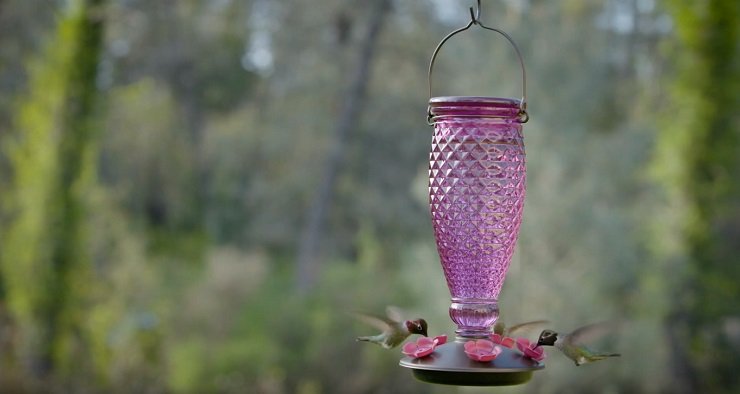 The U.S. Fish & Wildlife Service estimates that Americans spend nearly $1 billion annually on bird houses, feeders, nest boxes, and baths. A billion dollar market means competition and manufacturers have long sought patents for innovative feeder designs.
I previously wrote about patents for birdseed feeders, particularly ones directed to problems with squirrel "marauders." But there are also patents for hummingbird feeders, even though such feeders seem to work just fine and appear to have evolved little over the decades. They are still containers, primarily red, to dispense sugar water via an imitation flower. Setup is straight-forward: the container is filled, attached to a second part that contains the "flowers," turned over, and hung in a suitable location.
Yet innovation evidently continues. What kinds of patents are being sought in the niche field of hummingbird feeders?
The Woodstream Corporation has a number of brands, one of which is Perky-Pet, a major player in the bird feeding industry. Woodstream has numerous patents relating to hummingbird feeders. Since 2000, it has obtained patents with scintillating names such as: "Top-Fill Hummingbird Feeder with Float Valve Base Closure Mechanism," "Hummingbird Feeder with Disposable Reservoir and Reusable Base," and "Soft Petal Flower Port for Hummingbird Feeders."
Most of Woodstream's patent activity appears to be directed to top-fill feeders, which are touted in its catalog ("Never deal with the hassle of pouring nectar through a narrow opening again" and "Fill from the top with ease!").
U.S. Patent No. 8,522,717 is titled "Top-Fill Hummingbird Feeder," and it was issued in September 2013. Like most patents, it includes a short description of the field, identifies a problem, and presents a solution to that problem. The patent states (all of the passages from the patent have been lightly edited for clarity and readability):
People who live in an area inhabited by hummingbirds frequently try to promote their presence by the use of feeders. Hummingbird feeders differ from ordinary feeders because hummingbirds feed on simulated nectar, which is liquid, instead of the dry food consumed by most birds. Simulated nectar is formed from water sweetened with sugar. In many feeders, the simulated nectar is stored in a reservoir and conveyed to simulated flowers where a perch may be provided so that the hummingbird can land and, having a long, slender beak, insert it into the access apertures in the flower and feed.

Most hummingbird feeders have one of two basic designs. One includes an inverted top container which empties into a lower reservoir from which the birds feed. The vacuum at the top of the container (or put another way, the outside air pressure) keeps the liquid in the top container from draining out too rapidly. The other common feeder design consists of a container with holes in its cover through which the hummingbirds reach to feed. This latter style suffers from the problem that it must be refilled very often, because the level of food is constantly being reduced by the feeding.
The patent then identifies the problem:
The so-called "vacuum-type" feeders also have problems. For example, they can only be filled by dismantling the feeder and removing the top container from its feeding position. Ordinarily, the consumer must invert the feeder in order to refill it, with the attendant risks of spillage, and requires a certain amount of manual dexterity to create the necessary vacuum. Moreover, because a vacuum is required, these designs are limited to a single opening for filling and cleaning. This opening is typically small, which restricts access to the interior of the container and makes it more difficult to effectively clean the container. Additionally, vacuum feeders can corrode or be inefficient, permitting the nectar to leak and creating an increased risk of insect contamination.
Thus, the patent envisions a world where conventional feeders are "difficult" to clean, and setup is fraught with risk of "spillage," requiring significant "manual dexterity." It then identifies its goals:
It is an object of the present invention to provide a reliable, consumer-friendly hummingbird feeder having a liquid-holding container or bottle with a large open top for easy top filling and cleaning of the container. Another object of the present invention is to provide a hummingbird feeder in which the liquid-holding container or bottle does not have to be inverted after filling in order to create a vacuum to control flow of the liquid nectar to the feeding basin or liquid tray.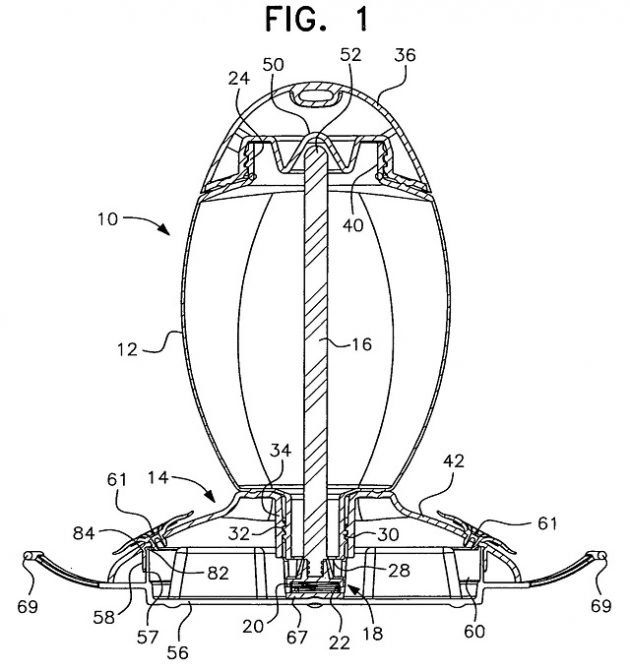 The patent then describes in detail a system that replicates creating a vacuum by turning a conventional "vacuum-type" feeder upside down. Here is a sample of the prose, which in part describes the figure above:
Referring to the drawings, FIGS. 1-3 illustrate a feeder designated by reference numeral 10. The feeder 10 consists of three basic components: a reservoir bottle or liquid container 12; a feeding basin designated by reference numeral 14; and a biased sealing mechanism designated by reference numeral 18. In accordance with the invention, the biased sealing mechanism 18 includes an actuator rod 16 extending vertically down the center of the reservoir bottle 12 and into the feeding basin 14 and a biasing element which provides counter forces to the actuator rod. The biased sealing mechanism is in the form of a sealing ring or stopper 20 mounted on the lower end of actuator rod 16 and biased upwardly by compression spring 22.
If you thought your hummingbird feeder worked just fine, the folks who make them have other ideas. I do not have a top-fill hummingbird feeder so I cannot speak to whether it is truly an improvement.
The march of progress, or at least perceived progress, continues.
Images:  Perky-Pet marketing materials.