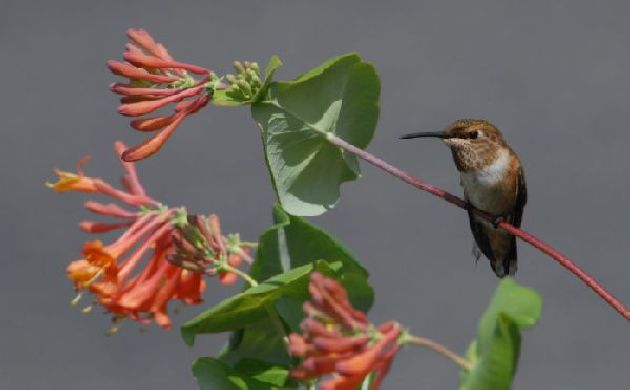 Are invisible.
I mean, I know they're out there. The Montana Field Guide, a helpful online compendium provided by the state government, lists seven species. Three of those — the Black-chinned, Calliope, and Rufous Hummingbirds — breed in the Missoula area. That is, in extremely precise mathematical terms, three times more species of hummingbirds than breed near the Olde Homestead. But my mom sees hummingbirds at her feeder constantly, and here my feeder sits, all forlorn. As far as right now, the first report of a Calliope Hummingbird from the local bird mailing list came in on April 22. The first Rufous was reported two days later — at a feeder, not mine — and the first Black-chinned on May 3.
There is nothing about the yard that is unbirdy, I don't think. It certainly drew plenty of feeder birds over the winter. My cat stays inside, and my new dog Dublin has opened a series of delicate negotiations with the neighborhood free-roaming cats, meant to curtail any unfortunate incidents. The feeder is new, the red bits shiny, the nectar fresh. It hangs in a location that is sunny in the cool morning and shady in the oppressive afternoon. There are perches in the lilac bush.
I examine the species accounts in detail, searching for clues.
The Calliope Hummingbird at least has an excuse. It prefers the mountains over the valleys, willow and alder thickets over lilac bushes in downtown backyards. It's also the smallest hummingbird to be found north of Mexico, which is the closest to invisible. I'm not mad at you, Calliope Hummingbird. But if you did want to come visit…
The Rufous Hummingbird is best known for tenacity and toughness and widespread wandering. It breeds into Alaska. My yard is nicer than Alaska (sorry Claire.) When I was young, it was the only western hummer to routinely stray east in the winter months. My life Rufous was wintering in New York just outside the Museum of Natural History. My yard is way nicer than theirs, though my indoor space may fall just short in terms of dinosaurs.
The Black-chinned Hummingbird may not be the flashiest of its tribe, but it is cosmopolitan, nesting in deserts, in mountain forests, in oak groves and riverside cottonwood stands. Cornell's All About Birds describes it as "one of the most adaptable of all hummingbirds, often found in urban areas". So what gives?
The ways of birds are mysterious. Perhaps, as with the Baikal Teal, merely complaining to the universe via the medium of this blog will produce results. Or maybe I'll keep throwing away undrunk nectar all summer and feel like a tool. Or maybe it will all go to feed invisible, undiscovered birds.