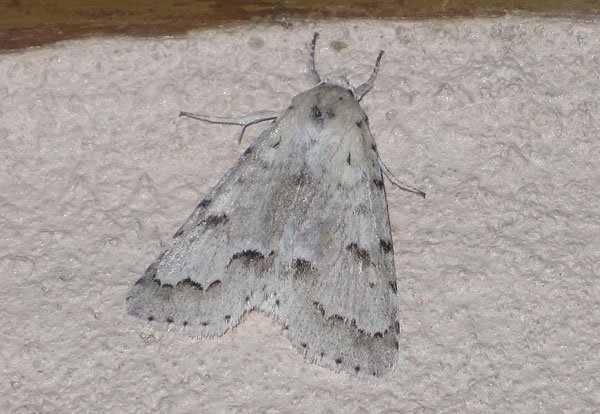 Mike photographed this Unmarked Dagger (Acronicta innotata) at his family's annual "Chicken Inferno" in 2009. Wonder what he'll find this year!
Are you a birder who hates summer? If you're in North America, you might very well be, considering that the dog days are often the doldrums for finding interesting birds. And with an oppressive heat wave clutching much of the United States, even the resident birds can hardly be bothered to put on a show for anyone who cares to look.
No wonder, then, that between spring and fall migration, quite a few birders switch to bugs. I know some who specialize in dragonflies and damselflies. (Which, #1, for the life of me I can't tell apart, and #2, it hardly seems worthwhile to fall in love with bugs when they are apt to become the prey of a bird you were admiring not too long ago. But I digress)
Others turn their binoculars on the myriad species of butterflies and moths that seem to flit about without a care in the world. It is for these folks—maybe including you?—that National Moth Week was invented. From July 20–28, you can join a celebration of all things moth! Find a mothing event, or start your own! The U.S. Postal Service is even issuing a special commemorative postmark in East Brunswick, NJ. (And if you go, could you get me one? That's where my mom grew up and I bet she'd get a kick out of it.)
Of course, you don't need to do anything fancy to enjoy moths. Just leave the porch light on, or hang out near a streetlight, on a muggy summer evening. The moths will be there.