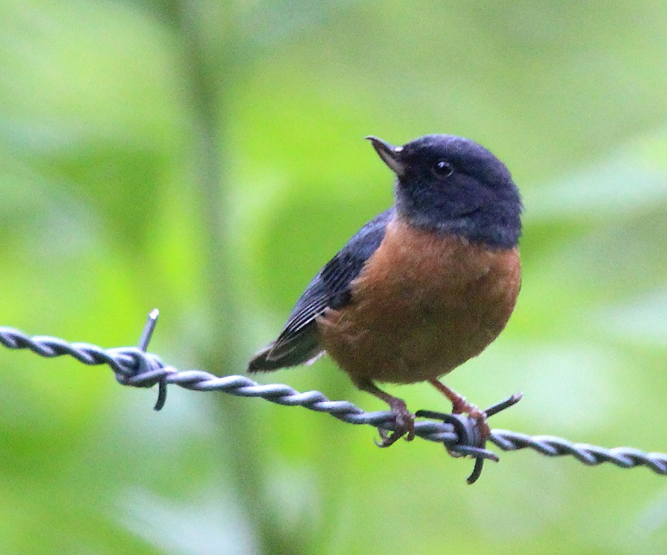 Paul Lewis moved from California to Mexico 36 years ago. He lived first in Mexicali, and now in the historic city of Morelia–about halfway between Guadalajara and Mexico City–where he and his wife pastor a small church. He is the author of an internationally distributed book in Spanish about family finances and has recorded four albums in Spanish of his own songs. But every Monday, he explores the wonderful habitats and birds found within an hour of his house. This is Paul's first post for 10,000 Birds.
My first birding period was over 40 years ago, in the San Francisco Bay Area. Of course, birding was an entirely different discipline then, which in my case mostly had to do with feeding birds in my garden. Wildlife photography, of course, was out of reach for us mere mortals, before the advent of digital cameras.
I continued to bird off and on through my university years in Santa Barbara. But then I moved to Mexicali, Baja California, Mexico, which has almost no opportunities to see interesting species (except for a good population of burrowing owls). It wasn't until about five years ago that I realized my next home, the city of Morelia, is right in the middle of one of the world's great zones for endemics.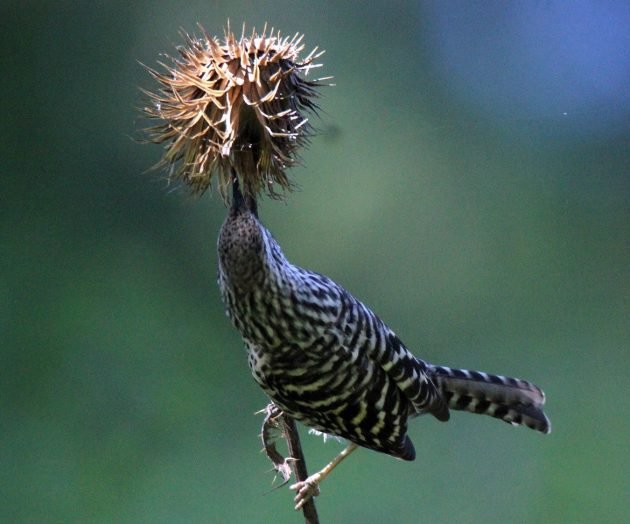 Morelia is about halfway between Guadalajara and Mexico City, and within an hour of my home, I can visit wetlands, lakes, grasslands, vast amounts of pine-oak forest, mixed conifer forest, semi-cloud forest, and tropical thorn forest in the biologically isolated Río Balsas basin.
The first endemic-rich site that I discovered near my home is a small valley that extends uphill from the tiny town of Pino Real, about 24 km. east of Morelia. The number of endemics and semi-endemics that can be seen there is pretty astonishing. Among the species I expect to see there most visits are White-striped Woodcreeper, Cinnamon-bellied Flowerpiercer (above), Berylline and White-striped Hummingbirds, Mountain Trogon, Tufted Flycatcher, Transvolcanic Jay, Spotted and Gray-barred Wren, Blue Mockingbird, the Green-striped and Rufous-capped Brushfinches, the Crescent-chested, Golden-browed, and Red-faced Warblers, and the Flame-colored Tanager. You can always count on the woods ringing with the amazing call of the Brown-backed Solitaire.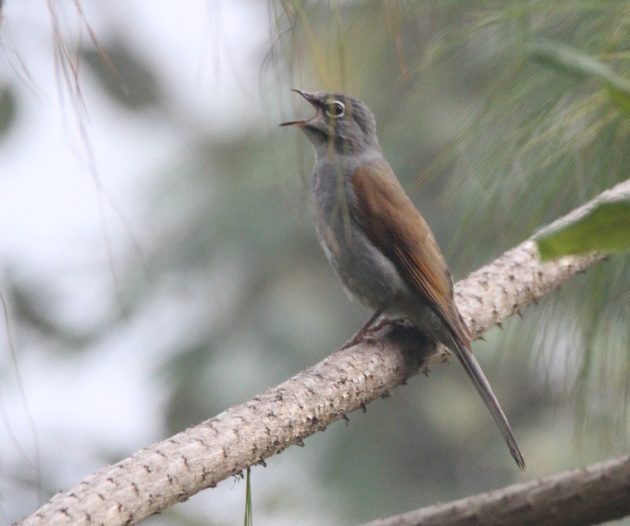 Check out this Solitaire in song.
But here are a few birds that are especially dear to my heart, as well as being characteristic to Pino Real. Every site has some bird that you get tired of seeing so many times, and believe it or not, this site's most characteristic bird is the Slate-throated Redstart. For some reason, its song often makes me think I might be about to see something new; but no, just another Redstart. Mexicans call Redstarts "pavitos" or "little turkeys" because of the way the constantly spread and display their white-tipped tails like turkeys do.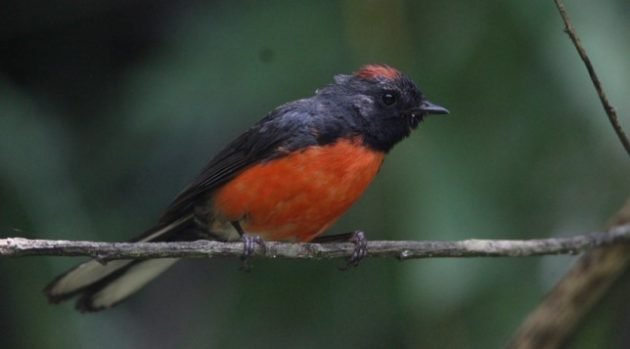 Sorry, this photo is actually from the next state over (Lake Zempoala, Mexico state). But it's the best one I have.
I can't tell you how much I love that a member of the next species, the beautiful little Red-headed Tanager, chose to pose with a native flower that perfectly matched it colors, on one of my visits to Pino Real: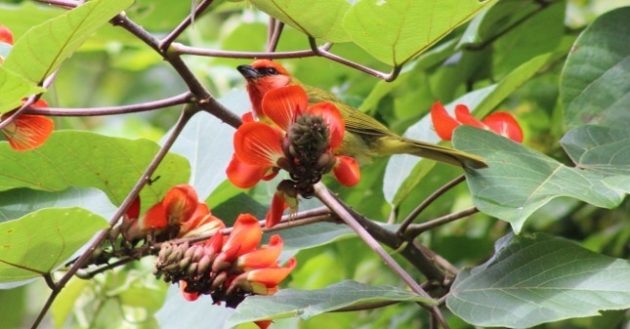 But two species must be the most meaningful for me, when it comes to Pino Real. When I first started birding again, I had the good luck to come across an online forum of Mexican birders. It seemed I was destined to be the new kid on the block forever, constantly asking for help with IDs… until I posted a picture of my first Chestnut-sided Shrike-Vireo, and suddenly I, too, had something to offer.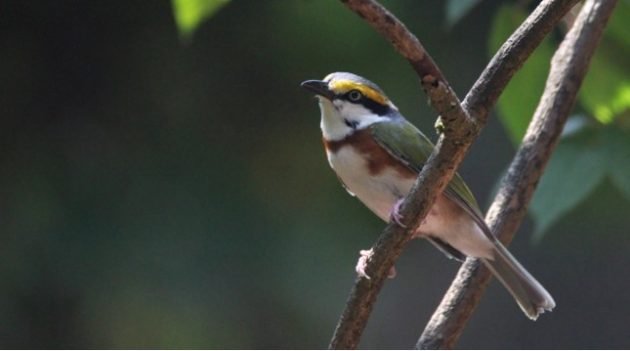 Of course, those first photos were not very good. It took me a couple years more before I was finally able to get the photos that this spectacular species deserves. (I also recommend you listen to its oh-so-unique call on Xeno-canto. You won't be sorry!)
And finally, there was the day I took a Mexican couple and their American friends to Pino Real, and some movement I saw out of the corner of my eye turned out to be… a complete family of Aztec Thrushes.  Now, I will be the first to admit that my photos were less than great. But hey… Aztec Thrushes!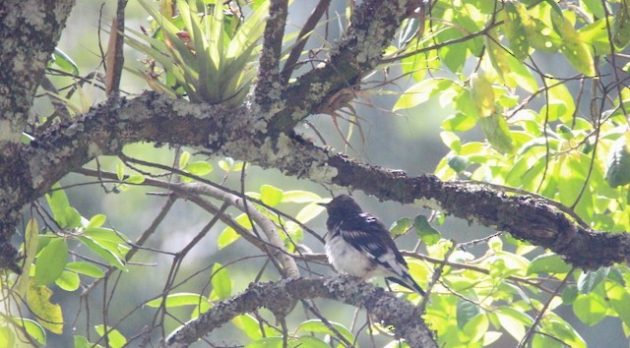 One last explanation remains: Why did I entitle this post "the pleasure and the pain of Pino Real"? Well, the tragic news is that, of all my favorite spots, this is the one that is most rapidly being destroyed. It seems like every time I go a new section has been fenced off or wooded.  Some have been planted with avocados and other fruit trees; others have been wooded for no apparent reason. Of late it has become much harder to locate the Shrike-Vireo and a few other flagship species. And during last-year's rainy season, for the first time I saw the valley's stream run muddy rather than clear. The only good news was that its increased erosion washed out a new access road that had has been put in next to a clear-cut section.
Denouncing these changes with the appropriate state authorities have produced no apparent results. I have eased the pain somewhat by traveling a bit further each visit, as well as investigating nearby wooded areas. But my best response to this situation is to say this: Come bird in Michoacán… and come soon!