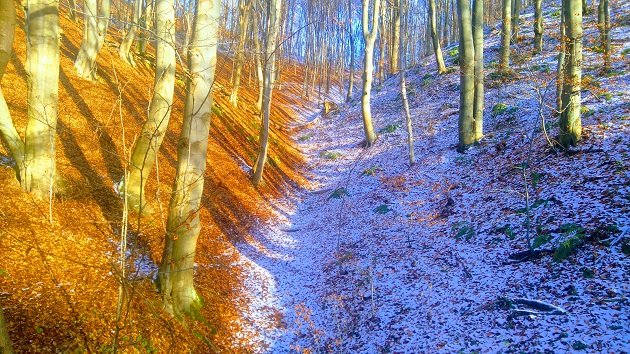 2018 is about to end. Checking my annual list, I am where I usually am at this time of year: several species short of 200. And although half of them are within reach, I don't really have the time to pursue them.
Still, this way or another, the year is ending with some glorious species, e.g. a rare Greater Spotted Eagle. Usually only several birds overwinter in Serbia – the biggest count ever was less than 10. I observed my first GS eagles in India some 8 years ago, then the first for Europe in Greece only last December, and finally I have them in my home country list.
I was at Baranda fish farm, north of Belgrade, following a short embankment without much hope: swans and ducks at the right hand side and a solar powered screamer at the left, meant to scare cormorants with sounds of shooting, reloading, shooting and bird cries (presumably in agony). There weren't that many birds at all, they hated the sounds as much as I did.
And then a bird of prey appeared in low flight through the tree crowns. For a moment I thought of a much smaller and way commoner Common Buzzard, but when it slowed and spread its wings to land on a branch, I knew what I was observing. Without a trace of doubt, my first Greater Spotted Eagle, an adult (immatures are those which are spotted, adults are all dark).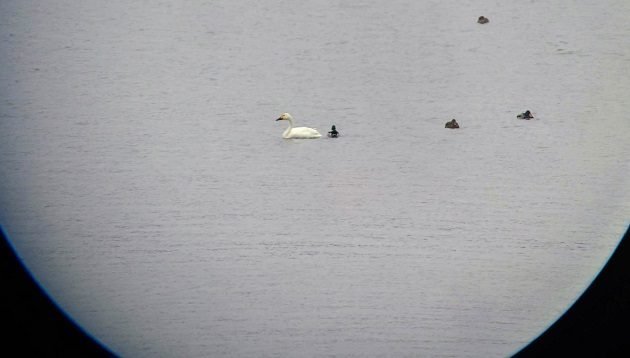 Bewick's (Tundra) Swan (above) used to be a rare winter visitor, but in recent years it has become more of an uncommon, but regular species. Although smallish for a swan, it is still big and easy, and one awaited me 100 kilometres down the Danube from Belgrade, close to the Silver Lake resort.
A few dozen feet from the swan was a foraging flock of Black-necked (Eared) Grebes, diving in and out all the time. Observing them carefully, I spotted one (possibly two) with a clear cut black and white face, as opposed to the dark smudge on the Black-necked cheek – a Slavonian (Horned) Grebe. This species is a rarity that is becoming more regular (if uncommon), with the largest counts of up to 10 birds nationwide per winter. The Slavonian Grebe is also a lifer for me.
And yet, three years ago, I observed it but it didn't make it into my list. I knew what it was but couldn't really see it well and wasn't happy with that observation (wrote about that here).
Some 30 kilometres further down, the river widens to more than 5 km (3 mi). In the shallows of the submerged Moldova island, among Common Coots, Common Goldeneyes, Tufted Ducks and Common Pochards (oh, don't you just hate calling birds "common"), a few Smews and two dozen Goosanders (a.k.a. Common Mergansers, another commoner) awaited me in the rising mist of a winter afternoon. Their claim to fame? Simply, they are among the most beautiful ducks around.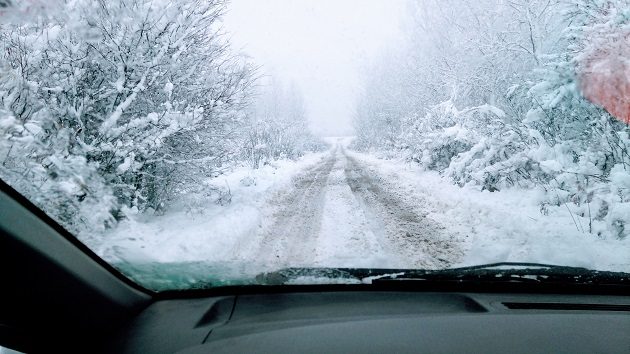 Several days later, snow started to fall. Yes, everything looks magical now, but I'd give two snowy days for each one under a coconut on some Costa Rican beach. And so, driving through the snowfall I spotted what I believed to be Tree Sparrows foraging on the road in front of me. But through binoculars I noticed small raised crests and supercilia joining on hindneck – Woodlarks! Although individual birds were spotted during winter, this is the first known flock of them in the snow. Prior to this cold spell, there were only three cold days this autumn and they seemed to overstay longer than normal. Driving in a foot-deep snow along the Beljarica levee, I will find one more, smaller flock in which some bird even sang in flight, adding to a passage of more than 50 Woodlarks in mid-December.
Entering the data into the eBird later, I checked my home city life list: it stands at 199! And the bird I miss the most is the Redwing. Now, one species, that I should find. The search is on.