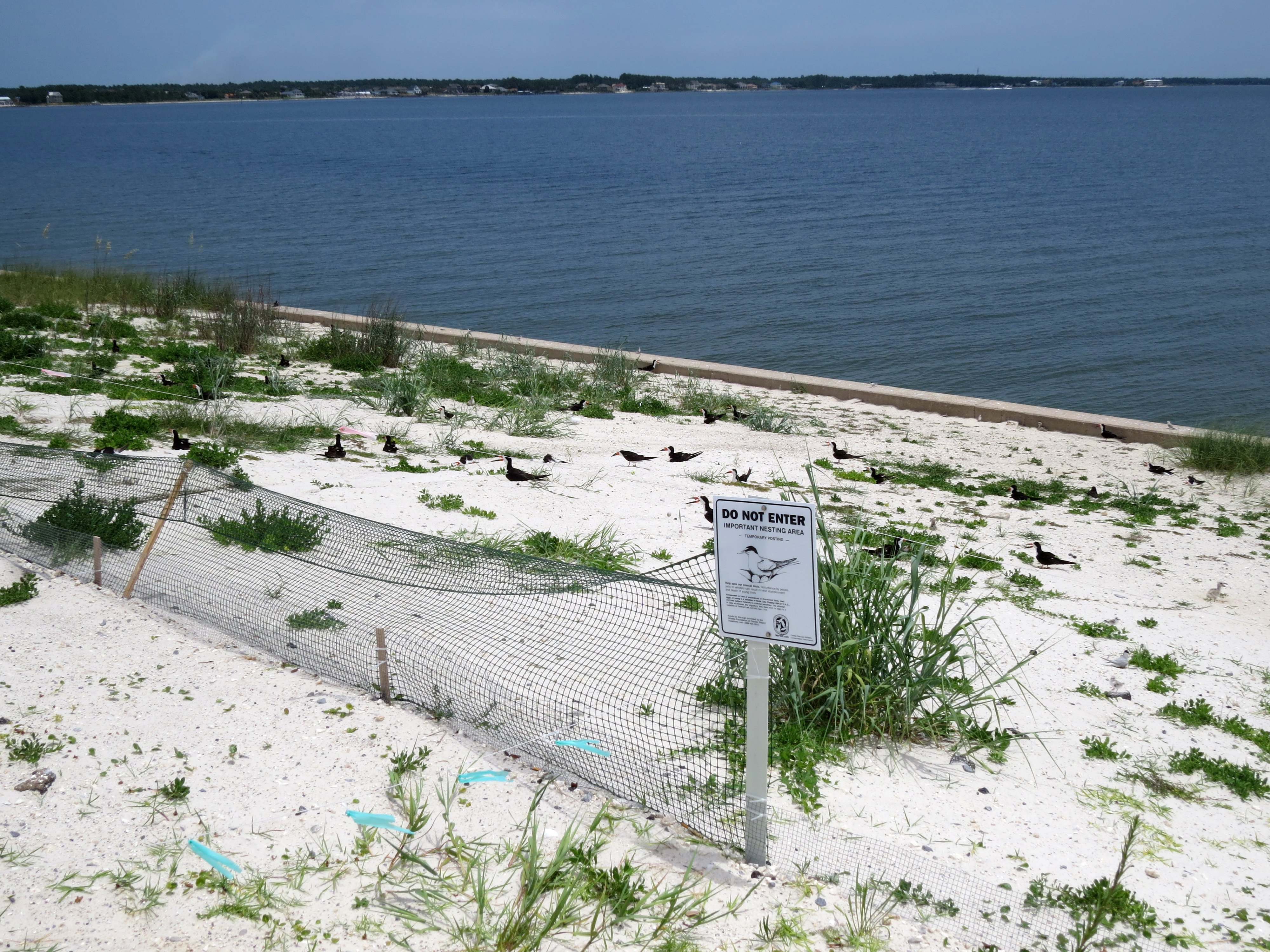 A few miles from my home, a bridge rises gradually over the water of Santa Rosa Sound. Linking the mainland of the Florida Panhandle to the barrier island of Navarre Beach, half the bridge structure slopes to the water as sandy edges and sea wall. Between the grasses growing in tufts here and there, Black Skimmers and Least Terns have begun to nest on the hot sand.
At first glance, it seems an odd place to nest. Cars whiz past the nesting sites, mere feet from where the seabirds incubate their eggs and where their chicks will inevitably explore. And yet, on the bridge the birds are relatively protected from the dogs, beach-goers, and predators that frequent their traditional habitats along dunes. For years, skimmers and terns have formed a large colony here.
At the end of May, the skimmers and terns have already gathered. I drive slowly past – Audubon sets up signs warning of the nesting birds, but the mesh installation is still a few weeks away – trying to count the birds before quickly giving up. Though the terns actively feed throughout the day, the skimmers wait until dawn and evening to hunt for prey in small flocks, flying low and fast across the water.
Local birders are grateful for the fledgling success here. Both the terns and skimmers are facing daunting challenges in the future, from further development of their habitat to rising sea levels swamping the dunes to the effects of past and future oil spills. Today, the seabirds also nest on the gravel rooftops of buildings.
To protect these species into the future, nonprofit groups like Audubon will continue to preserve their natural habitat along dunes and beaches, while protecting novel chick-rearing locations on human-made infrastructure. As the summer progresses, I will continue to monitor the progress of these beautiful birds!