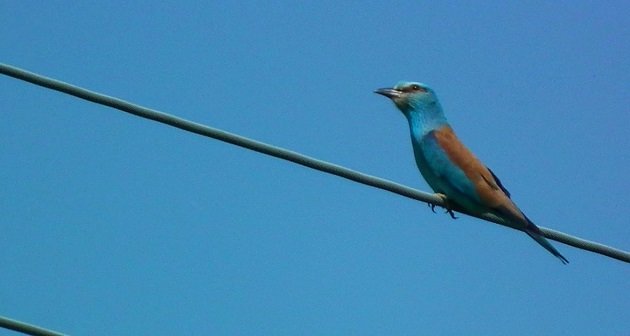 "I would certainly recommend Serbia to visiting birders. My own trip was not an intensive birding experience, and August is clearly not the most productive month. I chalked up 132 species in a pretty relaxed eight days, during which birds shared the agenda with culture. Nonetheless, I visited some excellent habitats, especially the flooded wetlands, and saw some good birds," wrote the UK Birdwatch Magazine journalist Mike Unwin of his bird tour of northern Serbia 15 years ago.
What has changed in the meantime? Thanks mostly to David Lindo, The Urban Birder, there are a few British bird groups touring the country every year now, even the BBC came to film the world famous Long-eared Owl gathering in the town of Kikinda with more than 700 birds in some winters. Another more noticeable novelty in recent years has been the spread of eBird, the best idea in birding after Peterson developed a modern field guide eight and a half decades ago.
I often wrote of the best birding areas, usually recommending those that I particularly like, but last month, Serbia got its fifth eBird hotspot with more than 150 species (followed by 45 more 100+ hotspots), so, here is the choice of the top-5 hotspots – all of them wetlands – as chosen by local birders: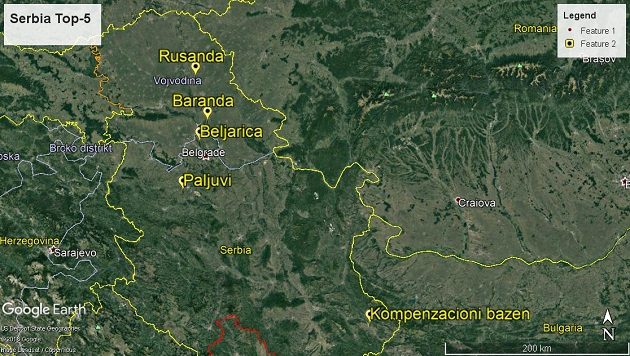 With 154 eBirded species almost single-handedly spotted by the UK expat Geoff Laight, the Paljuvi is the latest addition to the top-5 list. It is a shallow, 150 ha large reservoir made by damming the stream of Kladnica in 1970s and lies 55 km southwest of Belgrade, halfway between the towns of Lazarevac and Ub.
Laight's choice of best birds of the Paljuvi includes Purple, Night and Squacco Herons; Little Bittern, Ferruginous Duck, Whiskered Tern, Pygmy Cormorant, Syrian and Black Woodpeckers; Eurasian Golden Oriole and the Red-backed Shrike, followed by local rarities such as Temminck's Stint, Spotted Redshank, Glossy Ibis, White-tailed Eagle and Black Stork (both more common in the lowlands further north), and, on migration, White-winged Black Tern, European Roller (cover photo) and the Red-footed Falcon. The reservoir is surrounded by traditional farming landscape, adding the European Turtle Dove and the Ortolan Bunting to the scene.
#4 Beljarica Foreland (Kovilovo floodplain), Belgrade
With 154 eBirded species, the Beljarica shares the 4th place on the list. It was created by levee construction in 1920s, cutting off most of the previously spacious floodplain between the Danube and the Tamis rivers, immediately north of Belgrade. With over 2 km in width, Beljarica has the biggest "belly" in the 90 km long system of Pancevacki rit embankments.
Black Stork and three pairs of White-tailed Eagles breed here. Ducks and herons include Garganey and Ferruginous Duck, Squacco and Purple Herons, as well as Eurasian Spoonbill. Waders appear in late summer, including Spotted Redshank and Common Greenshank, Dunlin, Little Stint, Common Snipe and, infrequently, Great Snipe as well. Common Kingfisher, Common Hoopoe and the European Bee-eater come from their nesting holes at the high loess-bluff of the opposite, right bank of the river. Finally, Common and Lesser Whitethroat and Blackcap should be mentioned, together with Wood and Willow Warblers and Common Chiffchaff (most obvious during the September-October migration).
#3 Rusanda Nature Park in Melenci
Rusanda is a shallow natron lake by the village of Melenci, 80 km north of Belgrade. So far, 160 species were eBirded at the nearby Rusanda Spa park and the lake itself, a fossil bed of the Tisa River.
This protected area is of special importance for migrating waders, of which some 27 species were reported here, including Pied Avocet, Temminck's Stint, Red-necked Phalarope, Sanderling and Dunlin. Other birds of the Rusanda are Great Bittern, Purple Heron, Eurasian Spoonbill, Meadow and rare Red-throated Pipit, Icterine Warbler, Eurasian Penduline Tit, Lesser Gray Shrike, breeding Red-footed Falcon, Little and Long-eared Owls, etc. During migration (mostly in March and November), flocks of several thousand Common Crane land here, while during autumn and winter there are several Long-eared Owl roosts.
#2 Baranda fish farm
The fish farm complex that lies about 30 km north from Belgrade, stretching between the villages Baranda and Sakule, is known as the Baranda fish farm. The main lake, closer to the village of Baranda, attracted more attention from the local birders and its hotspot has so far reached 162 eBirded species, but it should be noted that there are three more 100+ hotspots in the vicinity.

This area offers probably the best wetland birding near Belgrade. In some years, Spanish Sparrows were reported breeding inside White Storks nests in Sakule. Other birds of this wetland are Reed Bunting, Bluethroat, Savi's and Common Grasshopper-Warbler, Eurasian Penduline Tit, Bearded Reedling, Red-backed and Lesser Gray Shrikes (in winter replaced by the Great Grey Shrike), Eurasian Hoopoe, European Bee-eater, Little Owl, breeding Whiskered Tern (plus Black and White-winged Terns on migration), 22 species of waders, Common Crane on migration, Squacco Heron, Glossy Ibis, Eurasian Spoonbill, wintering Greater Spotted Eagle and, in some years, irruptions of Rosy Starlings.
#1 Kompenzacioni bazen lake, Pirot
Unlike the previous hotspots, which lie close to Belgrade, the Kompenzacioni bazen lake (literally "compensation pool"), is in the town of Pirot, close to the border with Bulgaria and about 300 km from Belgrade. With 222 species eBirded so far by a single observer, Ivan Medenica, it does not only occupy the first position among the top-5, but also is the only hotspot in Serbia with more than 200 eBirded species.
The wider Pirot valley is a significant migration corridor and the bird fauna has a distinct Mediterranean flavour – from there, the Aegean Sea is equally close as Belgrade. Locally common birds include Water Pipit, Crested Lark, Common Whitethroat and European Stonechat; followed by frequent Levant Sparrowhawk, Barred Warbler, Eastern Olivaceous Warbler, Eurasian Golden Oriole, European Turtle Dove, Corncrake, Eurasian Nightjar and the Jack Snipe. Local rarities include mouth-watering birds such as Dalmatian Pelican, Slavonian Grebe, Ruddy Turnstone, Asian Desert Warbler, Moustached Warbler and the Calandra Lark.

Mike Unwin further concludes: "The birds are there, the infrastructure is perfectly functional – if a little creaky – and the people are charming. Serbia is a cheap and accessible destination, with some real surprises in store for the visiting birder and some excellent guides to show you around. Ecotourism will no doubt arrive soon, and with luck its revenue will prove that there's more to be gained from protecting wildlife than selling it to hunters." Unfortunately, at the time of writing, wildlife is still more commonly sold to foreign hunters. It may be just the time to change that.
More:
The top-5 hotspots of Belgrade
A birding year in Serbia