I must be home-sick because last weekend I found myself browsing through my "SASOL Birds of Southern Africa". This prompted me to compile a list of my Top 10 birds from home. Initially I came up with a list of 64 favorite birds, certainly not a Top 10, and no matter how hard I tried I could not whittle this down further. So I decided to impose a few rules. Firstly I decided that only Southern African endemic birds count. This ruled out some excellent species like Cape Eagle Owl, Violet Wood-hoopoe, African Finfoot and Half-collared Kingfisher and I was still left with 36 species. I then decided to reduce it further to South African endemics only. This was tough because this excluded species that occur in two countries within South Africa's geographical area, Lesotho and Swaziland. So birds like Blue Crane, Black Harrier, Drakensberg Rockjumper, Ground Woodpecker and Southern Bald Ibis were automatically withdrawn. I then had a list of 20 or so favorites and decided that, in order to get down to 10 birds, each bird needs to be in a different family. This is what came up:
1. Cape Sugarbird
One of only two members of its family, this stunning bird is common in suitable habitat around Cape Town. The males have ridiculously long tails that trail behind them as they fly to and from protea bushes. These tails can comprise 70% of the total length of the bird. Common in any suitable, flowering proteas around the southwestern Cape.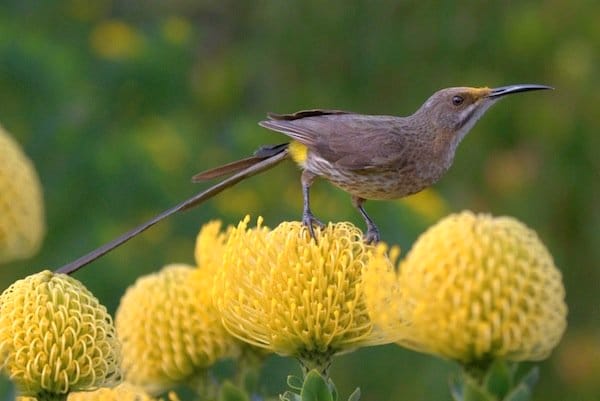 Cape Sugarbird by Glen Valentine of Rockjumper Birding Tours
2. Cape Rockjumper
With a little bit of effort this specialty bird can be found in the mountainous regions of the Cape. Two of the best localities are Sir Lowry's Pass and Rooiels, both within an hour's drive of Cape Town. Its always an adventure looking for this peculiar bird and I never tire of searching for it. Cape Rockjumpers are found in small parties foraging between and on large boulders. They are active and sometimes allow a close approach.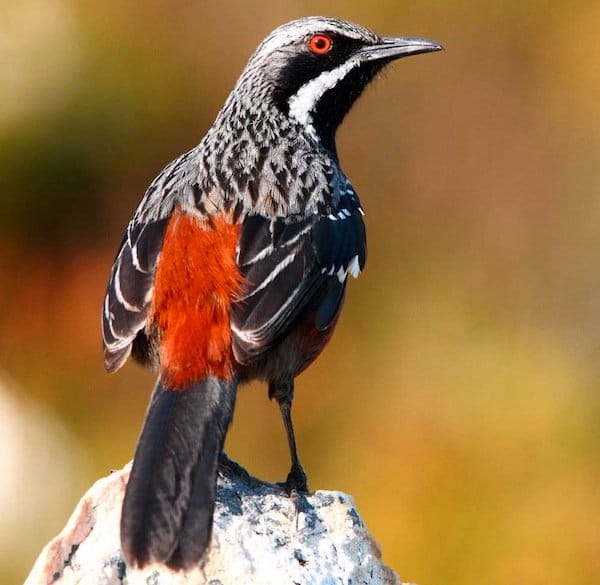 Cape Rockjumper by Adam Riley of Rockjumper Birding Tours
3. Hottentot Buttonquail
The Hottentot Buttonquail was only recently split from the Black-rumped Buttonquail. This is an exceedingly tough bird to find, residing in limestone fynbos habitat of the southern Cape. Previously believed to be exceedingly rare, the bird is now thought to be widespread in suitable habitat. But boy is it a challenge to find! The problem is that most views are brief glimpses of birds flushing at one's feet.
4. Knysna Woodpecker
This endemic woodpecker is very often missed by visiting birders. Unusually quiet for a woodpecker, it has a frustrating habit of always sitting on the other side of the trunk. Also, it emits a single loud "Skeed!" call every 10 minutes. So once you've gone to the location you last heard the call, it calls again from a different locality!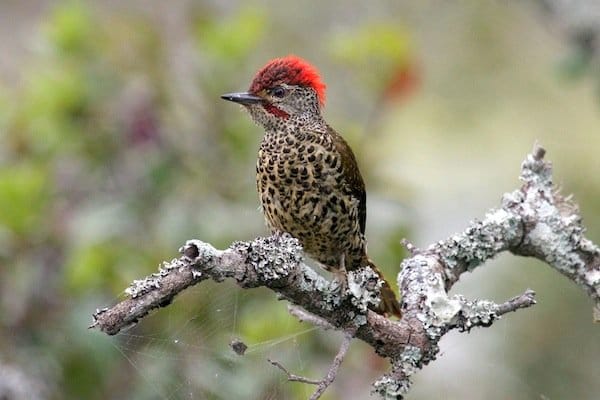 A male Knysna Woodpecker by Steve Davis
5. Knysna Warbler
This bird was the first uncommon bird that I found on my own. I was about 9 years old and heard this fascinating call on the eastern slopes of Table Mountain. It was a melodic, clear, liquid call that progressed ever faster until it ended in a bubbling trill.  "tseep….tseep…tseep….tseep…tseep…tseep..tseep..tseep.tseep.tseeptseeptseeeptseeptrrrrrrrrrr". This Bradypterus warbler is a notorious skulker and it is not uncommon for birders to wait hours without ever seeing a bird that is calling from only a few feet away in thick bracken undergrowth. It is a non-descript dark brown warbler and resembles a dark mouse at first glance. A real challenge!
6. Protea Seedeater
Not the most attractive of birds, this canary makes the list on account of its elusiveness. Probably the most reliable site is Paarl Mountain, an hour's drive out of Cape Town. Although inconspicuous, this large seedeater draws attention to itself through its characteristic song and is, surprisingly, not always found in association with proteas.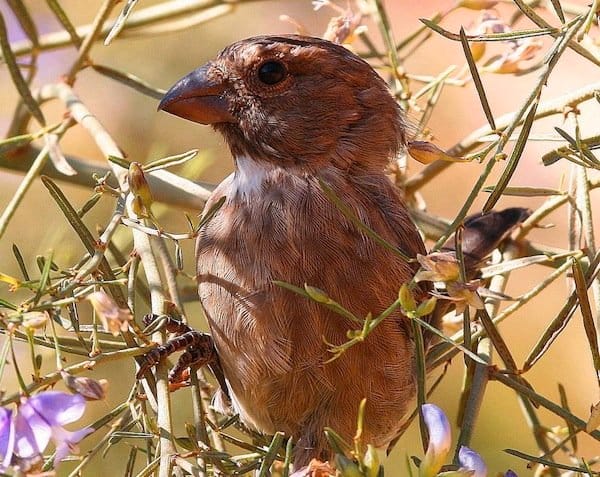 Protea Seedeater by Keith Valentine of Rockjumper Birding Tours
7. Southern Black Korhaan
West Coast National Park is one of my favorite places to go birding in South Africa. The shorebird gatherings from September to April provide some of the best shorebird viewing in the world and the park is also home to quite a few endemics like the Southern Black Korhaan. The korhaans are a group of small bustards and South Africa has 7 species. The Southern Black Korhaan is the only species that extends to Cape Town. Watching korhaans do their spring mating display is always a classic way to spend the day.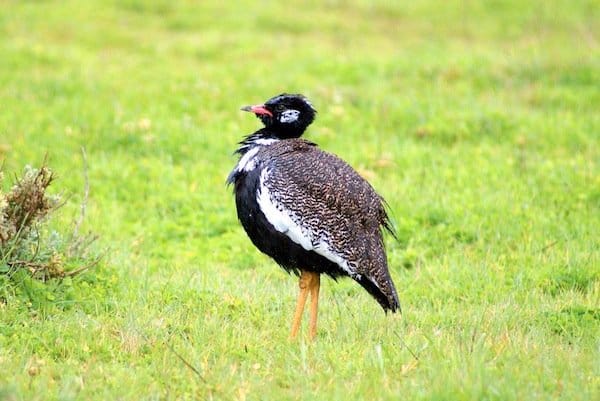 Southern Black Korhaan by Clive Wyatt
8. Orange-breasted Sunbird
What a little stunner!! This is arguably one of the most uniquely beautiful of all the sunbirds. Limited to fynbos, Orange-breasted Sunbirds are common when various fynbos plants are flowering and can often be found with another Top 10 bird, the Cape Sugarbird.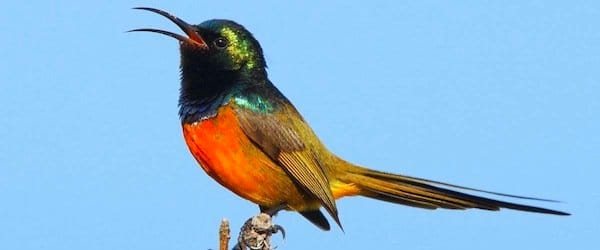 A male Orange-breasted Sunbird by Adam Riley of Rockjumper Birding Tours
9. Knysna Turaco
The turacos or louries are well represented in Southern Africa and one species extends southward to within two hours drive of Cape Town, the Knysna Lourie or Turaco. Although beautiful at rest, the bird's true splendor is only revealed in flight when the turacin-tinted red wings scream at you. There are few things more stunning than a group of Knysna Turacos flying in the majestic forests of the south-eastern Cape!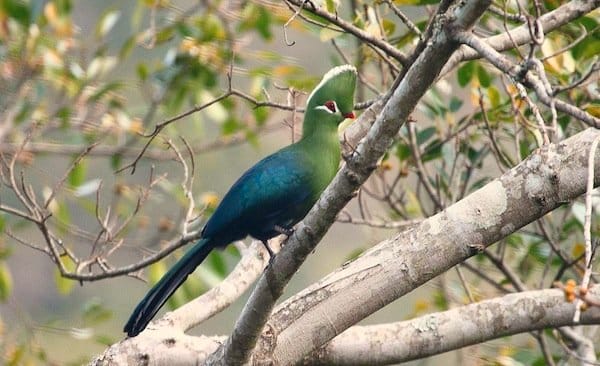 Knysna Turaco by Keith Valentine of Rockjumper Birding Tours
10. Cape Parrot
The Cape Parrot is one of the world's most threatened parrots. Probably numbering around 1,000 birds, these birds were down to several hundred a few years ago. A light green parrot with a brown head and red shoulder patches, these birds have been threatened by the reduction of large trees like yellowwoods, disease and by illegal trapping for the cage bird trade. Although only very few remain, finding them is relatively easy as the birds are fairly noisy when making their flights to and from feeding areas.
Interestingly, all 10 birds on my list are found in the Cape region of South Africa. I was born in Cape Town and started birding in Kirstenbosch Botanical Gardens at age 9. What a birding destination – 10 of my favorite birds, all endemics and all from different families! Its great to travel the world and bird different countries but there is still no place quite like home!