It is only two weeks from today that I will be in sun-drenched and bird-rich Florida, reveling in p
otential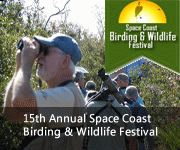 life birds, frolicking with fellow birders, and having a grand old time. Why? Because I will be at the 15th Annual Space Coast Birding & Wildlife Festival! Having never birded Florida before I really can't wait to see an Anhinga, a Florida Scrub-Jay, a Limpkin. So, Space Coast veterans, where should I be birding? What should I not miss? What holes in my ABA list can I fill? What is the best place to find a wintering Le Conte's Sparrow? Brewer's Sparrow? Wilson's Plover?
I have a dream of palm trees swaying overhead while I pluck a juicy orange from a tree and see a Snail Kite fly past me. I have another dream that involves a beach covered with gulls and bikini-clad women but perhaps we should leave that one off this family-friendly blog.
Instead, lets focus on what I should pack, where I should go, and what events I can't miss. Help me out, 10,000 Birds readers! I know that folks from Florida read this blog, I know that previous attendees of Space Coast read this blog, and I know that birders are an extremely helpful bunch. HELP ME!!!
…
10,000 Birds is a Scrub Jay-level sponsor of the 15th Annual Space Coast Birding and Wildlife Festival.