Ten years down the digiscoping road and pretty much everyone (here) has tried taking a photo through a telescope or binocular.  And I am guessing you have too.  Chances are your first photos were crap not good.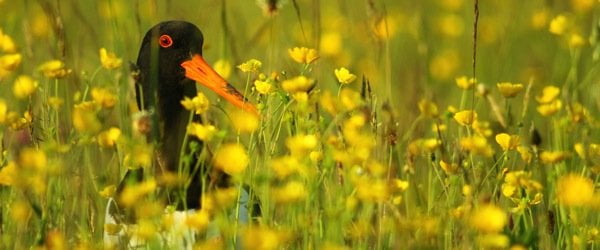 Oystercatcher digiscoped with Swarovski STM80HD, TLS800 and Canon 7D
The vast majority of us have a digital camera and are able to take some nice holiday photos, and wonderful happy-snappy photos of the kids/dog/drunk friends. Compact cameras have made it really easy. And wonderful fun. And we get to share our photos with the whole world on Facebook.
Long focal length photography is a whole different story altogether. And digiscoping is no exception.
3rd birthday party photos = mini-golf.    digiscoping = golf course.
one is not better than the other, they are both fun, but they require different levels of skill, knowledge and practice. And this all takes time and effort. Which is why, I believe, so many get frustrated with digiscoping when they first try it out.
So why can't digiscoping just be easy?
the thing is it can.
pretty much every compact camera on the market these days has a half decent video function. And the bulk of new cameras have HD video. Take the $150 super small, super simple Canon Ixus 130 (SD1400). Wonderful for holiday snaps, mild for digiscoping, but takes really great 720p HD video! (this video on digiscoping shutter speed was filmed with one). If you want to make your life simple, don't even worry about trying to get great photos – switch over to video mode and get neat little films to show your friends (and the rarity committee).

Video digiscoping
Video digiscoping has three major advantages:
1. Video digiscoping makes it really easy way to record what you see
If you want to take great digiscoping photos then that little green square on your camera (automatic mode) is your enemy, and you need to take in to account Aperture (video), Shutter Speed (video), ISO (video), Stability (video) etc. With digiscoping videos, you can pretty much just set up your camera (or hand hold it in place) and click record. For better videos, make sure your camera is set to the best quality video, set up your camera nicely on an adapter, focus the scope, half press the shutter release (letting it autofocus), press through to start recording, and get your hand away. Obviously, having a big video head and carbon tripod will help to give you stable video, but the focal lengths are just so high, and the system length so long that even having your finger lightly on the focus knob or camera will bring in shake. So if you want stable videos, try to reduce camera shake, but also always try to take your hand off of the camera once you have clicked record.

2. Video digiscoping can be really useful in low light and over long distances
If the light is not so good, your camera will usually automatically use a higher ISO. This means that the video (or photo), will appear more "grainy" with more noise in the image. High noise in photos often means that the bird or subject become hard to see or identify because so much information is lost. In a video, we have one great big thing that helps us out: movement. If the focal bird or animal is moving just a little bit, this offers our eyes a whole lot more (complex) information than a single static image. While grainy videos might not be ideal, it will oftentimes mean that you can get useful (and fun) images of interesting creatures long passed the point at which photo cameras stopped being useful.

When a bird  (or wolf) is really far away, you can still get recognisable video footage even if the photos don't work at all. As with low light situations, the movement of the creature convey way more information meaning that a hopping pitta, even if it is small, makes for a great spectacle.

Male Gurney's Pitta. This pitta was in an incredibly dark forest and I got no nice photos of it, despite trying (1000 times). Despite the dark and long distance, so much information is captured in the video about the bird's behaviour, beauty and its rainforest environment. Digiscoped with a Swarovski STM80HD scope, TLS800 and Canon 5DmarkII.
3. Video digiscoping for documenting rarities
If you see are rare bird, or a bird you think might be a rare bird, take a video! please! While you are calling your mates, take more video. Once you have tons of video, then think about getting some nice photos. The thing is, when you take a photo, you only have one specific moment captured and that is very unlikely to capture all the information you need to make the identification. Oftentimes, you will need small things like toe webbing, rump colouration, nape plumage, angle of the head, underwing coverts… all of which can be incredibly difficult to capture on a photo. But if you have a video, especially if you are patient and persistent, you are way more likely to get that critical angle. Obviously, the better the video quality (HD?), the more detail you can see when the bird makes the critical movement.

An example of proving a bird/location (ya ya, I know Short-eared Owl is not rare in Kazakhstan, its just an example)
A couple more suggestions when it comes to rarities. Don't be afraid to talk while taking the video and describe what you see in minute detail. Get your mates to do the same. Although it might annoy an editor at NatGeo, it is a good replacement for field notes when it comes to a rarities committee submission. Once you have all the critical video captured, you might want to disconnect your camera from the scope (while filming) and take some footage of the area where the bird is. Having one single video clip that shows the bird in the scope, then you clumsily dismantling the system, and swinging a wide-angle pan across the landscape is a great way to prove a location. You could even add your goofy happy face at the end of the pan to prove you were there.