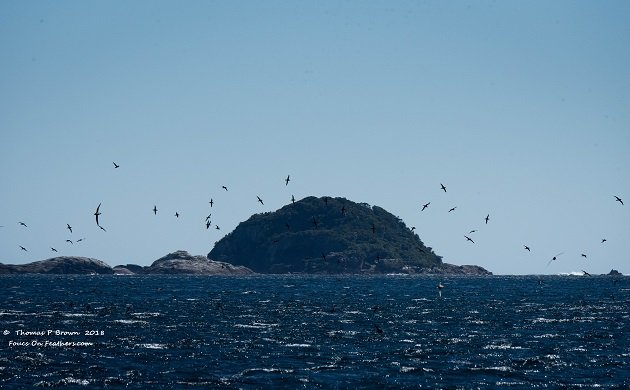 We have finally broken away from Christchurch, New Zealand. That was a much harder thing to do than I would have ever though. Great friends, a very nice city and lots of great birds all made our stay here very enjoyable. Neville dropped us off at the RV rental center, I got a quick refresher in left hand driving and away we went. We headed south for the small city Te Anu. Great friends Peter, Bev and their son Hayden live there and have offered to not only host us, but have arranged for a 3-day/2-night private boat tour of Doubtful Sound. It was given that name by Captain Cook, who thought it would be doubtful that he could sail his boat back out of there if he entered. Joining us on the boat would be Paul, Peters brother and our captain, Miles.
The trip to get to Doubtful Sound is a little bit complicated, as you take a ferry across Lake Manapouri, then a shuttle bus up over a huge ridge, then back down the hill to the West Arm, of Doubtful Sound where the boat was moored. Our intrepid crew, actually took their own boat, and all of gear across the lake, where we had a private SUV to carry us and all our gear over to the big boat.
Everything got ferried across, loaded up and off we went. Before we even got on the boat, I had seen a Weka, Bellbird, Tomtit, Tui and a Paradise Sheldrake. This is some of the most rugged, and beautiful country I have ever seen. It in many ways reminds me of the Desolation Sound area in British Columbia, Canada. As we made our way down the first arm of the sound, Red-billed Gulls and White-fronted Terns filled the air. The afternoon was spent fishing for Blue Cod, and diving for Lobsters, or Crayfish as they are called here in New Zealand. There was plenty of both put in the cooler for dinner!
These Tomtit's are fast becoming one of my favorite New Zealand Birds.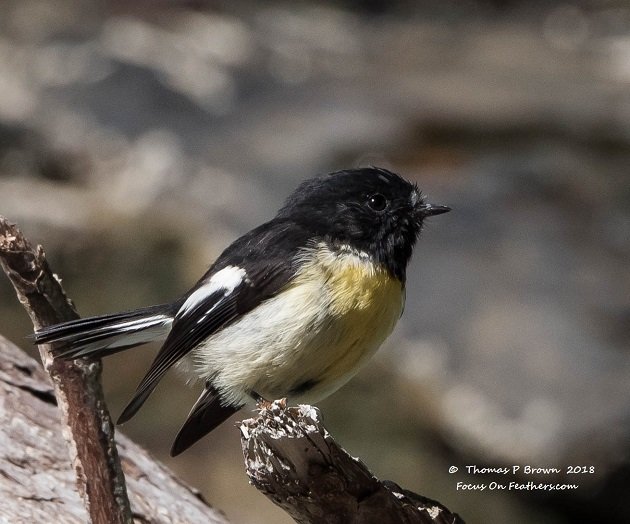 The next morning, we were headed for sea! Miles had promised some Pelagics, and to really get a good look at those we needed to get near the entrance to the sound. Our first day in the sound was just lovely, warm, sunny with a light breeze. The second day was, well, not so much. We still had the sun, but it was a whole lot cooler, and the wind was blowing a strong 20-25 with some stronger gusts. By the time we had gotten ½ to ¾ mile off shore we were in 5 meter seas, and the howling wind was blowing the tops off the wave sets. But…there was a bunch of birds! Hundreds of Sooty Shearwaters, Fluttering Shearwaters, a couple of hundred more birds that I just did not get to look at enough, or get a photo of, with the heavily bouncing boat. We were visited by White-capped Mollymawks, Bolly's Mollymawks, and at least one Gray-headed Mollymawk. Mollymawks are what many of the Albatross's are called here in New Zealand. In fact, there are a bunch of different names for birds down here, but that is a story all by itself!
There is just no real good way to show the size of waves off show, since there is no reference for the comparison, but this Mollymawk picture was taken just outside the entrance to the sound.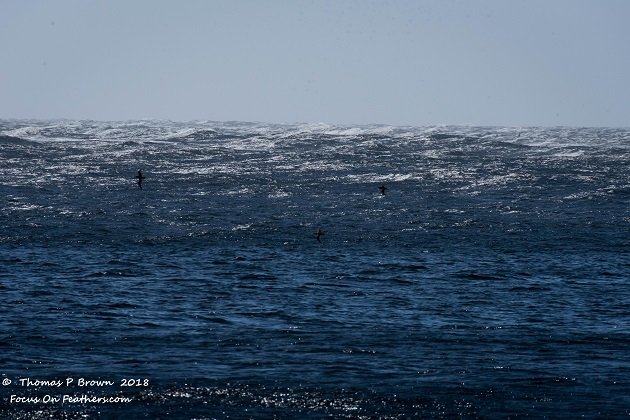 This is the Buller's Mollymawk.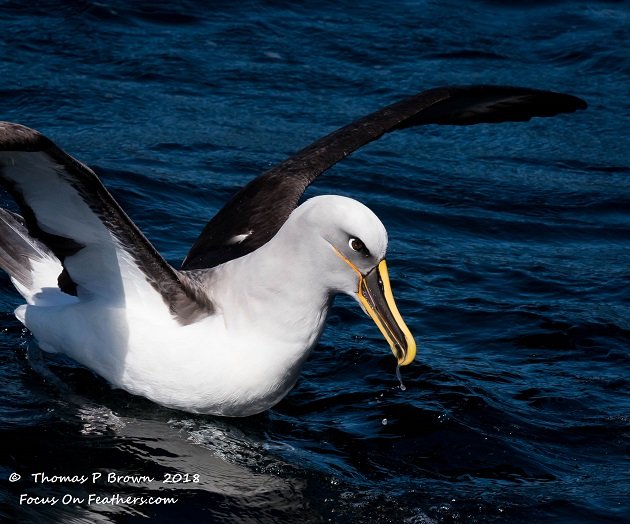 This is the White-capped Mollymawk.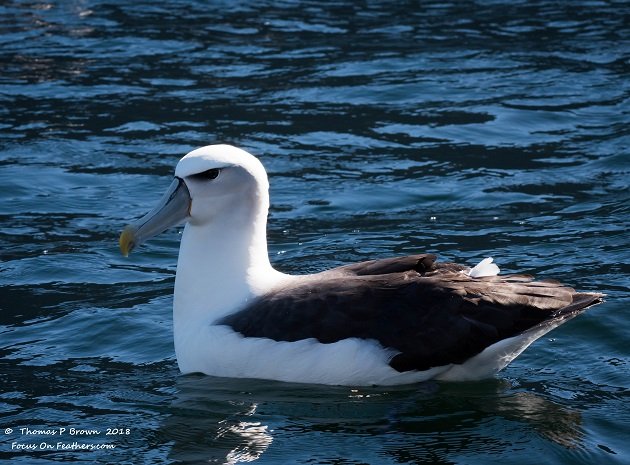 The third day was absolutely beautiful again, with all of the same birds. The highlight of that day was a visit from some dolphins.
Jeanne gets in the action, taking some awesome pictures.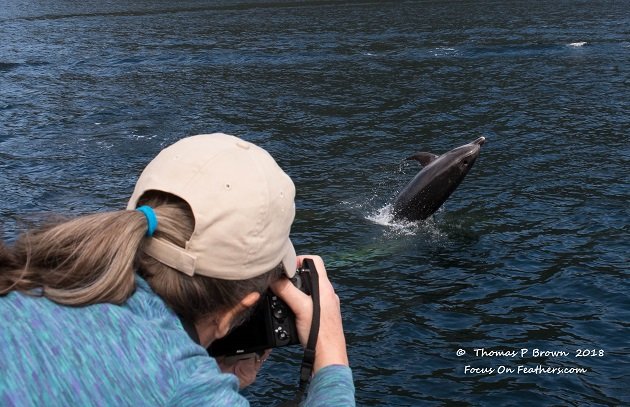 I got one or two myself, as the dolphins made it pretty easy for us.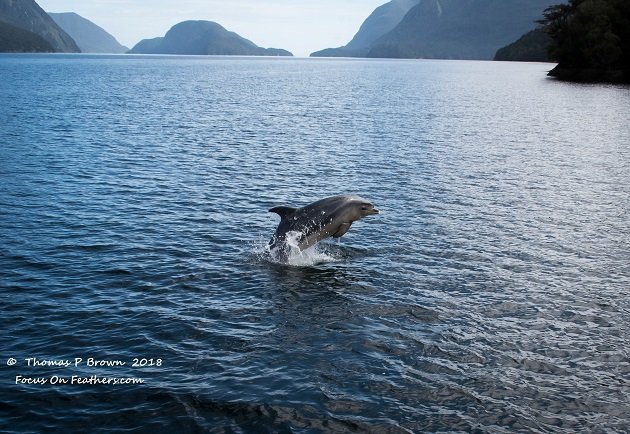 There were a few side trips throughout the days before and after the trip to Doubtful, that got me a couple of more new birds. A small group of Gray Ducks up at Mirror Lakes, Australasian Horned Grebe, Australian Coots, and some more Black Swans were found at Lake Dunst. The latter were in the middle of a rain storm, with some more high winds, so no great photos. I wrapped up my New Zealand oystercatchers, with the South Island Oystercatcher south of lake Manapouri.
These are the Black Phase, Variable Oystercatchers.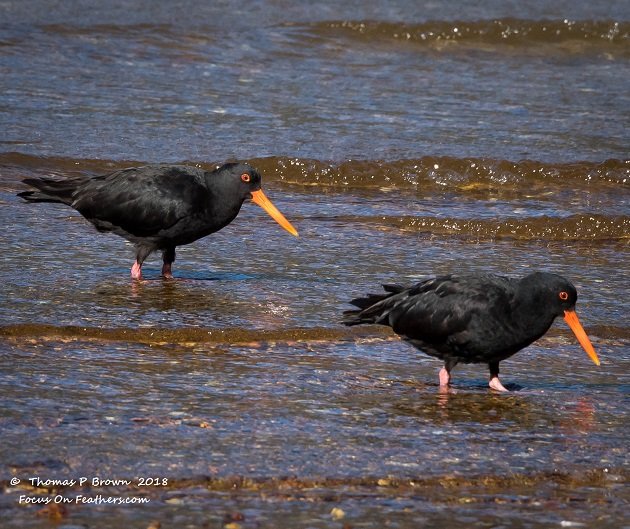 These New Zealand Gray Ducks were a very nice bonus for one of my side trips.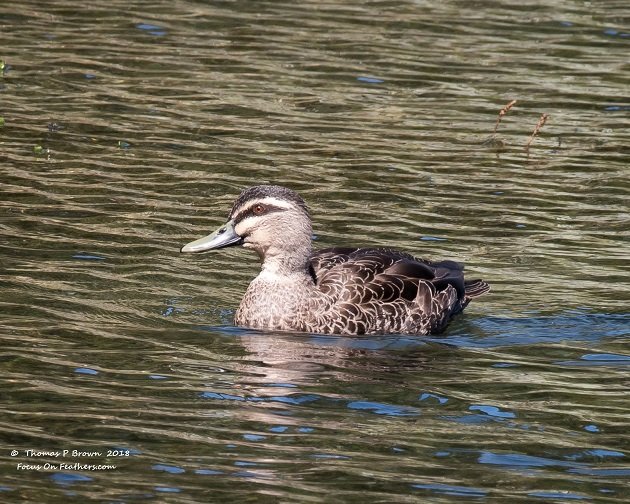 It is hard to compare any bird in New Zealand, when it comes to a beautiful singing voice, when you are talking about the Bellbird. The sing all day, and with an just an amazing group of songs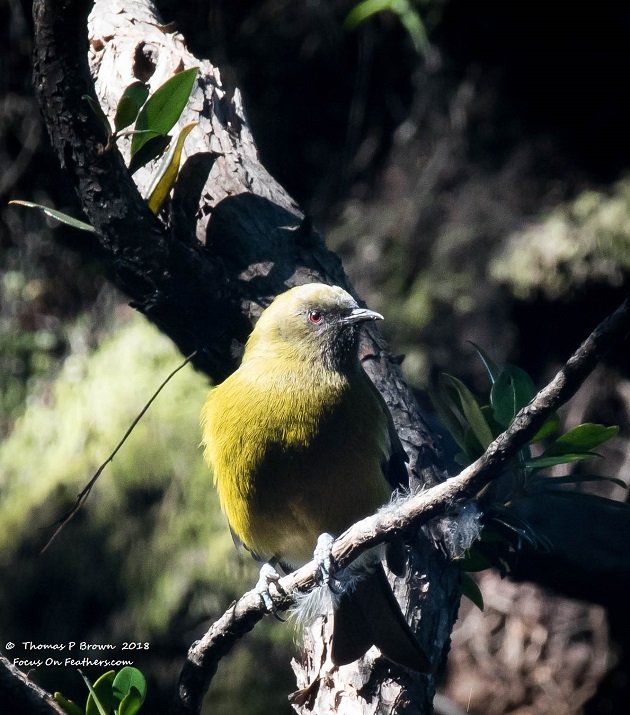 At this point we are headed to the very south end of the South Island, and a ferry trip over to Stewart Island. In fact, as I write this, I am sitting waiting for said ferry. The weather forecast is for heavy rain, and gusts up to 80 KM. This was to be the crown jewel in this trip, but this weather might make this a little less fun than I had hoped. Unfortunately, we are on a bit of a schedule, so it is what it is. Check back next week for the Stewart Island Report. For those of you following along, the Year List now stands at 254 birds, with 51 new life birds here in New Zealand!