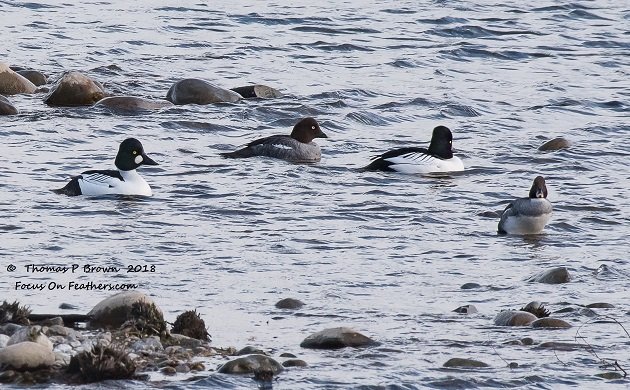 We have crossed back into the US for the first time, in over seven years, at least for a little while anyways. The transition has been a little bit tough, with a much larger amount of traffic, but much better highways to compensate for that. While we have a bit of a travel plan, finding sites to stay in that provide me access to good birding locations, things are always a bit flexible. A couple of the RV sites we had planned on have been booked solid, and so we are living with the Plan A, Plan B, and the Plan C mentality. Our first night in the US, was a Plan B night. The location we had hoped for was booked solid, so we drove another 45 minutes to get to Pachanga Casino and RV Park. For me, Plan B worked out great, starting with a great hot tub just before bed, and then a great green belt between the park and the local golf course. At daylight, this area, in just a short walk gave me 5 new birds for the list. My first ever California Thrasher, along with a Spotted Towhee, Hermit Thrush, Dark Eyed Junco, and a Rufus/Allen's Hummingbird (the females, which I saw are virtually impossible to tell apart) where all recorded.   I also saw a pair of what I believe to be Aberts Towhees, but without a photo, and no one else saw the birds, I just am not 100% certain, so they are not joining the list.
The 9th of February,
This afternoon finds us in Bakersfield California, this time working on Plan C, as the trip took way longer crossing the mountains that I had figured. We ended up stopping later in the day than planned, but found a very nice RV park, with another great hot tub. Might be a theme here! Unfortunately, the birding there was bleak. Mourning and Eurasian Collared Doves, House Finches and a couple of California Scrub Jays turned out to the bulk of what I could find.
The 10th of February,
After a nearly 300 mile run, we pushed on thru some extremely heavy winds, 20-30 MPH crosswinds which made out drive a bit difficult, but I really wanted to get to the Sacramento area, and check out the reported waterfowl to found here. My first afternoon, I walked along the American River, and the greenbelt that was set aside, in a very cold strong wind. I know these winds had a lot of the birds all settled in, and not moving much, but right off the bat, I got a new Lifer, in a pair of Nuttall's Woodpeckers. Down in the water, I added Common Goldeneyes, Common Mergansers, Canada Geese, and yes, don't laugh…my first Mallards of the year. This extremely common duck, just never comes to Mexico. On my way back to the RV Park, I was able to photograph my first Gold-crowned Sparrows, since my trip to Kodiak Alaska, 3 years ago. On the Drive into the area, a local flooded field had 400 Snow Geese, and couple of Sandhill Cranes.
Here is my new Nuttall's Woodpecker.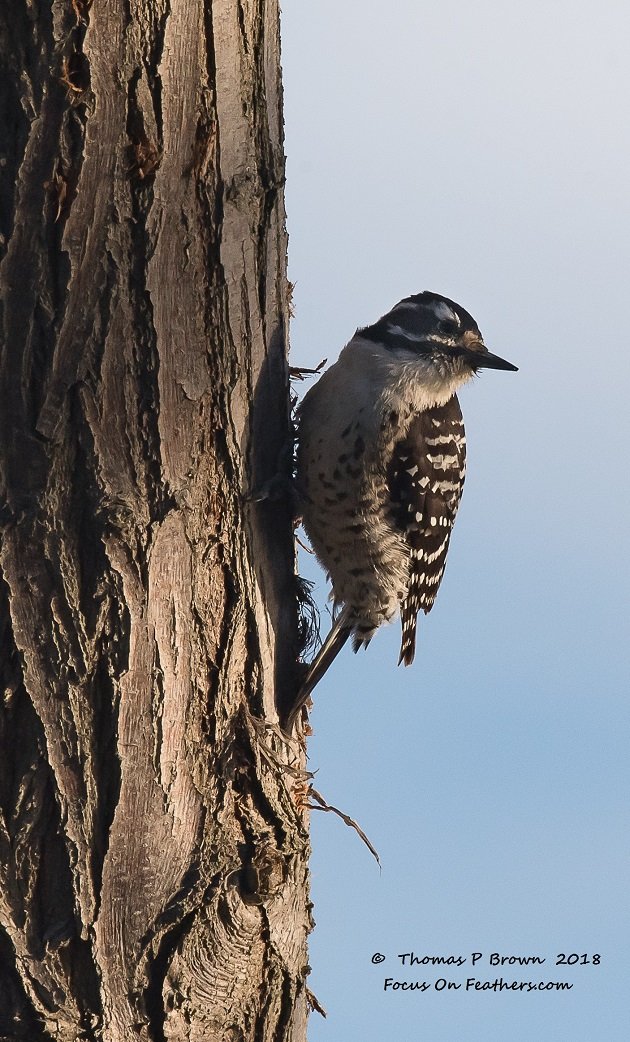 The 11th of February
This is my first full day of birding since the trip began, and I have been hopeful that this area was as good as I had been told. I know that I will surely miss a few great spots, as I just don't know the area, but at the end of the day, it turned out pretty darn good. The final tally is 21 new birds on the list and four new lifers! The new lifers are the Nuttall's Woodpecker, Lincoln Sparrow, Oak Titmouse, and the Wrentit! Joining them as new additions to the years, including the previous day's group, are the Sharp-shinned Hawk, Coopers Hawk, Red-shouldered Hawk, Herring Gull, Downy Woodpecker, Northern Flicker, House Wren, and the Ruby-crowned Kinglet. Now it is on to Oregon.
The Oak Titmouse here was also a great new Lifer for me!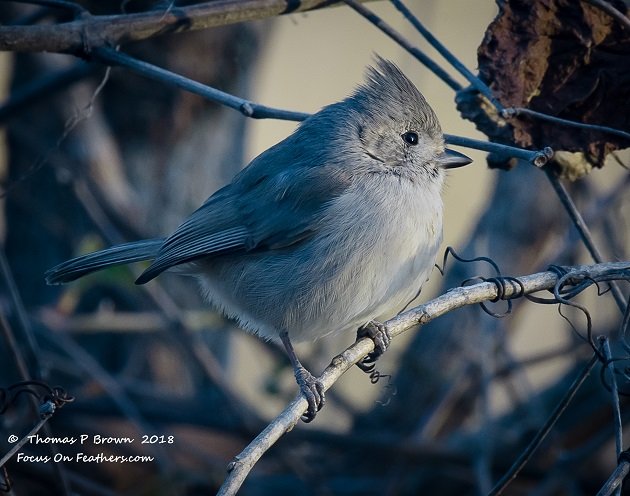 The 12th of February
With threats of high winds again in the afternoon, and two mountain passes to cross, we were off and away at sunrise. Well, lucky us, the winds started early, and we pushed against 25-30 MPH winds for nearly 100 miles. We don't get great gas mileage any way, but that just killed us. Down to 7 miles per gallon of diesel. The great thing was the clear skies, so no new snow on the passes. We made 350 miles and pushed on into the Great State of Oregon, my home state. We stopped north of Medford, near a huge area of willow and Himalayan Blackberries surrounded ponds, near an RV Park. I was hoping for great things here, as long as the ponds weren't frozen over. They weren't but dang it, I cannot believe how cold it is here. My thin Mexican blood better thicken up soon. I made a 2 hour walk around the ponds, and down a long thin green belt, with some marginal luck. I got a nice list of birds, but all but three were already counted. The new birds were Acorn Woodpeckers, Western Bluebirds, and just at dark, I found a small flock of Black-capped Chickadees.
The 13th of February
The day started off…well, in a very harsh manner. You see I might have forgotten to switch over to the new propane tank just before going to bed. It ran dry, and so we had no heat in the 5th wheel. It was 24 degrees outside, and a bone chilling 37 inside. This is crazy. I made the switch at 6:30, and grabbed the camera, I mean, how much colder can I get? Despite my grouchy mood, I did manage to find a couple more new birds for the list, a large group of Ring-necked Ducks, and one very cold ( I know how it feels) Tree Swallow.
Here are few more of the images I managed to get in the last few days.
This is one of three Downy Woodpeckers I have seen.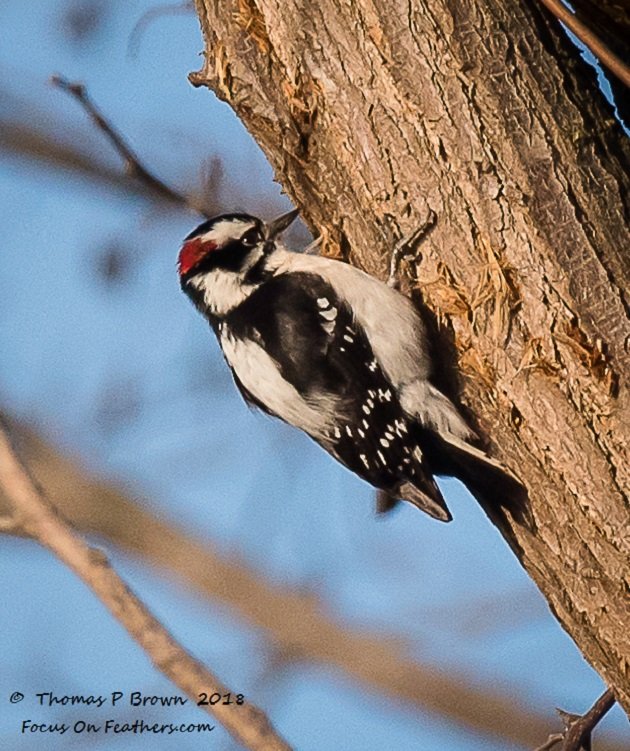 I have run into some large flocks of Bushtits, may of which were quite willing to set still for a picture. This is not a common characteristic.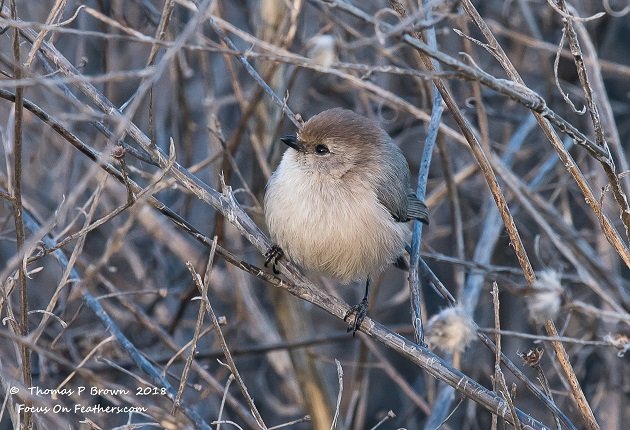 Another bird that is tough to get to stand still for very long is the Ruby-crowned Kinglet.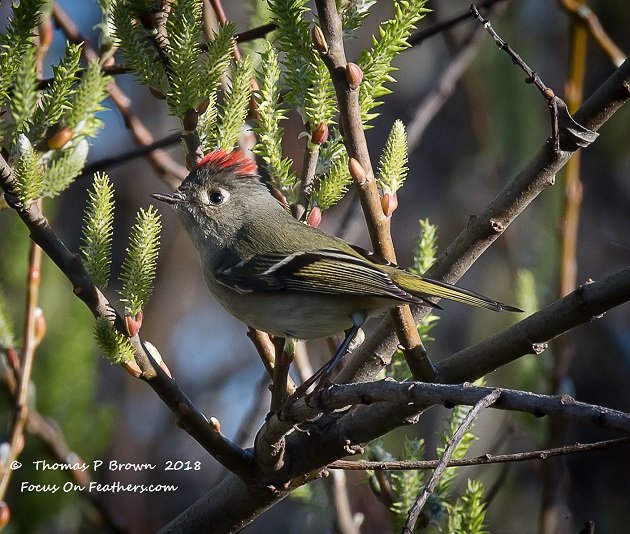 I had not seen a Common Merganser for over seven years, since we were sailing up in British Columbia, Canada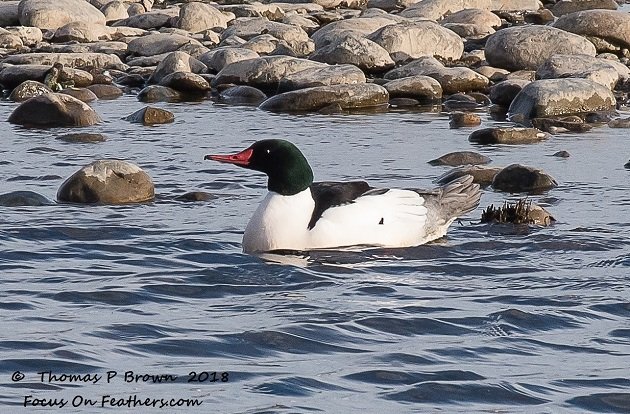 Only my third Brown Creeper sighting ever, this was one of a pair that landed right next to a tree I was sitting near.