Jory Langner is an Albany-area birder whose musings during his New York State Big Year last year were presented here. His birding adventures across the state garnered him an impressive list of 310 species, including Audubon's Shearwater and Grey-cheeked Thrush, which the other three Albany-area big year birders failed to find. Not only was he there when Corey crossed the magical 300 bird barrier but he drove that day, all the way from Albany to Montauk and back. And he provided the invaluable service of keeping track of his own and the other three Albany-area big year birders' lists. All-in-all, Jory is a stand-up guy, a helpful friend, and the worst birder to ever see 300 birds in the state of New York in one year (just kidding Jory). Anyway, here is his retrospective for your reading enjoyment.
Jan 10th last year … 68
Jan 10th this year … 8
Can you tell? I am NOT doing a big year this year. Any type of big year.
Last year was a year of counting, a big year for New York State. Getting to the goal of 300 with Rich, Bill and Corey.
It was a year of the game. It was great fun, I learned a lot. I got to the 300 goal on November 10th, when I spotted a Cackling Goose (yes, a life bird) in a flock of Snow Geese just north of Plattsburgh .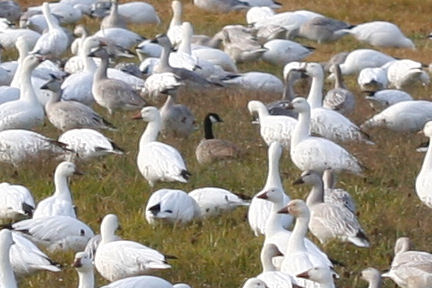 Jory's 300th bird, a Cackling Goose (photo taken four days after he saw it)
It was also a year where I put some of the pleasure of birdwatching on the backburner. Sure there were plenty of moments of "wow, what a great bird," but my first love is gaming and it was all about the game.
It was a year of making sure I'd do everything to get to 300. Like during peak spring migration when I was overseas twice for two-week trips and only had a six-day window in mid-May, when I birded every day, every moment.
It was a year of helping everyone in the group get over 300. Texting Corey at 6am (sorry Daisy) to get up and see a one-day wonder in New York City, for a bird I'd never get the chance to see. Knocking on Rich's door when he was asleep, waking him up to chase a local Yellow-Headed Blackbird.
It was a year of gentle competition. Who's ahead? By how many? Can I catch up? Can I stay ahead? Keeping the lists in sync each month.
It was a year of pain. Like the day my back went out on me at 6am as we headed out to Long Island to search for the Arctic Tern (missed it), and I birded the entire day in severe pain. Hint: drinking plenty of alcohol, not something I normally do, does in fact help. And I'm glad Andy and Rich drove.
It was a year of misses. Missing Tufted Duck in Lake Champlain by one lousy minute. Missing Ivory Gull by a day. Missing the December pelagic trip and the handful of lifers.
It was a year of great joy. Fifty-two new NY birds, of which fifteen were lifers. Finally seeing the Slaty-backed Gull after three incredibly cold and long days. Loving the Western Reef-Heron in Brooklyn, which I got to see three different times. And the Yellow-throated Warbler on Lake Champlain that I got see twice.
And finally it was a year of giving up. I gave up chasing my nemesis bird, Great Horned Owl, when I left New York in mid-December. I received an email on December 31st from Rich rubbing it in ever so gently as he was listening to a Great Horned Owl in his yard just before midnight. Thanks Rich!
It was a year of meeting a lot people in the field. Birders from around the state, it's quite the community.
Thank you all, especially Rich, Bill and Corey, with whom I spent the most time, put on the most mileage with, saw the most birds with and enjoyed great camaraderie. Thanks also Andy, Shai, Tom and all the others with whom I birded, those who brought me to the places where the birds were, and who taught me what to look for and listen for. Thanks to all the people who posted their sightings on the various listservs and those who shared their sightings by word of mouth. I learned and I appreciate the time you spent and the care you showed me during this year.