One full week ago, a White-tailed Kite Elanus leucurus, was discovered on Stratford Point, on Connecticut's Long Island Sound shore.  Considering that the bird's normal range is the western United States, south Texas, the southern tip of Florida, and portions of Central America and South America, birders were understandably excited about chasing down the rarity.  The fact that White-tailed Kites are a striking species, a simply gorgeous raptor, white beneath and gray above, with black shoulders and a large, stunningly-orange eye, made the bird one that even more birders wanted to chase.  Of course, I had already made a grand bargain with Daisy the day before, so there was no way that I was going to chase the kite, and, besides, I had seen them in southern California before anyway.
This past Thursday was supposed to finally be the day I would get on one of the whale-watching boats out of Montauk after two previous cancellations.  My day off of work was scheduled but, once again, the weather failed to cooperate, and none of the planned pelagic participants wanted to endure fog, six-foot seas, and predicted thunderstorms.  I needed a plan B and quick, but what would it be?  Then I remembered the White-tailed Kite and how Danny Melore, who regular readers here will remember well from many previous adventures, had mentioned he wanted to see it.  I called Danny, plans were made, and Thursday morning we were on the road to Stratford, Connecticut.
Upon arriving we questioned other birders for intelligence about the bird's whereabouts and learned that it had been seen a couple of times already but had disappeared in the vicinity of the "landfill" at Short Beach.  We made our way there and searched the area to no avail, though we did meet more birders and exchanged cell phone numbers so whoever found the bird could quickly alert everyone.  After half an hour in the hot sun I was beginning to wonder if we had made a good decision driving to Connecticut on a twitch and was wondering what was being found at Jamaica Bay.  Then my cell phone started to ring, and, as I answered it to hear an excited birder saying that the bird had just flushed from some trees bordering the beach, Danny started excitedly exclaiming that he had the bird.  Sure enough, it flew in and landed on a dead snag.
What a bird!  I wish that it had stayed longer and let me get better shots, but what I did get were good enough and I was busy drinking it in anyway.  When it took off and flew towards us I fumbled the transition from my short 50mm lens that I use for digiscoping to the longer lens I've borrowed to use for flight shots, so I ended up with less then great shots of the bird in flight.  Still, White-tailed Kite!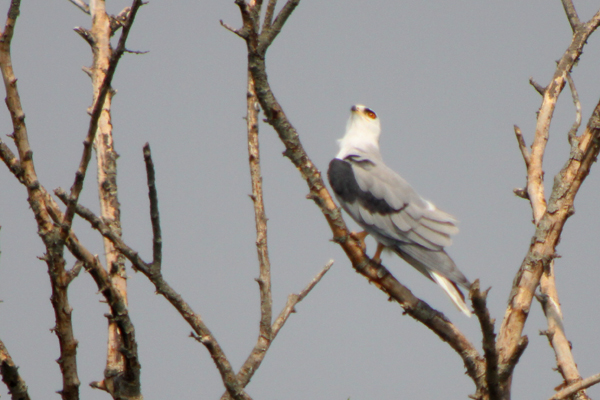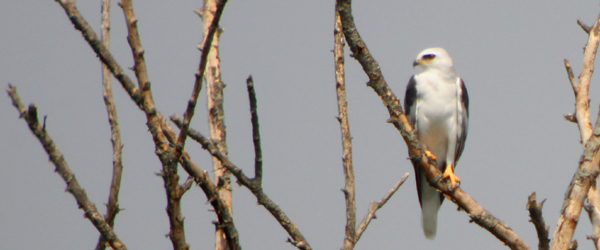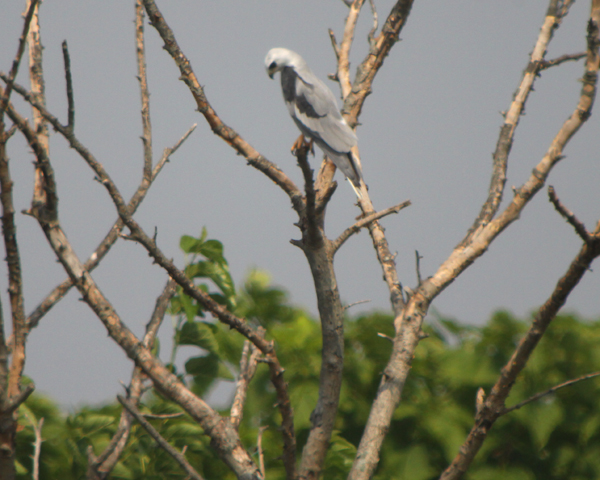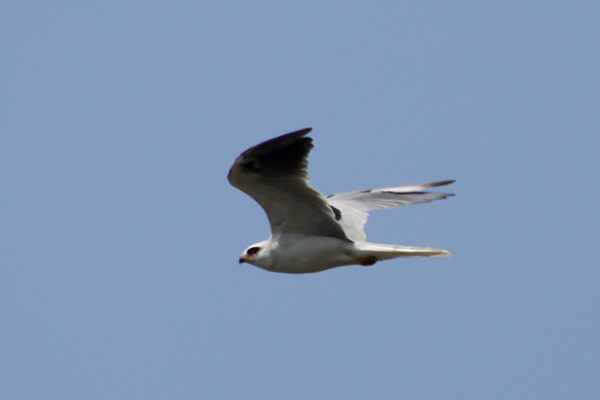 Now that's one heck of a cool bird to add to the year list!