To paraphrase Aristotle via Aldo Leopold, one swallow does not a summer make, but zero swallows, that is fall. That at least holds mostly true where I am in eastern upstate New York, where I haven't personally seen a swallow in several weeks, and the last reports in my home county of Albany are now over a fortnight old. Now that we're officially into autumn as of yesterday afternoon, there may be a few swallows lingering along the riverways and reservoirs here, and some may be found here and there into October, but by and large, the several species of swallows we see around here are birds of the summer.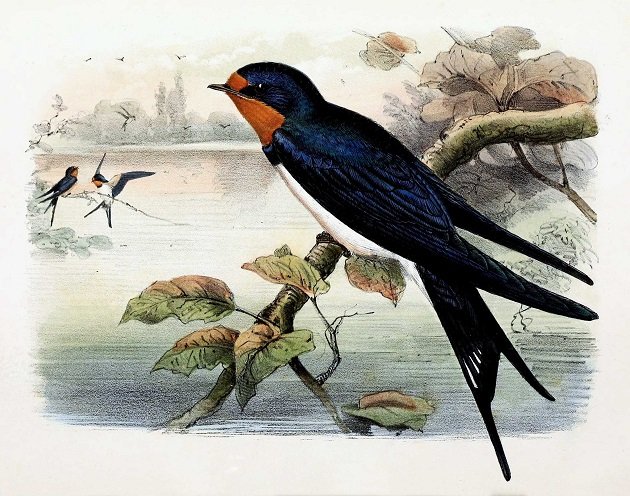 Barn Swallows depicted in Onze vogels in huis en tuin ("Our Birds in Home and Garden") by Dutch illustrator J.G. Keulemans (1842-1912).
As Aristotle noted, this is also true in Europe, where the most common swallow is the cosmopolitan Barn Swallow (Hirundo rustica). By the very end of summer – right around the time the grape harvest is taking place – Barn Swallows have already begun to vacate the fields and meadows of Europe, winging their way south to Africa for the winter (and not disappearing, as Aristotle believed, to hibernate in trees until the following spring).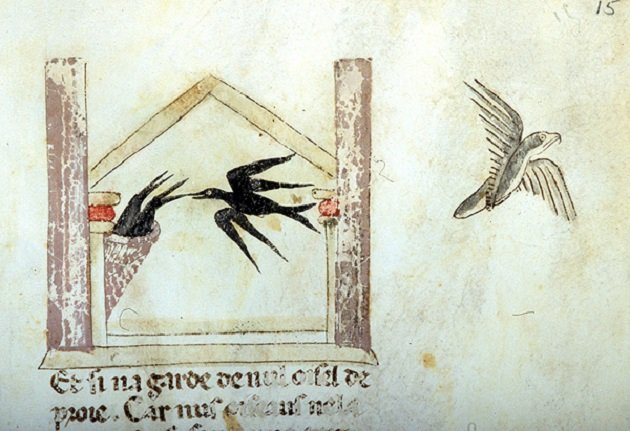 Nesting swallows in a late thirteenth-century Italian edition of the Bestiaire d'amour of Richard de Fournival (fl. 1246-1260).
A trio of Barn Swallows adorns the bottle of this week's featured wine, the 2016 Alanera Rosso Veronese from the Italian label Zenato. This red blend hails from Verona, a city along the Adige River in the Veneto best known as being the setting for Shakespeare's Romeo and Juliet and The Two Gentlemen of Verona. The three swallows here are a tribute to the three main hills that dominate the land around this ancient city, as well as reference to the trio of native grapes of Verona that comprise this wine: Corvina, Rondinella, and Corvinone. As its name suggests, the first of these may have been named for the raven: earlier this year we enjoyed another wine from this region made entirely from this lustrous, dark-skinned grape. Similarly, the Rondinella grape is named for a bird – rondine is "swallow" in Italian – either because swallows enjoy eating them, or the shape of the grape leaves recalls the distinctive tail of the bird, or because the dark purple of their wings is said to resemble the skin of this grape, depending on the story you want to believe. Lastly, Corvinone is derived from the Corvina grape in name, as it was once thought to derive from the latter strain, though ampelographers have since determined that it is an entirely different variety. Together, these three grapes often work in consort to produce blended red wines of the Valpolicella region, most famously Amarone, a strong wine made from carefully dried fruit, and Recioto della Valpolicella, a sweet dessert wine.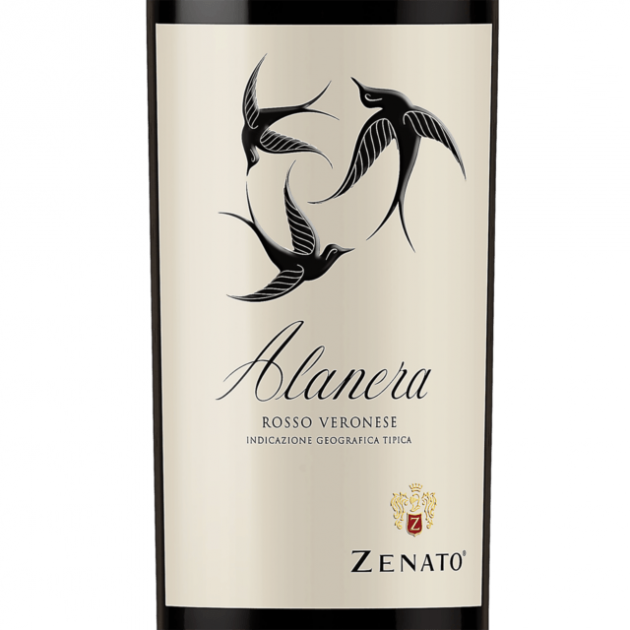 The family-run Zenato estate was founded in 1960 lies near Lake Garda, just to the east of Verona. While not a true Amarone wine, their Alanera Rosso Veronese employs the traditional appassimento method the Valpolicella region is well known for, with half the grapes used in its production dried for up to sixty days, a process that concentrates and enriches their flavor prior to fermentation. Zenato uses a mix of Corvina (55 percent), Rondinella (25 percent), and Corvinone (10 percent) in Alanera, with the remainder rounded out in equal parts by Merlot and Cabernet Sauvignon (at 5 percent each). After aging in a combination of oak and steel, this plush and full-bodied red emerges with rich aromas of dried fruit, baked plum, pipe tobacco, and cedar. The graceful palate is dense and redolent of cherries, earthy spice, and mocha, with good acidity, soft tannins, and a long, drying finish.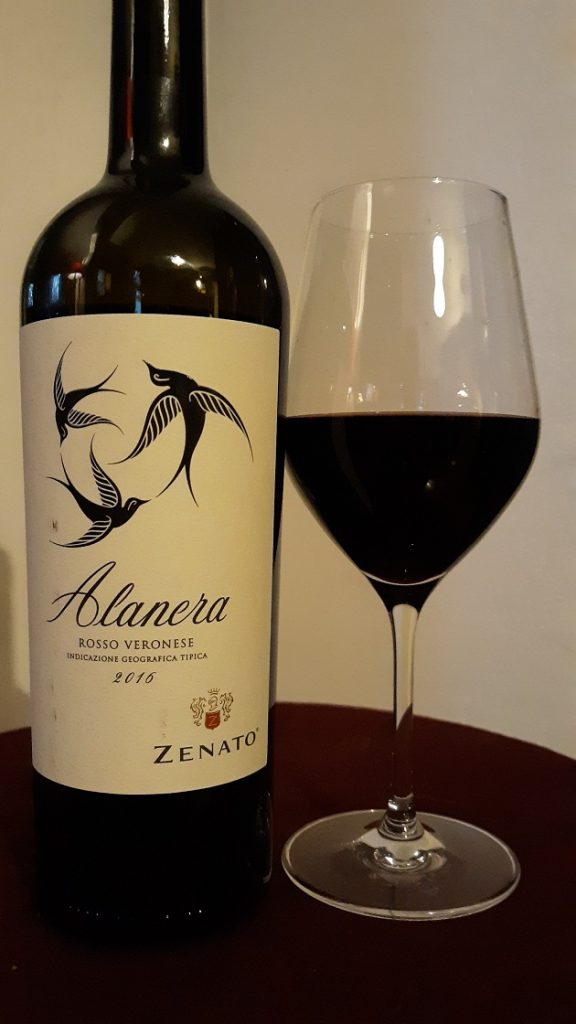 Not only is the Zenato Alanera Rosso Veronese a delicious wine with or without food, but it's an outstanding value as well – a perfect red for those early days of autumn as the weather cools and the swallows slip away south.
Good birding and happy drinking!
---
Zenato "Alanera" Rosso Veronese (2016)

Four out of five feathers (Excellent).