The North American Ornithological Conference (NAOC) is held every four years. It seems that pretty much everyone who is anyone in ornithology in the Western Hemisphere attends, making NAOC is one of the largest ornithological conferences in the world.
I had already joined the American Ornithological Society (AOS) because I thought it would be a good source for topics for articles and posts on 10000 Birds, so I received the email announcement and follow-ups for "NAOC 2020." The location was going to be San Juan, Puerto Rico, and I have written a number of pieces on birds and birding in Puerto Rico, so I pondered attending. Joe Wunderle, who provided the CBC data for my posts on post-Maria bird recovery in Puerto Rico, also encouraged me to attend.
But COVID-19 forced the organizers to change everything and now the conference is online, so it was suddenly much easier to "attend." It seems others arrived at the same conclusion, as registrations appear to be booming. But everything is relative and in the ornithology world, 2,800 attendees is a big deal.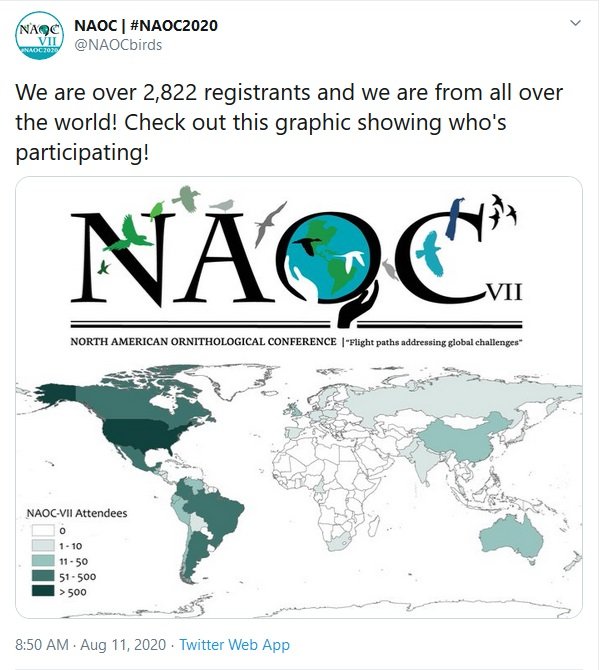 This will be my first ornithology conference, so I am not sure exactly what to expect. NAOC is big — there are so many speeches, round tables, symposia, panel discussions, and poster presentations, that nobody could sample even a tiny fraction of the entire conference. (The complete printed program is here.)
As indicated below, NOAC primarily runs from Tuesday to Saturday, with a fairly regular daily schedule. Because of the overwhelming number of options on the schedule, one must carefully pick and choose, like a buffet. I spent a lot of time with the super-convenient online scheduler picking out what I wanted to attend. Since I am not a professional ornithologist, I was able to eliminate lots of events plainly directed to other experts in the field, not dilettantes like me. I ended up selecting a number of events relating to Puerto Rico, hurricanes, and eBird, topics on which I had written and therefore have some familiarity with the literature.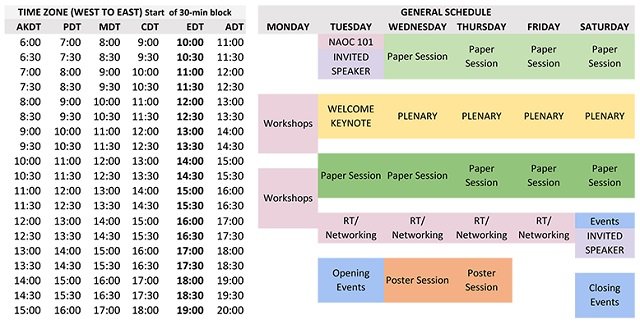 There are several types of events and they seem typical of what little I know about academic conferences. At the bottom of the food chain there are the poster presentations, which are exactly what they sound like. They are generally hyper-specific (e.g., "Effects of Hurricane Maria on Abundance and Distribution of Pearly-Eyed Thrashers in the Luquillo Experimental Forest, Puerto Rico"), and the poster must fit on a single PDF and the presentation can last three minutes and not a second longer. The presenters are generally graduate students and perhaps a few undergraduates.
At the top are the keynote and plenary speakers, who generally have decades of experience and impressive backgrounds. They tend to opine on big important topics. The keynote speaker is Thomas E. Lovejoy, who evidently coined the term "biological diversity." His talk is entitled: "What lies behind 'If you Save the birds you solve most of the big problems of the world.'" One of the plenary speakers is Bette Loiselle and her talk is entitled: "Three decades of studying Neotropical birds: lessons learned along the way."
There are lots more that fall in between, with numerous symposia (with topics such as "Movement energetics and behavioral strategies to overcome constraints on flight performance"), round tables, and paper presentations (e.g., "Data from Citizen Scientists and Weather Surveillance Radar Explain Patterns of Bird Strikes at Three Commercial Airports in the US").

Armed with my (obviously overbooked) schedule (above) and my computer (running Chrome, which is evidently the only browser that works), I am semi-prepared for a week of watching Zoom presentations by ornithologists. I even read the Code of Conduct. However, even I have limits – I will not be following along on Slack. The presentations are available for 30 days to registrants, so if I miss something or have a technical glitch, I can theoretically go back and see what I missed. NAOC is pro-social media and is active on Twitter (#NAOC2020).
What more could a birder want from yet another week in the pandemic? The general schedule truly begins today and I will report my experiences (here) at my first virtual ornithology conference. Time will tell if the $50 registration fee was money well-spent. For lack of a better category, I registered as "press."
To those more familiar with these conferences, if I have mischaracterized or omitted something, please let me know in the comments.