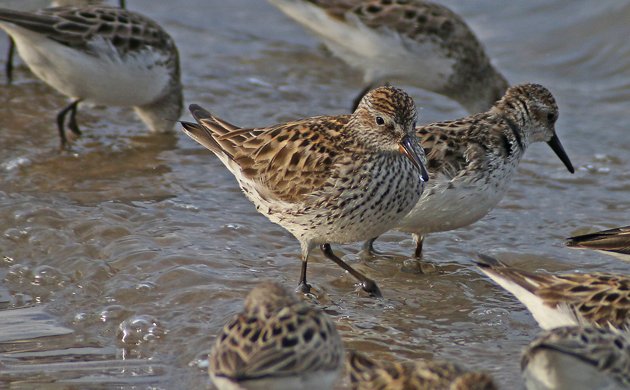 Sliding into mid-August in New York feels like the easing into a Jacuzzi: the heat may be intense to start, but the good times are just getting started.
Many of the most infrequent shorebird visitors to the greater Rochester area prefer to hide out on an island in the mouth of Braddock Bay. Since I don't have access to a boat, I resigned myself to scanning the isle fruitlessly from the end of the East Spit… until I learned that the water was so shallow that I could just walk out there! I don't find shorebirds all that interesting, but adding White-rumped Sandpiper to my county list only enhanced the thrill of exploring a new corner of my world. Corey spent most of Sunday driving to the Adirondacks for a week in the mountains, but he did get out birding in Queens on Saturday morning. Shorebird migration is in full swing and though Jamaica Bay's East Pond is still full of water he saw some good birds on the beach. Of them, the 17 Piping Plovers he saw were his best birds of the Weekend.
How about you? What was your best bird of the weekend? Tell us in the comments section about the rarest, loveliest, or most fascinating bird you observed. If you've blogged about your weekend experience, you should include a link in your comment.