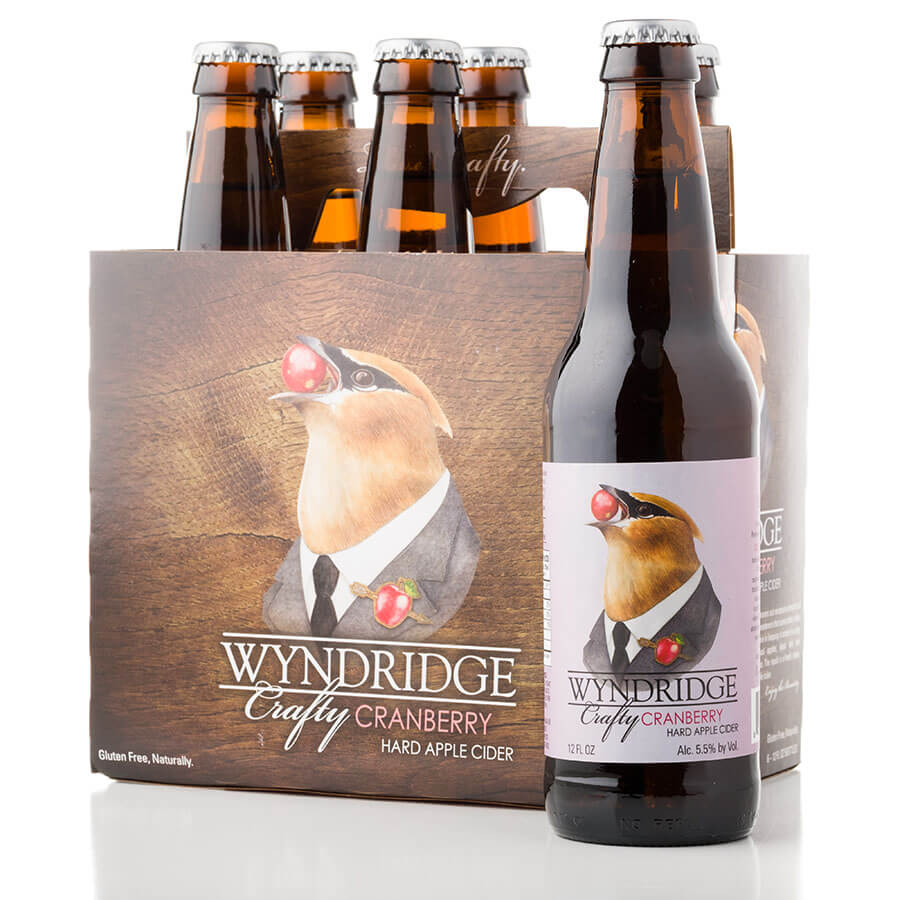 Cedar Waxwings (Bombycilla cedrorum) have the unfortunate distinction of being the undisputed poster-birds for avian intemperance. It seems that at least once a year, mainstream journalism picks up on drunken bird tales of unwitting songbirds getting absolutely sozzled from gorging themselves on fermented mountain ash berries, chokecherries, crabapples, and other fruits that spent a bit too much time aging on the twig or vine. I'm sure some of us can empathize, especially at this time of year. Robins also seem prone to this indulgent behavior, along with a few other species, but usually it's tipsy Cedar Waxwings that we read about heading to rehabilitating "drunk tanks", or sadly, fatally crashing into buildings.
I'm not sure the cidermakers of Wyndridge Farm Cidery of Dallastown, Pennsylvania had any of this in mind when they chose a Cedar Waxwing to adorn the label of their Wyndridge Crafty Cranberry Hard Apple Cider. Looking rather suave – and endearingly anthropomorphic – in a jacket and tie, with a William Tell-inspired lapel pin depicting a shiny red, arrow-pierced apple, this waxwing appears perfectly sober, even as it grips a juicy cranberry in its beak. Perhaps it's only just getting started? But Wyndridge produces three other cider varieties, each labeled with an equally dapper rabbit, red fox, or cat – species I hardly associate with intoxicating inclinations, so I suspect the waxwing label wasn't a comment on the occasional excesses of this species.
Waxwings do eat cranberries, but they seem to prefer highbush cranberries that – despite the name – are unrelated to the familiar, bog-grown, cultivated cranberries that serve as both the main ingredient in that wobbly, can-shaped Thanksgiving staple, and in the production of this excellent Wyndridge cider. To be honest, I think they're employed to more commendable effect in the latter, though I'm unaware of any waxwing opinions on the matter.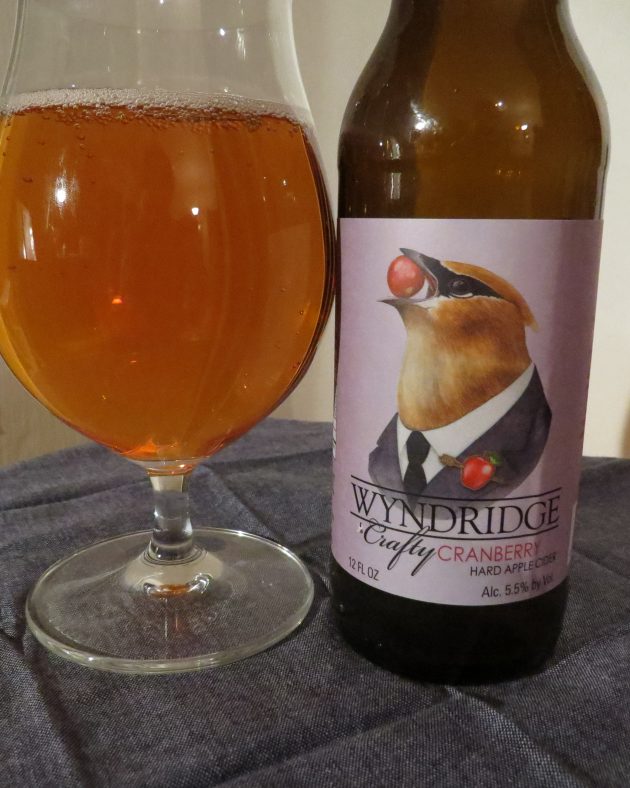 Wyndridge Farm Cidery combines these cranberries with locally-pressed Pennsylvania apples, yielding a luminously copper-colored drink of remarkable clarity that blushes with pinkish rose tints. The flavors and aromas are relatively uncomplicated but agreeable: bright, floral, and fruity apple with a hint of butter toffee sweetness and a distinctive cranberry tartness that counters the slight residual sweetness. The crisp mouthfeel, clean flavors, and off-dry finish contribute to an almost Champagne-like feel to this drink. There are more complex ciders out there, and there are just as many cloyingly sweet examples that border on being on alcoholic apple juice, but I think you'll find this balanced product by Wyndridge eminently satisfying. I'm also certain waxwings would find this cider just as enjoyable, but I don't think we should be encouraging them – do you?
Happy drinking and good birding!
________________________________________________
Wyndridge Farm Cidery: Crafty Cranberry Hard Apple Cider



Three out of five feathers (Good)